Choosing which type of bike to go for really depends on your riding style, which can be figured out when you have your fair share of riding. But, if you are relatively a beginner cyclist and want a quick and easy breakdown, this is the right guide for you. We are discussing the difference between hybrid bike and road bike, and which one will suit you better.
Introducing, Road Bike and Hybrid Bike
Before we can dive in deeper, let's get to know what is a road bike and hybrid bike first.
Road Bike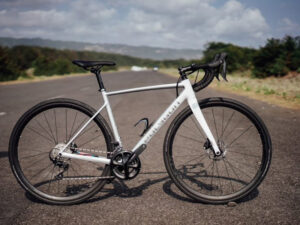 Just like the name suggests, road bikes are designed to perform on roads. Meaning it is good for cycling on smoother terrain with less obstacles. This type of bike aims for performance, which is speed. If you want to be able to cut through air–like the athletes you see on TV–while riding, this is the best pick for you. Road bike has a drop handlebar, which makes the cyclist's body position almost completely horizontal to reduce drag and increase aerodynamics. It might seem very uncomfortable, but once you experience the performance, it definitely does its purpose!
Road bikes itself are divided into further 3 categories :
Performance road bike : bikes to use on smooth terrain such as pavements, great for both racing and climbing thanks to its speed and lightweight features.
All-rounder road bike : ideal for climbing with features that highlights cyclist's comfort while also still aiming for speed.
Gravel road bike : good for riding on smooth pavement and off-road, designed to be able to continue your riding journey even when the pavement ends and faces harder terrain.
If you want to learn more about Road Bikes, click here for our complete guide, which is also beginner-friendly!
Hybrid Bike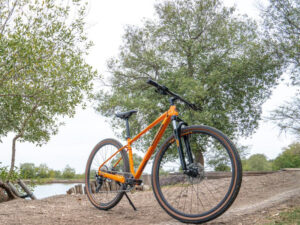 It is called a hybrid for a reason. This type of bike combines the characteristics of both road bikes and mountain bikes. It is like a gravel road bike, but for those of you who do not wish to go flying on the road. Hybrid bikes suit riders who want to be able to cycle on both smooth and moderately rougher surfaces. Hybrid bike is still good for aiming speed, but with the comfortability of a mountain bike with flat handlebar, hence a more upright riding position.
In addition, another difference between road bikes and hybrid bikes is that hybrid bikes have suspension forks. Keep on scrolling to read how this affects each type of bike!
Hybrid bikes will have thinner frames and wider seats for both lightweight and comfortability characteristics. It is a good mix in between, but is not as fast as a dedicated road bike or as rigid as a mountain bike. Overall, it is a good bike for when you want to cycle in comfort even on rougher surfaces or long distances.
What Road Bike and Hybrid Bike Are Best For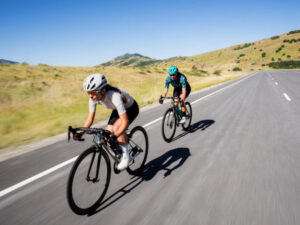 For beginners, it is easier for you to decide on which type of bike you should go for, based on the purpose of your riding. Let's identify which will be your best pick now!
Road Bike Purpose
A road bike is specifically designed for fast-riding, aiming for speed which makes the rider's position aerodynamic so that it can cut through wind. Road bikes will be best if you care more about speed rather than comfortability, and prioritizes ease of pedaling on the pavement.
Although a specific type or road bike is purposely designed for slight off-roading as well, such as the gravel road bike, the position of the cyclist will still be more dropped and horizontal, rather than a more leisure position to enjoy the scenery while riding.
Hybrid Bike Purpose
Hybrid bikes are designed to be able to face various terrains, from pavements, to slight gravel, and light dirt. Once again, it is like a gravel road bike, but where you can relax with a more comfortable and upright riding position. And to put further emphasis, just as described earlier, gravel road bikes do not have a suspension, so it will not be as comfortable for off-roading as hybrid bikes will be, since they have suspension forks. This type of bike is actually great for riders who are using their bike for commuting, light sport, or even a once in a while touring.
Differences of Road Bike and Hybrid Bike
To be able to differ between the two, here is a deeper breakdown of each bike component and what it serves.
Frame Geometry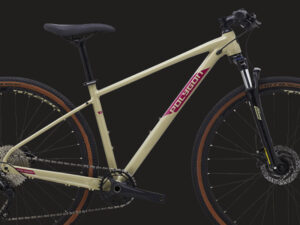 A road bike will have a longer top tube which makes the seat come closer to the height of the handlebar, and also longer reach between the saddle and the handlebar, so that the cyclist's body position can be as flat as possible. It increases aerodynamics and reduces drag, enabling the cyclist to be fast.
On the other hand, a hybrid bike will have a shorter top tube and distance between the saddle and the handlebar. It makes the cyclist's body position more upright. The frame weight itself will not be as lightweight and flexible as a road bike. It will have more weight to it as well as a more rigid shape and characteristic to provide comfort and control.
Fork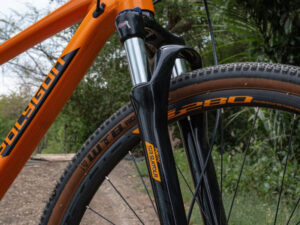 Now comes the part of talking about the fork. As mentioned before, road bikes–the gravel type to be exact–although good for slight off-roading as well, does not have a suspension. Gravel road bikes are more intended for fast-riding on the city scapes. If you are just cycling through smooth pavement, a suspension will be unnecessary. Not to mention that a suspension will add a significant extra weight to the bike, which is not good for fast-riding purposes. On the other hand, where hybrid bikes can be cycled through slight off-roading, suspension is added on the fork–usually on the front wheel–to absorb few shocks and minor bumps on the rougher terrain. As you will not be fast-riding with a hybrid bike, the added weight is not a problem.
Group Set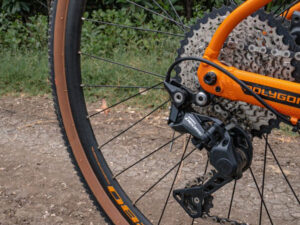 Group set is all the parts of the bike that makes its drivetrain, which is involved for braking, changing gear, or running the drivetrain. Our Polygon Road Bike recommendation such as the Polygon Strattos S8D will have a Shimano Ultegra, mostly used for road bikes. This particular type is good for any type of riding situation, whether it is speed or casual riding with friends, and under any weather. While our recommendation for Polygon Hybrid Bikes such as the Polygon Heist X7 Hybrid Bike will have a Shimano Deore, which is usually found in mountain bikes. This type of groupset is best for smoother control and shifting, making hybrid bikes better to handle rougher terrains since it inherited some qualities from a mountain bike.
For an option from different brands, the Marin Hybrid Bike is also a great choice. The Marin San Rafael DS1 also uses a Shimano Deore groupset, with alloy material that is durable and considerably lightweight.
Brakes
Most bikes nowadays will come with hydraulic disc brakes. Although some you might still find using v-brakes for road bikes.
Wheelset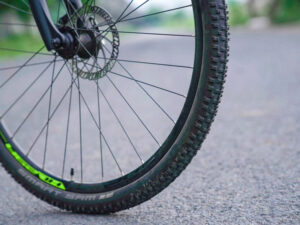 Since the shape of both road bike and hybrid bike are not much different, the wheel set used is typically the same. What you might want to pay attention to is the maintenance. For road bikes, you have to keep the tire pressure around 80 psi to 130 psi. While for hybrid bikes, you want to keep it around 50 psi to 70 psi. The higher the pressure, the easier and faster the tire will roll. The lower it is, the more stable it will be when rolling through rougher terrains.
Handlebar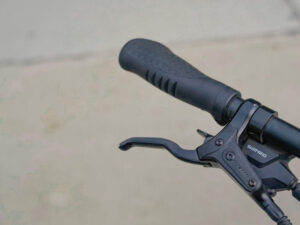 As briefly mentioned earlier, road bikes will have drop handlebars, making the position of the cyclist flatter. Hybrid bikes will have flatter handlebars for more comfortable commuting with a more upright and relaxed riding position.
Key Takeaways
To conclude all of it, here are some highlight notes for you :
Road bikes will :
Aim for performance
Have drop handlebars, more lightweight frame material
Good for fast-riding
More suitable for sports aiming for aerodynamics and speed
While hybrid bikes will :
Aim for versatility and comfort of commuting
Have flat handlebars, more weight and rigidity to its frame
Good even for long-distance riding, but not as fast as road bikes
Suitable for daily commuting, light sport, and once in a while touring
Both bikes have their own perks, and you can choose one which is most suitable to your riding preferences or purpose. If you are using it for daily commuting, a hybrid bike is your best match. It is more comfortable to use, but does not limit the possibility when you want to ride on rougher terrains occasionally. Road bikes are best for more serious riding chasing speed and performance, a technically heavier sport.
If you want to browse through your choices of road bikes and hybrid bikes, you can go to Rodalink Malaysia for a complete lineup of products we offer. When you have decided on one, we also offer free local delivery! Just a few taps away from your perfect bike, and we will deliver it right to your front door. Oh, and you can also choose the payment method that is best for you (PayPal, Visa, Master Card, and online banking).
You can also immediately join to become a member of Rodalink community and enjoy its benefits, such as exclusive promotions and events. Collect your points now!
We are also having a sale on bike parts and accessories. Purchase yours now for a complete kit of the best riding experience like never before! Visit our page now!