So you've decided to take up mountain biking! That's great news – it's a really fun and rewarding sport. But before you can hit the trails, you need to buy the right bike. And that's where things can get a little confusing because there are so many different types of mountain bikes to choose from.
One of the most common types of mountain bikes is the hardtail. A hardtail is essentially a bike with a suspension system in the front, but no suspension in the back. This makes it lighter and easier to maneuver than a full-suspension bike, which is why it's a popular choice for beginner riders.
In this article, we'll explain what a hardtail mountain bike is and how to use it.
What Is Hardtail Mountain Bike?
A hardtail mountain bike is a frame with a solid rear suspension, which means that there are no shocks or springs. If you're thinking about getting a mountain bike, a hardtail is a great option. Hardtails are the more traditional option and are typically less expensive. They're also lighter weight and easier to maneuver.
Hardtail mountain bikes are a great choice for adventure-seeking cyclists who enjoy long rides and bike-packing. Although single-suspension bikes tend to be less responsive than dual-suspension ones when pedaling, they are more adept at taking on a variety of off-road terrains—mountain trails, pump tracks, and other places.
The hardtail bike is also a good choice for novice cyclists because it excels in less challenging terrain, such as trail terrain and wooded paths.
History of Hardtail Mountain Bike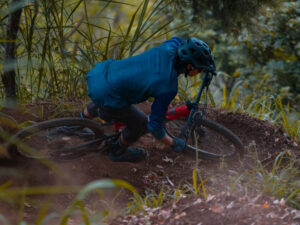 In the beginning, mountain bikers modified cruiser bicycles to go down mountain trails. The sport then became popular in the 1970s in California, when cyclists began to use their bicycles for downhill. Bicycle frame builder Joe Breeze used lightweight and sophisticated components to create what is considered the first mountain bike.
The development of mountain bikes was not very rapid until the late 1970s when bicycle manufacturing companies began to produce mountain bikes with advanced and lightweight materials such as M4 aluminum. The Specialized Stumpjumper, first produced in 1981, was the first mass-produced MTB bicycle. Entering the year 1990-2000, the hobby of mountain biking began to get the attention of the general public, and soon an international mountain bike racing circuit and a world mountain bike championship were created.
Since that time, many different manufacturers have begun producing mountain bikes and have succeeded in making the sport one of the most popular among cyclists. In 1991, Douglas Bradburry invented what is known as a front suspension fork; this was followed by hardtail bikes being introduced into the market.
Functions of Hardtail Mountain Bike
So, what are the primary functions of a hardtail mountain bike? Hardtail bikes offer great options for riding long distances or going on multi-day trips. Other than that, here is what a hardtail bike can offer you:
Jump With a Hardtail

Hardtail mountain bikes are designed for trail riding, not stunts; however, if you're careful and know what you're doing, a regular hardtail can be used to jump on the right track. The reason for this is that the bike was designed for riding on rough terrain, and its sturdy frame can compensate for the lack of a rear shock. But before you can enjoy the thrill of jumping, you need to learn how to jump safely.The stiff frame of this mountain bike allows you to get a good pumping motion going when you jump, which increases your momentum as well. One of the easiest ways to avoid being bucked off during a jump is never to forget to drop your saddle before beginning.
Better For Start Mountain Biking Journey

Many mountain bikers begin their biking journeys with hardtail bikes—bikes that don't have suspension in the rear. The lack of this feature forces its rider to develop a keen sense of which speeds are right at any given time, matching them as closely as possible to his or her skill level. A hardtail bicycle is not equipped with a rear shock to smooth out bumps, so it can give riders a little jolt every time they go over an obstacle.A hardtail bike gives the rider a more direct connection with the terrain, and this allows better instincts to translate into smoother handling.
The benefit of Riding a Hardtail Mountain Bike
Well, a hardtail mountain bike is a good option for beginners. It's simpler than a full-suspension mountain bike, and it's easier to control. Plus, it's more affordable. But what are the benefits of a hardtail mountain bike?
First, it's more lightweight than a full-suspension model, which makes it easier to maneuver. Since a hardtail bike's frame comes without linkage, pivots, and shock absorbers-which add weight to the overall machine—it automatically becomes lighter than its full-suspension counterpart. This makes it easier for riders who spend lots of time in the saddle or do frequent climbing climbs.
Second, The fact that a hardtail mountain bike has fewer moving parts than its suspension counterpart, and the lack of replacement parts needed for repair will mean you're less likely to come across faults with your vehicle. A hardtail bike is built without a shock and rear suspension, making it both more durable and requiring less maintenance than a full-suspension model.
Third, when discussing hardtail vs full suspension for beginner riders, the most important thing to consider is probably the riding experience offered by each type of bike. A hardtail gives a more responsive feel when pedaling than a dual-suspension bike can—though both types offer varying levels of performance and comfort depending on rider weight, terrain type, etc.
And finally, A hardtail mountain bike has a more straightforward design, which reduces manufacturing costs and allows either for lower prices or better components.
So if you're looking for a versatile and affordable mountain bike, a hardtail is the way to go!
Conclusion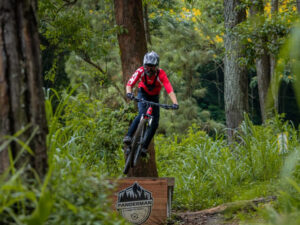 A hardtail mountain bike is perfect for anyone who is just getting into mountain biking, or for anyone who wants a bike that is easy to maintain and versatile. If you're looking for a great mountain bike that won't break the bank, a hardtail is a great option. They're also easy to maintain, which makes them a great choice for anyone who doesn't have a lot of time to spend on their bike.
A hardtail mountain bike is a simple type of mountain bike equipped with only front suspension and no rear suspension, while a complete or full-suspension design features both front and rear shocks. This type of bike is more nimble for navigating rough terrain, and it's also swift on smooth trails. Its simple design—without rear shock absorbers or suspension forks—makes it lighter (and therefore easier to pedal) than a mountain bike while also requiring less maintenance. The bike's simple design, which omits a linkage, pivot, and rear suspension—lowers its weight by several ounces. A hardtail bike may be unsuitable for trails with lots of bumps and jumps, as the absence of a rear shock makes it harder to control the bike.
If you want to find the best hardtail mountain bikes for your cycling journey, visit Rodalink Malaysia's website. The website offers a wide range of bicycles from different brands. You can find a wide variety of hardtail mountain bikes from well-known brands such as Polygon Mountain Bike, Marin Mountain Bike, etc. Don't worry, if you buy your bike from Rodalink, no hassle and time-consuming assembly will be required. Come shop with us—you'll see why our bikes are the best!