Nowadays cycling becomes one of the most popular activities in public. Have you ever heard the fact that a significant number of bicycles are manufactured every year and massively marketed? There have been over 1 billion bicycles recently being ridden by people. Referring to this statistical data, no wonder that bicycles are being preferred pastimes by many people whose concerned with physical health.
Perhaps you get to know the bicycle with the common features like a two-wheeler vehicle with pedals, saddle-like seats, and handlebars, but today the bicycle itself has acquired major innovations and upgraded almost all of its features and characteristics.
Before you decided to have a bicycle. You have to know completely. How to choose a bike based on your riding needs.
Know Types of Common Bicycles
Currently the production of bicycles is mostly adapted to its usage. Thus, when you go to a bike shop at the moment, the seller is going to ask what kind of perfect bicycle type is being looked for, can it be a road bike, hybrid bike, or mountain bike. Your decision absolutely rests upon your preferences and biking needs. If you are still confused with the existing common type, the following information can be your reference.
1. Road Bike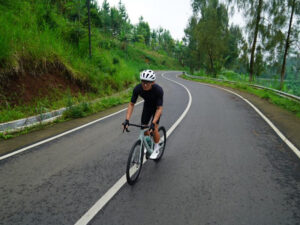 Road bike can be identified by its slick tire that has no thread pattern in order to have maximum contact with the road, lightweight aerodynamic bike frame, and the drop-bar handlebar that is able to set three hand placement positions (the tops, the hoods, and the drops). To reduce air pressure on the cyclist so the cyclist can go fast and cut through the air.
A road bike is definitely stable for several pavement usages such as racing, fitness riding, daily commuting, touring, and long-distance rides. If you have concerns with riding positions (mainly for bend-down position), speed (stable, faster, or even slower), and hand-varied options, this type is also particularly good for you.
2. Mountain Bike (MTB)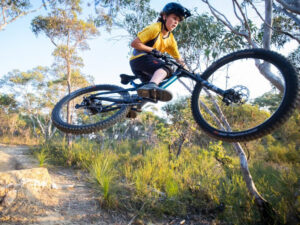 If you are looking for a type of bicycle that has shock-absorbing features and a perfect braking system that frequently is required for off-road, an MTB like the Polygon bike or Marin bike can be your excellent choice.
So, by these features, these bikes are able to handle dirt trails, rocks, hard bumps, ruts, and roots. Moreover, MTB is meant for being designed with a wide knobby that works well over obstacles, it is also equipped with components that can assist cyclists to control their navigation in rocky mountain hills.
Both Polygon and Marin have their own specification that supports all the function and advantage of the type of mountain bike.
Polygon Bike has a light and sturdy frame that makes it more comfortable to ride. The front fork is very strong, so it has resistance to shocks. The seat post, stem, and Handlebar are durable and in use for years because they are made of high-quality materials.
Whereas Marin Bike has a basic design of MTB geometry and lightweight, strong alloy material combined with a wheel circumference of around 700C and a width is more than 32C, it supports long-distance travel with a comfortable riding position.
Explore More Mountain Bike Now!
3. Touring Bike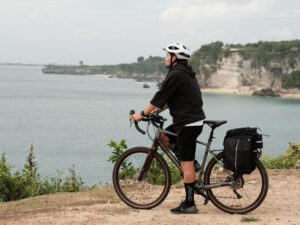 Probably this type is quite familiar to you since it is frequently used by many people in public places. Touring bike is specifically equipped with a longer wheelbase that is functioned to give perfect control for cyclists. One of the defining features of touring bikes is semi or wide-knobby tires, which assist you to handle gravel roads. It has disc brakes as well in order to provide the enhancement of stopping power, especially on non-paved surfaces.
Touring bikes can be used for long-distance trips and carry some goods, the traversed terrain tends to be smooth or slightly rocky.
Explore More Touring Bike Now!
4. City Bike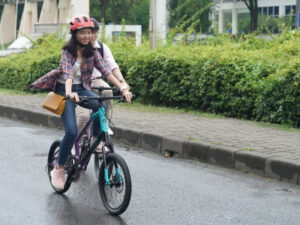 City Bike, also known as Utility Bike or Commuting Bike, is predominantly ridden for some trips in urban areas. This type is comfortably completed by step-through frames, baskets, and chain guards. It has fewer gears than mountain or road bikes. You might put plenty of stuff or accessories while riding a bike and make a simple way to cycle along with friends or family. This bike is perfect for commuting with a relaxed cycling position.
5. Folding Bike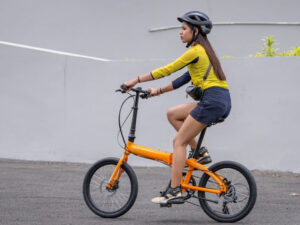 Folding bike is designed to fold into a compact form, so it increases portability. It is easy to transport and store, you can get it into the train, bus, or car boot. This bike is also good for touring, long miles trips, and smoother terrain.
One of the folding bikes you might try is Tern Bike. It is likely to belong to the folding bike family due to its practicality in terms of transportation and storage. By having patented technology, this bike can be folded quickly and get into the car, train, bus, and other public transportation that allows you to carry the bicycle. Moreover, a tern bike can be set by optional accessories as well such as child seats, panniers, and even extra bags. It is perfect for commuting activities whether going to school or the office.
Explore More Folding Bike Now!
6. Gravel Bike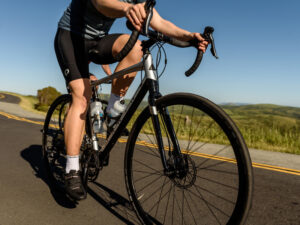 Gravel bikes allow the use and combination of various components like the race bike, 700C of tires or 650B (semi-thick), single chainring, or double chainring, some use a super light frame or some are super strong terrain. This bike also uses disc brakes that are able to support the stopping power. It is good for extreme conditions like muddy or wet terrain.
The shape or geometry of the gravel bike is relaxed. The combination of comfort and efficiency becomes the central point, thus the cycling position can be lower.
Buy High-quality Bikes At Rodalink
Here you have known all about the common type of bicycles before you choose it. Just mind your personal riding-bike preferences and buy your bicycle at Rodalink Malaysia in the easiest way.
As the best modern bicycle outlet, Rodalink Malaysia bicycle shop offers a complete product selection with reliable and competitive prices, professional service, and continuous improvement to give the best service to consumers.
The modern bike outlet concept developed by Rodalink has the philosophy of "One Stop Shopping Center for Cycling Experiences" which aims to satisfy and fulfill the cycling needs of consumers.
Every product provided at Rodalink is guaranteed, even for every bicycle product purchased at Rodalink, you will get free service for every single bike purchase above RM1000. This makes Rodalink the best shopping store for consumers who prioritize the best service and quality.
Not only bicycles, but you can also find recommendations for cycling spots and any cycling necessity at Rodalink Malaysia bicycle shop. From high-quality cycling helmets, water bottles, bike lights, locks, and many more bike accessories or spare parts at our kedai basikal. Hassle-free with a click on your hand. What are you waiting for? Shop now and gain more benefits with Rodalink Membership. Join now!