While mountain biking, mechanical faults seem to always happen at the worst of times. But there are some precautions you can take and some preventive maintenance that will put more miles between breakdowns than trips to your local bike shop. Here's how:
1. Punctures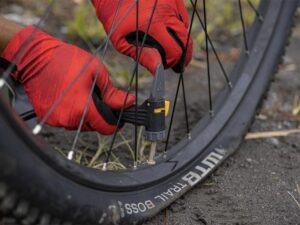 You've probably heard the eerie hissing sound caused by a flat tire, and you've probably heard your tires make a whiny sound. It's no surprise that tons of rocks and roots out there can flatten your tires or cause damage to your bike. If you use inner tubes in your tires, you should consider converting to tubeless so the sealant can cover pinholes caused by things such as nails. If you're still getting flat tires, it's probably because your weight or riding style doesn't suit your tire casing. You can buy a heavier tire casing which will protect it better.
2. M-check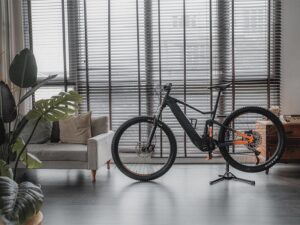 Before taking a long road trip, or at least once every week, it's good practice to do a basic safety check on your bike. The M-check consists of inspecting all the main working parts of the bicycle: from the front to the rear hub. The M-check is so named because it follows the shape of the capital letter M when checking over a bike. It's a useful pattern and helps you quickly identify problems on your bike. With practice, doing this should only take a couple of minutes for any given bicycle— especially if you have experience or have practiced many times before!
When you do a preventive maintenance check, it helps keep breakdowns from happening. Ideally, you should perform an m-check every time that your bike is not in use or every time that you wash it. The m-check simply reminds you to start from the bottom up into the saddle, down through the bottom bracket to the cockpit, and down to your front wheel. Check that the wheels are attached securely to the bike. It's a good idea to pick up your bike and wiggle the wheel from side to side, making sure everything is tight. You should also check that the rear axle isn't loose and inspect other areas of concern such as chains or brakes.
3. Derailleur Maintenance (back-up & set-up)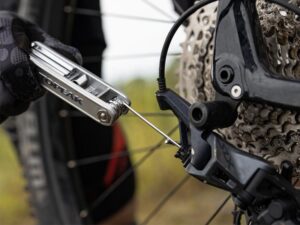 Rear shifting is another common casualty among mountain bikers. The location makes it vulnerable to rock attacks, so if you pick a line that avoids them—good for you! Sometimes the inevitable happens, though and rocks are unavoidable on trails. Luckily, the shifter is attached to the frame by a hanger mechanism that is designed to bend and break—making shifting your bike's gears or replacing bent parts easier. That's why it's always a good idea to carry a bike-repair kit with you because if something unfortunate happens, at least your gear will work properly.
A good way to prevent damage to your shifting is by making sure it is appropriately installed, specifically the top and bottom limit screws you need for each gear and cassette. If your low limit is not set correctly, then the shift lever can move too far past its lowest gear and the chain can fall into your fingers. This could cause you to lose control of your bike—and it could even damage other components of your bike.
4. Chain Maintenance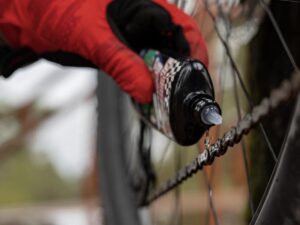 The chain and drivetrain are often the dirtiest parts of a bike, and this grime can also threaten its longevity. It causes chain links to wear faster, reduces the flexibility of chains, and makes them more likely to break. It also affects shifting performance as well as all other parts in contact with it.
A broken chain is actually one of the most painful mechanics, it usually occurs under load, and as a result, you are thrown forward and your knee can be bruised or even worse over the handlebars. The best thing to do is a little preventative maintenance here; it should be part of your m-check, you check to see if there's any damage or twist, but every time you clean it you want to check to see if any cracks are showing up in your chain. Also, check the chain life with a chain checker, make sure it is not too welded or worn and replace it regularly. It's also very good practice not to shift under load so that means. try not to change gears when you are putting serious pressure on the pedals such as climbing a hill or running.
Check your chain regularly by lifting the rear wheel off the ground and looking at it from the side. Examine the chain for dirt, rust, and tight links by slowly rotating one pedal with your free hand as you look at individual chain links. If you hear a squeaking sound while cycling, it means that your bicycle chain is either too dirty to lubricate properly or has lost its lubrication altogether.
Lack of lube also increases chain wear, and to minimize dirt build-up it is necessary to use chain lube. There are several types of chain lube, such as dry lube or wet lube, from well-known brands like Finish Line, which you can find at Rodalink Malaysia
5. Brake Maintenance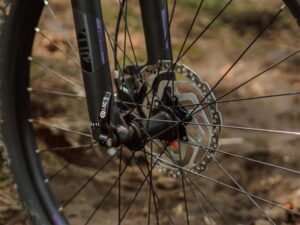 Those who deal with brake mechanics will tell you they're one of the scariest things to work on. So it's always a good idea to take care of your brakes and check them regularly—you certainly don't want any surprises when you apply the brake!
If your levers start to return to the bar, you'll need new ones. And if they're back on the spoke but your bearings are fine—maybe it's time for a fresh batch of fluid in that hose! Confirm that your brakes are in good working order at least once or twice a year. Cleaning the bike should include covering the discs so no lubricant or silicone spray from anything else gets on them—which would contaminate them.
Add brake fluids to coat your brake cables, as it distributes itself evenly and lasts a long time. You can find brake fluids from well-known brands such as Finish Line, whose quality is guaranteed at Rodalink Malaysia bicycle shop.
If you're looking for a 'mountain bike Malaysia, kedai basikal or mtb basikal', you're in the right place! Rodalink Malaysia offers everything from bicycles and accessories to spare parts. Through Rodalink, you can not only buy your dream mountain bike, but also the spare parts you need.
Here, you can get free local delivery. You can also pay in installments with 0% interest if you choose that option. As a Rodalink Malaysia member, we will keep you informed of ongoing promotions here. No matter your level of expertise or how recently you have begun cycling, Rodalink has the perfect bike for you!
Discover Rodalink Ongoing Promos Now!
Discover Your Needs at Rodalink Now!