Your bike is an investment, which means that you have to take good care of it, including preventing it from getting stolen. Bike theft is a common problem at any place, making one of cyclists' priorities is to make sure that their bike is safe and sound before they can leave it at a public space. Even though folding bikes are known for their practicality, cyclists still need to be prepared with a bike lock. Yes, you can surely fold up your basikal lipat and carry it around with you. But, let's face it, do you really want to do it every time? There might be times where you do not want to be bothered by carrying a whole bike with you, or a situation where you just simply can not. This article will give you some tips and tricks on how to lock your folding bike properly, so that it stays intact just like when you leave it.
Types of Bike Lock
Before getting into the details on how you can lock your folding bike properly, you need to get familiar with the various types of bike lock. By knowing the types of bike lock, you will be able to choose one that is suitable for your needs and within your budget range. We will be talking about the 4 types of bike lock offered at the market : cable lock, U lock, chain lock, and folding lock.
Cable Lock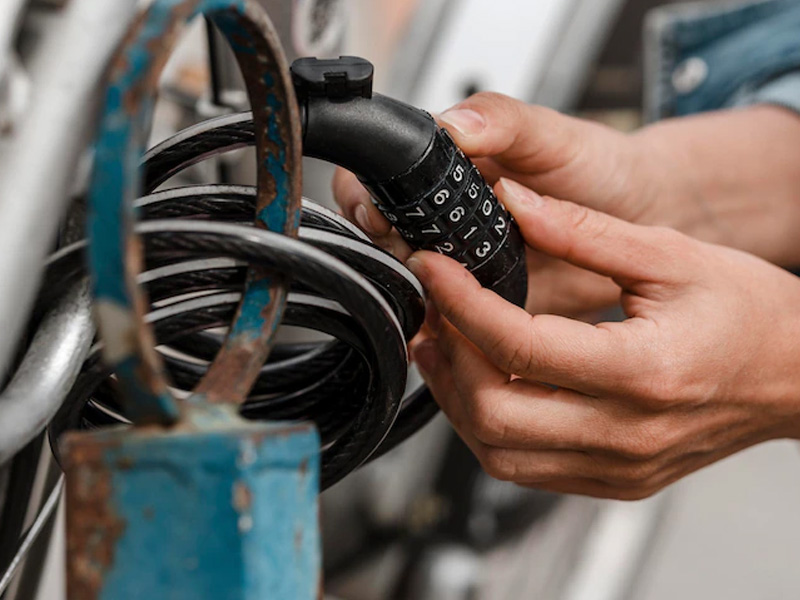 Cable locks are flexible, lightweight, and portable. Cyclists can extend the cable and wrap it around according to needs, making it possible to lock your folding bike onto any makeshift posts. Our recommendation for the best cable lock is the Entity CL30 Lock with Number. It has a number combination as key and is made from 12mm of thick metal covered by black PVC coil. The cover will help to protect the frame from scratches caused by an exposed metal as the main composition of the lock. It is much thicker than other types offered in the market, giving more toughness and extra security for your bike. The lock itself uses a zinc alloy covered with ABS, making it resistant to any weather condition.
U Lock (or D Lock)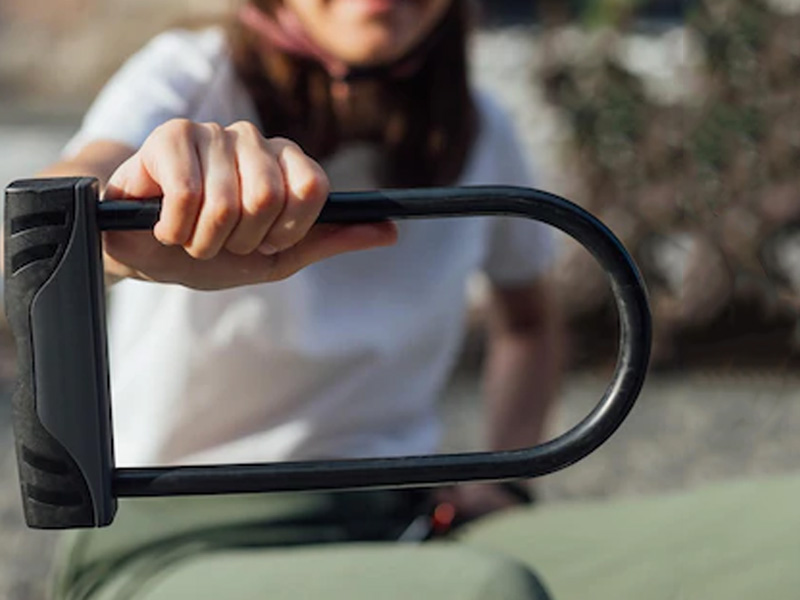 U lock or D lock is a bike lock made from solid metal shackles with a removable cross bar. Cyclists will loop around the metal shackle through the bike's frame and a suitable metal railing or post. This type of lock is strong and durable. It is generally resistant to bolt cutters, picking, drilling, and leverage attacks. Even with its durability, it is still significantly lighter and easier to carry around. The cons from this bike lock is that it is not as flexible, making the post option very limited.
Chain Lock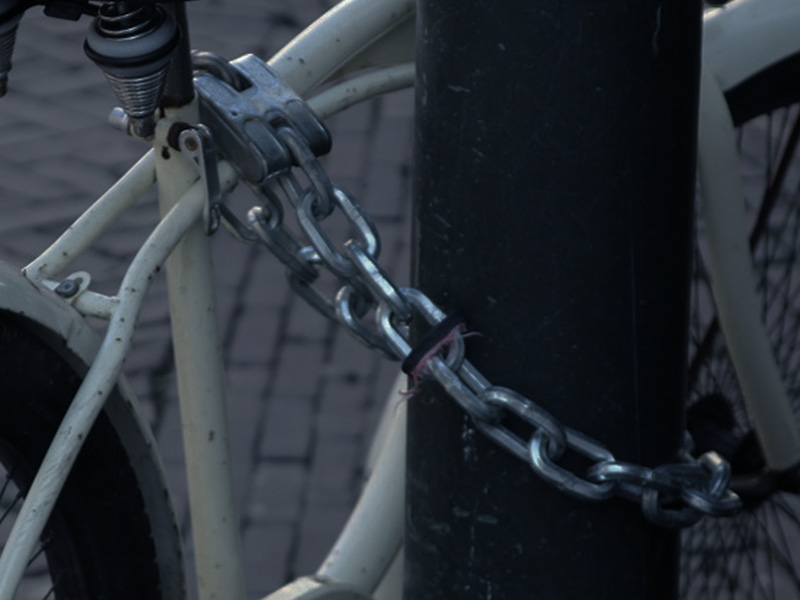 Chain lock is very similar to cable lock, just made from different material. Instead of the regular steel, it is made from the stronger and thicker chain material. Chain locks are flexible, as you can loop it around your bike and any makeshift posts. It is extremely tough and secure, harder for bike theft to destroy the lock. The downside is that this bike lock is more on the heavier side, so it is not as portable as the others.
Folding Lock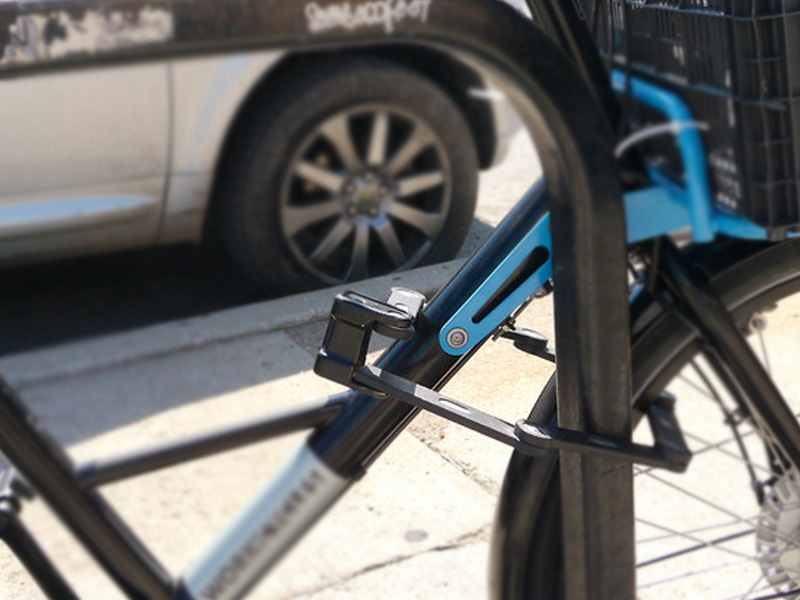 The last type of bike lock is a folding lock. Folding lock is made from pieces of metal plates that are connected using rivets. These plates are able to rotate, which then gives a folding lock the ability to wrap and bind around various objects as a makeshift post. The benefit is in its flexibility and compactness.
Locking Your Folding Bike
Now that we have covered all the different types of bike lock, let's learn how to use it properly!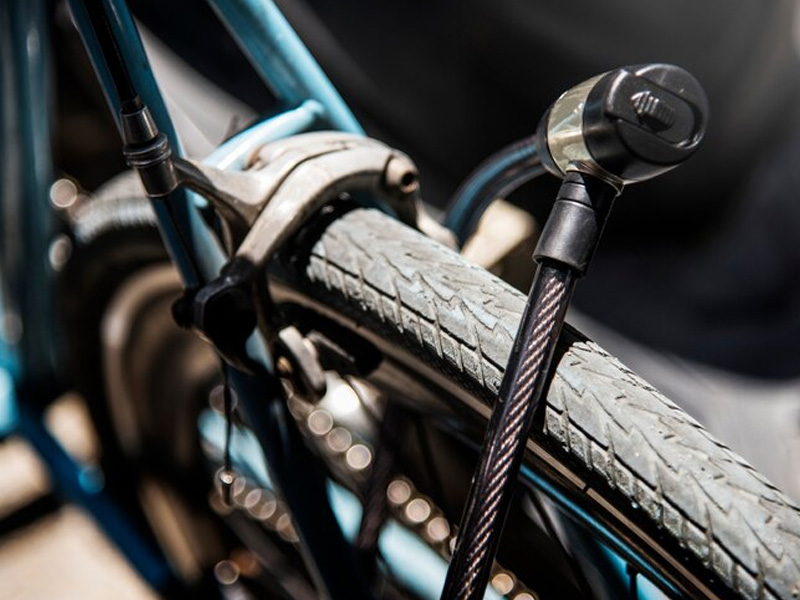 There are two ways of locking up your folding bike. One, is when it is unfolded like a normal basic bike, or two, when it is folded. When it is unfolded, you should prioritize locking the frame to the post first. It is not uncommon that bike theft will disassemble the parts of your bike to steal several parts of it. In a high risk area, you should be prepared to lock your rear wheel, and then the front wheel as well. You can use one lock to secure the main frame of your bike, then use separate ones for the wheel. If the lock is large enough, you can also lock the back wheel and frame together, and use a second lock to secure the front wheel on itself.
If you are locking your bike when it is folded, you should lock both rear and front wheels together. To lock your bike, use one for the frame and another additional lock for securing the front and rear wheels together.
Last but not least, make sure all parts are locked. Seat post and wheels on a folding bike might have a quick release feature, so you need to make sure that it is not working when you leave your bike. Also, remember to remove any accessories such as GPS, lights, and removable pedals when parking in a high risk area.
Picking Proper Posts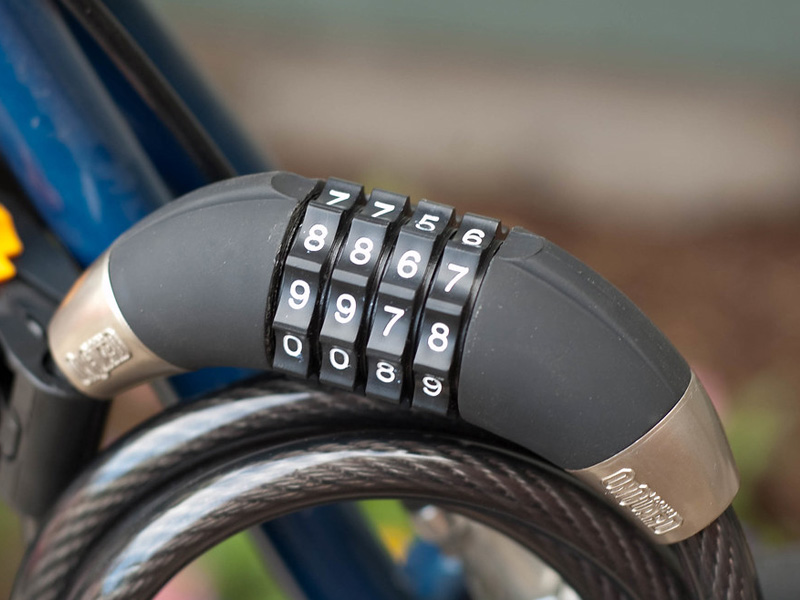 Pick an object as your post that is solid and can not be moved around or lifted. The post should be tall enough, so that your bike can not be lifted over the object as well. Try to stay away from street signs as they can be unbolted from the ground, or a tree because it is easily cut or snapped. Instead, look for dedicated bike racks that is provided in public spaces, it has a design that guarantees safety and the material is difficult to break.
Conclusion
Investing in proper bike locks are just as important as investing in a good folding bike. A high quality bike lock provides better security for your basikal lipat. Try to have at least two bike locks, a cable lock and a folding lock for all around security. The locking mechanism will either be a key or a combination code. A combination code is better since it can not be picked and there will not be the possibility of losing the key, making you unable to access your bike.
You can find high quality bike locks at Rodalink Malaysia! We are currently having a sale live on our website for bike parts and accessories. Go check it out now!
You can also enjoy free local delivery service through our website. Pick from our various payment methods that suit you best and also get 0% installment. To get extra promos, you can sign up to be a Rodalink Member! Gain access to exclusive promos and collect your points from your very first order! Shop now!