Marin mountain bikes have been around for a while and have a huge following of riders who swear by their quality, performance, and durability. But, before discussing more Marin Bike, let's find out about the Marin brand first!
Since 1986, Marin Bikes has been designing and manufacturing a wide array of different bike models in its Novato plant. Some of these designs have won prizes at various cycling competitions. Currently Marin bikes are under PT. Insera Sena. Even though Marin bikes are now produced in Asia, the manufacturing process remains the same-created at their headquarters in Petaluma, California.
If you're looking for a new mountain bike, consider buying one from Marin. They make full-suspension and hardtail bikes in different sizes to suit all riders. A Marin mountain bike can be the right choice for you regardless of whether you're a beginner or an experienced rider.
The Types of Marin Mountain Bike
There are two different types of Marin mountain bikes to choose from, and each one is designed for a specific purpose. Here's a quick rundown of the different types:
1. Marin's line of full-suspension bicycles includes models that cover all categories of mountain biking: trail, all-mountain, enduro, and downhill. The company produces FS mountain bikes in a variety of price categories, making them suitable for all types of riders. Currently, there are two different model lines available at Rodalink Malaysia, namely the Alpine Trail and Rift Zone.
For instance, trail riders who don't want to blow their budget can get the Rift Zone 1 model for around RM 5,099. This bike offers 130mm (5 inches) of travel and hydraulic disc brakes—enough suspension for most trails but still a balanced ride quality with efficient braking. It also has slack geometry to keep you upright when navigating rough terrain at high speed and a Shimano Deore 11-speed drivetrain
2. Marin offers a large variety of hardtail mountain bikes, with eight different models available—both 27.5″ and 29″. Riders can choose from the trail, XC Race, and dirt jump bikes depending on what suits them best. All of the current bikes are made with aluminum frames, so they will be most suitable for new and intermediate riders. However, that does not mean that some of them can't hold their own in a race or competition. Currently, the San Quentin, Bobcat Trail, Bolinas Ridge, and Pine Mountain series of Marin Mountain Bikes are available at Rodalink Malaysia.
The Marin Mountain Bike Series
1. Marin Bolinas Ridge Mountain Bike Series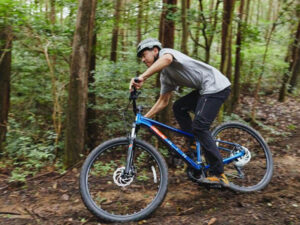 The Bolinas Ridge line of mountain bikes is designed to help recreational riders enjoy a fun ride in the local mountains. The Series 1 aluminum alloy frames, 100mm travel suspension forks, and reliable Shimano drivetrains make these bikes capable of tackling real trails to push your own boundaries. The size-specific 27.5" or 29" wheels, disc brakes, and 2.25″, MTB tires of the Marin Bolinas Ridge are designed for comfort, traction, and control through rough terrain—whether you're heading out on a trail to explore new territory with friends or tackling your first solo outdoor excursion!
For now, at Rodalink Malaysia available Marin Bolinas Ridge 1 29er Mountain Bike and Marin Bolinas Ridge 1 Mountain Bike.
2. Marin Bobcat Trail Mountain Bike Series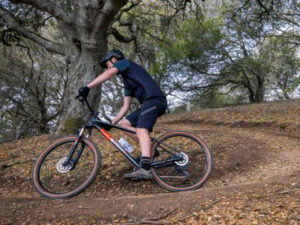 The Bobcat Trail is a mountain bike with modern trail geometry build for exploring singletrack trails. The Bobcat Trail offers a solid frame and components for recreational riders looking to step up, as well as experienced mountain bikers in need of an update that doesn't break the bank.
The Bobcat Trail mountain bike line is designed to meet the needs of a variety of riders, providing machines that are capable and reliable. The heart and soul of the ride lie in its lightweight Series 2 aluminum alloy frame, which was specifically designed with long-travel 27.5" or 29″ wheels that are perfect for conquering any rock gardens out there. All Bobcat Trail models are equipped with hydraulic disc brakes, with off-road specific drivetrains.
At Rodalink Malaysia, you can find several models from this series, such as the Marin Bobcat Trail Mountain Bike 3, Marin Bobcat Trail Mountain Bike 4, Marin Bobcat Trail Mountain Bike 5, and Marin Bobcat Trail Mountain Bike 4 2020.
3. Marin San Quentin Mountain Bike Series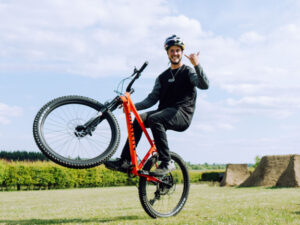 The San Quentin collection, developed in conjunction with freeride legend Matt Jones and named after the roughest and tumble piece of Marin County's namesake maximum-security prison, lives up to its notorious reputation. The San Quentin family of aggressive trail hardtails combines the strength and style of our Alcatraz dirt jump frame with the natural trail savvy that only a well-designed hardtail can provide.
The San Quentin 1 features a Series 2 aluminum frame, with tapered head tubes, 3D forged drop outs, IS brake mounts, and semi-internal cable routing. The San Quentin 2 and 3 feature Series 3 aluminum frames, with more advanced tube forming and complex dropouts for improved durability. Both models feature ISCG 05 tabs for easy chain retention device installation for rowdier riders. You can find Marin San Quentin Mountain Bike 2 and San Quentin 3 at Rodalink Malaysia
4. Marin Pine Mountain Bike Series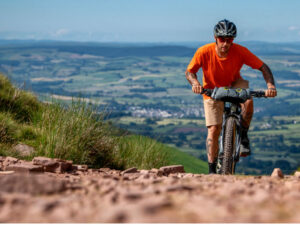 The new Pine Mountain from Marin Bikes is an adventure trail bike that can handle any type of terrain. Featuring 29×2.6" wheels and aggressive geometry, the Series 2 and 3 CrMo frames have been constructed for raucous fun on any type of trail. The Bedroll Bar lets you customize your bike and gear to each and every adventure, and wide-range drivetrains and sturdy suspension forks make sure you don't get stranded out in the wild without a good story to tell.
The Pine Mountain 1 and 2 feature 4130 CrMo frames with Boost dropouts, full fender and rack mounts, and tons of bosses for mounting a wide variety of gear. The Pine Mountain Trail Geometry is a mix of agility for trail riding, and all-day comfort for backpacking. Short chainstays keep a shorter wheelbase for that active ride while a 66.5-degree head angle makes for confident steering no matter what you're carrying.
You can purchase the Marin Pine Mountain Bike 1 at Rodalink Malaysia.
5. Marin Alpine Trail Mountain Bike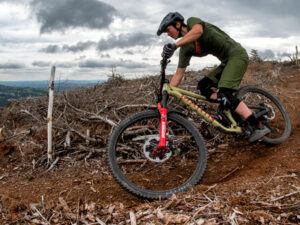 The Alpine Trail series, designed for the serious mountain biker and alpine adventurer, will satisfy all of your gravity-fueled downhill needs. In 2021, Marin Bike updated the Alpine Trail with a more progressive slack headtube/steep seat tube geometry for enhanced handling. Its durable aluminum or carbon-fiber frame is built around our critically acclaimed MultiTrac platform, and fits 29″ wheels better than ever before!
The Marin Alpine Trail E1 Electric Bike is now available at Rodalink Malaysia, so you don't need to be confused about finding the nearest bicycle shop that sells this bike series.
6. Marin Rift Zone Mountain Bike Series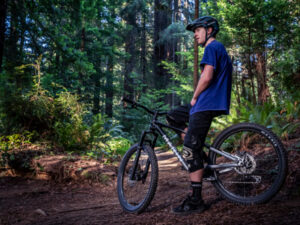 The Rift Zone 27.5 is our most playful and fun short-travel suspension trail bike to date, built around a MultiTrac suspension system that makes riding on the trail a blast! For those who want to learn mountain biking, the Rift Zone is an excellent entry-level option with trail performance that will keep you coming back for more.
The Rift Zone comes with a balanced suspension system that provides a comfortable ride, while the suspension is tuned to handle big drops and rocks. The bike features a slack head angle, short chainstays, and a low bottom bracket. And with its 27.5" wheels and Boost front spacing paired with a 148x12mm Boost rear thru-axle, this mountain bike will be durable for many years of riding even on tough trails.
Currently, available Marin Mountain Bike Dual Suspension, namely Marin Rift Zone 24, Marin Rift Zone 1, Marin Rift Zone 2, Marin Rift Zone 3, Marin Rift Zone CRX at Rodalink Malaysia.
Reasons to Choose Marin Mountain Bike
If you're in the market for a quality mountain bike, you should consider buying a Marin. Marin mountain bikes are some of the best on the market, and here are five reasons why you should buy one.
1. Marin mountain bikes are built to last
With top-quality materials and construction, a Marin bike will stand up to even the most extreme riding.
2.They're built for performance
Whether you're a seasoned pro or just starting out, Marin mountain bikes have the perfect model for you. With features designed for speed and agility, you'll be able to take on any trail.
3. They're super versatile
From cruising downhill to climbing uphill, Marin mountain bikes can do it all.
4. They're affordable
You don't have to break the bank to get your hands on a quality Marin bike.
5. They look good
Not only do Marin mountain bikes perform well, but they also look great. With stylish designs and cool colorways, you'll be sure to turn heads when you ride by.
So what are you waiting for? Pick up a Marin mountain bike today and see what all the fuss is about!
Conclusion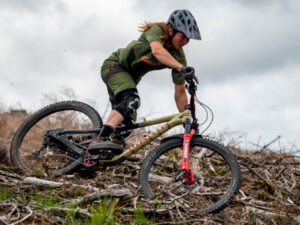 Marin mountain bikes are designed to give riders the thrill and excitement of off-road biking. There's a wide range of series from which you can choose—each with features that cater to different riding styles and needs. After learning about the many types of mountain bikes that Marin manufactures, you may wonder which one is right for you. The answer depends on your budget and riding style- but no matter what model you choose from this trusted brand, it will surely provide a great ride!
You can buy a Marin mountain bike at Rodalink Malaysia. We have many different types of Marin mountain bikes, and you can also find the latest models from our collection. What's more, get local delivery for free and check the website for ongoing promos. You can also get special benefits by becoming a member of Rodalink Malaysia. So why not check them out today?