Are you looking for an outdoor activity that is different from any other? Trying to get that adrenaline pump after a long working week? Mountain biking is definitely the way to go! Instead of just exercising, you can also get the rush from going up and down the trails, snaking through the tracks, and also enjoy nature at the same time. Keep in mind that this activity requires a lot of preparation to ensure your safety and well-being, so definitely consult with an experienced cyclist before giving it a go. But, if you are all set up and looking for new spots to try, here are our top picks for the best mountain biking spots in Malaysia. You might find one that will be in your next list!
Bukit Kiara Park, Kuala Lumpur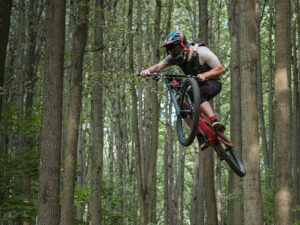 You do not need to go far from the city to get a dose of extreme fun. The jungle trails of Bukit Kiara in Taman Tun will definitely give you the adrenaline rush you are looking for. A thrilling place for mountain bikers who are up for a challenge! This place was mainly a rubber plantation many decades ago. Long forgotten, now it has been the primary green lung area near the heart of Kuala Lumpur. The pathways you will be mountain biking through are some existing paths carved out by illegal rubber tappers, but now they are mainly used by mountain bikers and hikers. The trails at Bukit Kiara feel very raw, with mother nature roughing it up, topped with fallen trees and rocks.
Bukit Kiara is definitely a trail for at least intermediate level cyclists. The elevation is at a respectable more than 250 meters above sea-level at its highest peak. Expect some endless drops, technical sections, jumps, berms, and rocks along your way. But, if you are a relatively beginner to mountain biking (with basic cycling abilities and experience, of course) you can try the thrilling trail at Bukit Kiara as well. The most popular trail is called the 2K Loop. It is one of the easiest trails available on this hill. Be sure you know how to cycle and handle your bike properly though, and wear your safety gears!
Kilimu Adventure Park, Sabah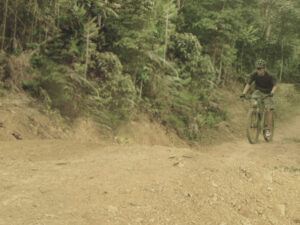 Kilimu Adventure Park is located on top of a hill, so most cyclists will usually go to this trail for the down-hill adventure through the narrow and bumpy terrain. For an MTB trail, this particular route is actually beginner (MTB cyclist–of course) friendly. There are no dangerous cliffs on either the side of the track or super steep lanes on the trail. The track itself consists of a dirt road with rocks and fallen branches, as well as the occasional protruding roots from the plants on either side of the track. Even though the track is quite easy, cyclists still have to have great control ability over their MTB, as they will be cruising through narrow trails with lots of short-but-sharp turns. It is very common for MTB cyclists to miss the turn and crash into a tree. Most of the gradient will be a downhill one that ranges between 6% to 23%, with the steepest one of 43%! There will also be an occasional uphill gradient ranging from 1% to 8%. Before cycling this trail, make sure you are fully equipped and all bike parts are checked to be in good condition to conquer this 3K enduro trail!
Teluk Chempedak, Pahang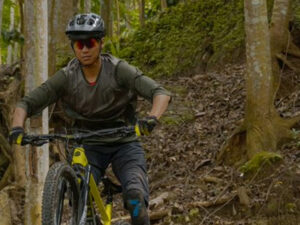 Teluk Chempedak is best known for its tourist destination at the beach, or even for the locals. But, there is also much to see and experience for mountain bikers. At Teluk Chempedak, you will cycle through the nearby forest. The track is relatively clean, mostly consisting of dirt roads and forest floors. Watch out for the rainy season, because you will find some puddles along the way, which can actually add to extra fun! The lap around is about 6 kilometers, and some mountain bikers like to do several laps before ending the ride. The track is beginner-friendly, just make sure you are going with a group of cyclists to guide you while cycling here.
Bukit Dinding MTB Trail, Kuala Lumpur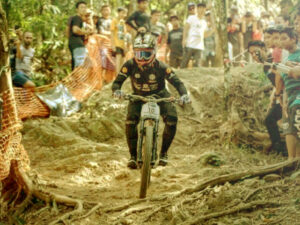 Bukit Dinding is a famous trail for both hikers and bikers. For MTB cyclists, it is a famous spot for its downhill and enduro MTB trails. The downhill track itself is a short 1.6 kilometer. But, you definitely can not underestimate the adrenaline boost it gives! The downhill gradient is mostly a 20% to 55%, even with the steepest one at 103% and 100%! There will also be a few climbs of fewer than 10%, but some will be at around 20%. This particular trail needs an advanced level of MTB experience, with undeniable control ability to be able to face all the terrains. An enduro mountain biking indeed! It is rightfully famous and worth experiencing!
Denai Peladang Bike Park, Selangor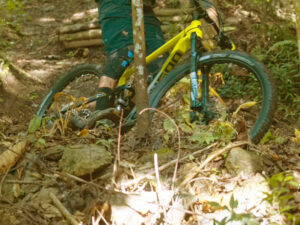 Another popular MTB trail is Denai Peladang Bike Park in Selangor. The dedicated bike park makes it a very good choice for a safer but still adrenaline-pumping MTB experience. Many MTB communities chose this particular bike park to be their frequent or a one-time-experience destination. The easier outside track is wider than other 'natural' MTB trails inside the forest, which enables around 3 cyclists that can comfortably ride side-by-side. But, if you are up for more challenges, MTB cyclists can actually take a turn towards the trail in the forest for a variety of terrain and upgraded obstacles. The easier track consists of dirt roads, while the forest ones will be more slippery, with scattered fallen leaves, rocks, fallen branches, and a very uneven surface. Expect frequent sharp turns and a lot of gradients during this ride. Inside the forest, there will be a man-made vertical wooden plank track as well as a jumping ramp for MTB cyclists to try and show off their skills. Overall, it is a very recommended trail to try for experienced MTB cyclists!
And that completes our guide for the best mountain bike spots in Malaysia. Have you found a new spot you wanted to add to your list? Are you all prepared to do some MTB now?
MTB ride is definitely more on the more difficult and dangerous side. Make sure you are all prepared from physical abilities, even to the mountain bike gears itself! Note that you should also do a checkup on your mountain bike as well before going on your new adventure. Check on the brakes, gears, tires, and handlebars to see if it needs any cleaning or service done.
When going on a MTB ride, comfort is your number 1 priority. Suit up in your biking jersey, and even do some upgrades to your ride. You can invest in pedals and the matching shoes with cleats to transmit your pedaling power efficiently into performance. Also, always wear protection, such as a helmet to protect your head during fall and glasses to also protect your eyes from dirt and mud splashes. Last but not least, stay hydrated by bringing your own water bottle. To keep yourself stay compact, install a bottle cage to your mountain bike to hold it while you are cycling away.