Mountain biking can be seen as a more professional type of riding. Usually, you will see riders jumping between rocks and going down a very steep cliff, which can be intimidating for beginners. You might think, how to balance yourself on top of the rough terrain? When is the right time to put pressure and lift it? How should I hold my bike? Worry not! In this article, we have gathered MTB tips for beginners. Starting from checking the condition of your bike to the necessary skills you have to require. Let's take a look!
Mountain Bike Check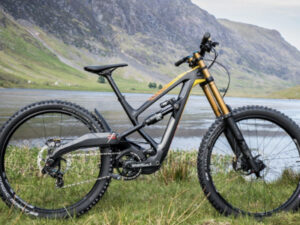 Before you set off on an adventure, it is best to check your bike's condition to make sure it is in its prime state to be ridden. Checking your bike can prevent problems from occurring during your ride. Any kind of adjustments can be made beforehand so that cyclists' comfort and safety are guaranteed.
1. MTB Tire Pressure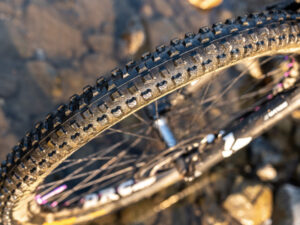 Your bike's tire pressure can define the comfort of your mountain biking experience. It has to have the right amount of pressure to roll smoothly on the terrain while also having enough grip, so you do not slip everywhere. A recommended mountain bike tire pressure is around 20psi to 25psi for beginners. But every brand can have different recommendations on their optimum tire pressure, so it is best to go along with it. To see the recommended tire pressure, you must look at the side of your tire, as brands will usually emboss the information there. An extra tip for tire pressure is to put a higher pressure on the rear tire, up to 28psi, as it is the one that will take more impact when you are jumping and riding around on your bike.
Now that you know the recommended tire pressure, all you need is a tool to calculate the tire pressure and pump it when needed. You can find one such as the Topeak Pocketshock Digital 300 psi Shock Pump from Rodalink Malaysia. It is a handy tool to have so that you can pump your bike on the go. But, for pumping at home, you can use the Topeak Joeblow Mountain Floor Pump. Both pumps are compatible with either Presta or Schrader valves.
2. MTB Controls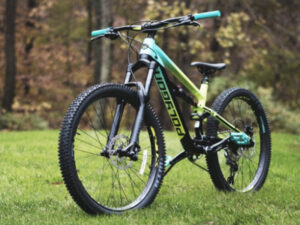 Next up is to check whether the handlebar controls are in the right position. You can do so by holding your handlebar and trying to pull the brake lever. Adjust the angle of the lever until it feels comfortable for you. When adjusting, do not over-tighten the bolts to prevent them from wearing out.
3. MTB Saddle Height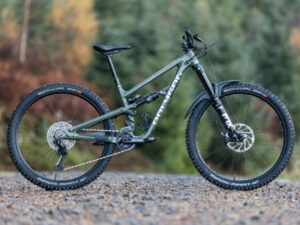 Saddle height will affect how comfortable it is when you are riding on top of your bike, especially when you have to drop 1 foot down to maneuver the bike. The first step in figuring out your saddle height is to place it as high as your hip bone. Afterward, get on top of your bike and check your pedaling position. To get an efficient pedaling motion, your knees still have to be slightly bent when pedaling downwards. Another way to check it is by positioning your heel at the pedal and then pedaling downwards. You will want your legs to be perfectly straight so that when you move the heel backward and get into the right pedaling position, your knees are bent just enough.
4. MTB Basic ABC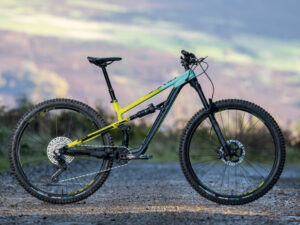 There is an ABC quick check, which stands for Air, Brake, and Chains. You have to make sure your tires have enough air, your brakes are holding down correctly, and the chains are clean and lubricated.
Mountain Bike Essential Skills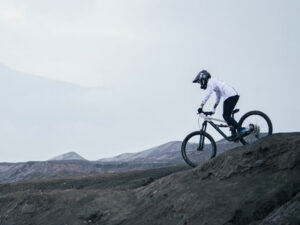 As mentioned earlier, mountain biking does require a set of skills to ensure the safety of its riders while also still having fun at the same time. These essential skills are not limited to a certain type of bike. Whether you are using a hardtail or full suspension, an affordable or expensive one, the same skills is needed.
1. Neutral Stance/Attack Position
A lot of the time, when you are mountain biking, you will be maneuvering your bike at all times to maintain the steering and traction. The difference is that instead of sitting down on the paddle, you will be doing this by standing tall on your bike. This standing position is your neutral stance. To have good balance and control in your neutral stance, all you have to do is stand nice and tall on your bike with a slight bend on the knees. Most of your body weight should be put on your leg instead of your upper body or arms. If you have the position correctly, you can move front to back and side to side smoothly.
2. ARC
The arc of movement is using your body weight around your bike to help maneuver it. As mentioned earlier, you will move from front to back and side to side. You will move front to back more frequently than side to side. All you have to do to practice the front-to-back movement is get into your neutral stance. To move towards the back, position your heels down and then drop your hips all the way down to the back tire. When going up and forward, stand right back up and move as if you are dipping your toes. Remember to not let your shoulders come in front of your bars very oftenly, as it can lead you to dangerous positions.
Practice the font and back movement frequently to get a feel for when to use each one. Such as, when dipping down a hill, you will want to be in the back position. But, when you are going back up, you have to maneuver yourself and your bike with the front movement. The neutral stance or standing position will help you go through the rough terrains of mountain biking, while the arc of movements will help you through the extreme ups and downs.
3. Pedaling
To get efficient and effective pedaling, try to distribute your effort by going in a circle instead of stomping. This will help greatly when you are riding through moderate terrains while sitting down. When you are facing steeper climbs, pedaling in a standing-up position will help a lot to get more power transfer.
4. Braking
When pulling the brake lever, try to do it gently so your bike can slow down gradually instead of coming to a dangerous and sudden stop. Also, practice learning how the front and rear brake works so that you can use each one for specific situations unconsciously. On flat terrain, the front brake will work best. During a steep downhill ride, you will want to rely on the rear brake. On slippery terrain or cornering, you will want to use both brakes by pulling them gently using one or two fingers.
You can also brake by using your body movements, by doing the arc of movement towards the back. You are putting your body weight towards the rear wheel, so there will be more traction there. After that, slowly pull the brake lever so that when you come to a stop, your body will not go flying forward. Instead, the bike will stop more safely and faster.
5. Soaking Up
When riding through steeper downhill sections, it is best to push your saddle down using your Allen key or drop post. This way, your hips can move more freely and soak up the obstacles, making the bike come up to you or push it down whenever you need it.
6. Head Up
Another essential skill beginners must master is the head-up position. It is by keeping your head up and looking forward. This will automatically bring your chest back up and put you in a safer position. The wider and clearer view of upcoming obstacles also allows you to plan how to navigate yourself through them, especially for corners and technical terrains.
Cornering
When cornering, your foot position will help you a lot. You can start from your neutral stance where your foot is at level and then drop the outer foot to raise the inner one so that it is clear of obstacles. It is also important to note to take on the corners smoothly and gradually so that you can prevent yourself from falling off.
So that wraps up our top 10 tips for beginner mountain biking! To shop for your mountain bike essentials, go and visit Rodalink Malaysia! You can look up kedai basikal near me and pick the store location that is closest to you. Or, if you decide to shop online, you can visit our website and enjoy a free local delivery service. You can choose from our various payment methods and even enjoy 0% installment from OCBC. You can also use ShopBack It, Pay Later. We are also having a sale on bike parts and accessories. This is the best time to complete your basikal mountain gear! Plus, when you sign up to become a Rodalink Member, you will be eligible for exclusive promos and offers. Shop now while the promo lasts!
Discover Your Needs at Rodalink Now!