Mountain biking may be just the sport you're seeking for adrenaline junkies looking for an adventurous way to exercise. Before hitting the trail, riders should ensure that their bikes are equipped with a few essential accessories—just like any other type of bike.
When you are getting ready for your first mountain biking adventure, it's important to make sure that you have everything you need. However, when talking about finding mountain bike accessories, the length of the ride should also be taken into consideration.
For example, if you go for a quick one-hour ride outside but don't prepare much biking gear, your belongings should be light and functional. If you're new to mountain biking, don't worry—we've got your back. Here are some things you should get ready for your first mountain biking adventure, along with the best places to buy accessories.
Mountain Bike's Accessories You Need for Mountain Biking
There are a wide variety of biking accessories available, and each cyclist will have their own preferences for what they like to use. However, safety accessories and emergency tools should be included in your backpack. For a detailed list of these items, see the following:
1. Helmet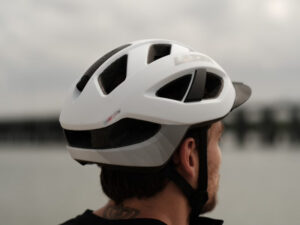 According to the rules and code of conduct set by the Land Transport Authority (LTA), every cyclist or personal-assistance bike (PAB) rider should wear a helmet when cycling—including offroad riding. Besides being required for safety reasons, wearing a helmet while mountain biking might just save your life! The helmet has been an important and influential accessory for women and men who enjoy mountain biking.
Mountain biking is a more dangerous activity than urban cycling because of potential spills, crashes, and collisions. A mountain bike helmet has a special design that keeps the rider's eyes shaded by sun and rain as well as reflecting low-hanging branches. A mountain bike helmet sits lower around the back of the head, offering better coverage than standard cycling helmets.
2. Body Protector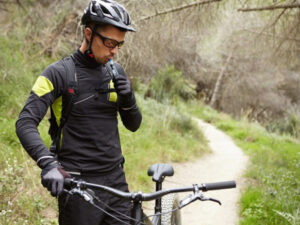 Most mountain bikers also look for body protectors, such as knee pads and elbow pads or even torso pads. Compared to the old-fashioned bulky suits, today's upper body armor is lighter and less restrictive. Modern body armor can be one of the trendy mountain bike accessories that not only protect you from serious injuries during a crash but also add to your sense of style.
It is crucial that you know what kind of riding activities you will be doing before choosing body armor. Bikers who enjoy downhill mountain biking, with its technical terrain and steep grades, may want to buy more protective gear than those who are riding cross-country trails.
3. Spare Bike Tires and Tubes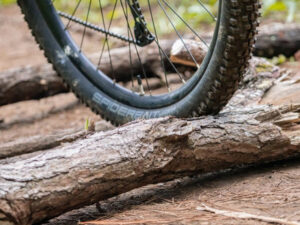 A flat tire is one of the most common problems that can happen when you're riding a bike. It's essential to be prepared for this emergency by carrying an appropriate tool with you at all times.
If you do not use your bike for some time (even if it is just a few days), before riding again, check that the tires are properly inflated and inspect/replace inner tubes.
4. Bike Pump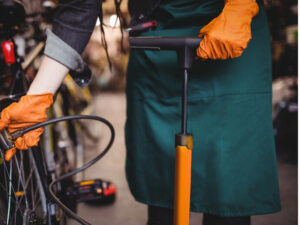 The spare bike tires and tubes are pointless if you're not bringing along a pump to inflate them. After all, without proper inflation your wheel won't roll properly onto the road and home—so better be safe than sorry! For people who are interested in portability, a hand pump is a more likely choice.
5. Multiple Bike Tools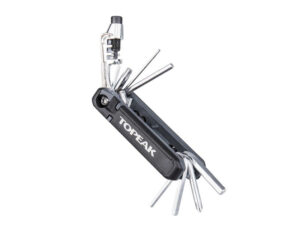 For changing a bike tire or adjusting the brake, you will usually have to use different-sized wrenches and keys. This multiple-bike tool is very practical for such purposes. Not only is it easier to remove the tire from its rim with these, but using plastic-made bike tire levers will protect your hands while you change a flat.
6. First Aid Kit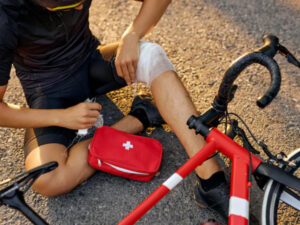 Be sure to carry a first-aid kit when going on long rides, because accidents can happen even when you think everything is under control. Although wearing an armored body suit might protect you from fatal injuries, any bruise or open wound will need immediate treatment to prevent inflammation.
7. Backpack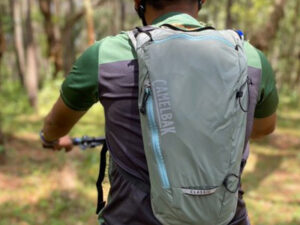 One thing is sure: you can't go mountain biking without all the necessary equipment. To store it, you'll need a large bag or backpack. Because of this, you should look for accessories that can help contain them—such as a backpack or saddle bag.
8. Food & Beverage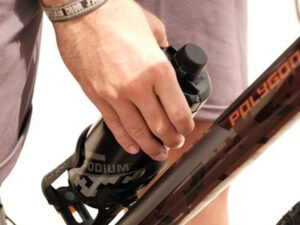 Riding a bike is fun, but you need to eat and drink regularly if you want to stay healthy. A small pack of energy chews in your backpack will ease the hunger while helping you recharge burned calories. Plus, water—which keeps you hydrated even under the hot sun and unforgiving conditions—will always be close at hand with this supply.
Conclusion
Cyclists riding without a plan for what to do if something goes wrong on the trail are setting themselves up for disaster. Wearing a helmet when you are cycling is always better than not wearing one, even if it's just to follow the rules. One that you couldn't leave out is the safety helmet: aside from being part of regulatory road rules by LTA and could protect against fatal head injuries during an accident.
If you are looking for mountain bike accessories near me, we suggest that you visit Rodalink Malaysia—the official distributor of Polygon bikes in Malaysia. They offer a lot more than just parts and apparel, too: they carry products from some of the world's best brands!
If you buy non-bike items at Rodalink, your purchased item will be delivered to you without any charge for local shipping. Rodalink also has an online store where you can access and make purchases anytime, anywhere.
However, all products sold by Rodalink are guaranteed to be original with a high-quality system and competitive pricing. Rodalink Malaysia's range of bike hire packages provides you with the best preparation for a fantastic mountain biking experience.