Gravel bikes are a type of bicycle that are designed to go on gravel trails. Since its discovery, this type of bicycle has been used to travel on gravel roads. However, the "modern" gravel bike as a type and style of bicycle only started to develop in the 2000s, adopting technology from road bikes, cyclocross bikes, and mountain bikes. They also share many characteristics with touring bikes, such as relaxed geometry, wide tires, and wide gears. Gravel bikes are popular nowadays because these bikes can be used in all terrains.
One of the gravel bikes that has the best quality is gravel bike from the Polygon brand. Then, what are the advantages and the line-up of Polygon gravel bikes? Everything will be discussed in this article.
What Is Polygon Gravel Bike?
Polygon Bikes is a brand of bikes that is part of Insera Sena. For over 25 years, Polygon Bikes have partnered with engineers, industrial designers, creative thinkers, and professional riders to design and build world-class bicycles. Polygon has designed quality bikes for every genre of bike, including Gravel bikes.
Polygon gravel bikes are designed to be the lightest and fastest bikes in different cycling areas. This bike is designed with the concept of minimalism, aerodynamics, lightness and ergonomics for smooth and gravel roads. Maybe a gravel bike isn't the lightest, but the weight is also set as light as possible so it's still comfortable on uneven roads.
Polygon Gravel Bike Series
Polygon has several line-ups of Gravel bikes, including Polygon Bend R and Polygon Path X. Each of them has its advantages, see below for details.
Polygon Gravel Bike Path Series
In early September 2022, Polygon released a new type of gravel and included it in their Path category. Now there is a new alternative for the Path category to become an Urban-Gravel Bike—there are 2 versions: X4 and X5. The Polygon Path X can tackle new routes with ease, thanks to its steep geometry and alloy frame combined with a drop bar. The bike's increased comfort from high-volume tires reduces vibration—and the carbon forks further smooth out bumps in your path.
1. Polygon Path X4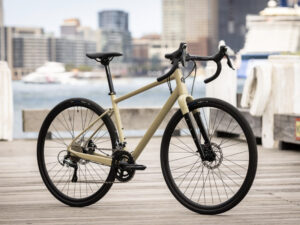 Polygon Path X4 comes with Shimano's Tiagra 2×10 speed group, which features a supportive setup that is used by new riders as well as experienced cyclists for its precision shifting and reliability. This groupset is built upon technology from the brand's top-tier lines with cascaded components.
The Shimano Tiagra brake levers paired with Tektro MD-C550 brakes provide riders with a combination of performance and value. With 160mm rotors, this set provides the extra stopping power needed in poor weather conditions. The flared drop bar has created a more compact riding position that increases agility without sacrificing control while in the drops. The 420–440mm length of the handlebar provides extra control when off-road. The Path X4's modern chainstay and wheelbase length provide increased acceleration and riding efficiency. With its full carbon fiber fork that smooths out vibrations and reduces weight, Hydraulic Disc Brakes for a smooth and powerful braking experience no matter what the weather conditions are like, there's nothing you can't tackle on this bike.
Get Polygon Path X4 Gravel Bike Now!
2. Polygon Path X5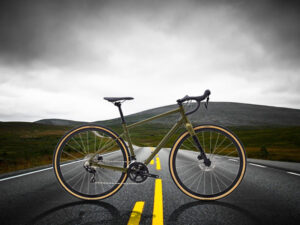 Polygon Path X5 comes with Shimano's 105 groupsets providing riders with a supportive option for precise shifting, reliability, and all at an amazing price. The 2×11 gearing system of the drivetrain provides 22 speeds and ensures efficiency in any climb or descent.
The Shimano 105 hydraulic disc brakes offer greater rider control in all conditions. The convenient one-way bleeding system, easy hose joint, and quick-release mount keep installation and adjustment simple—no matter what weather is thrown at you.
As with the previous type, this model features a drop bar that widens to give you superior agility—without sacrificing control on wider drops. With 420-440mm of handlebar space available here, it will make light off-road excursions more enjoyable than ever! With its long wheelbase and properly designed chainstays, the Path X5 gives you better acceleration. This dark metallic green bike has black markings on the fork—for style as well as function!
This bike features a full carbon fork and Hydraulic Disc Brakes, both of which smooth out vibrations to reduce weight while providing powerful braking. Path X5's Spec'd Vee Tires have a versatile tread pattern design that provides efficient and fast performance on the tarmac, dirt roads, pavements, and gravel paths. This bike is also compatible with up to 45c gravel tires providing plenty of room for upgrades in the future.
Get Polygon Path X5 Gravel Bike Now!
Polygon Gravel Bike Bend R Series
Designed with bike-packing adventures in mind, this model features a taller head tube for greater comfort and an upright riding position. With its flared drop bar, the Bend R offers improved aerodynamics without compromising the ability to handle drops. Accompanied by their full carbon fork and extra tire clearance, you can cruise farther than ever before on any terrain. Polygon Bend R series consists of 2 types, namely:
1. Polygon Bend R2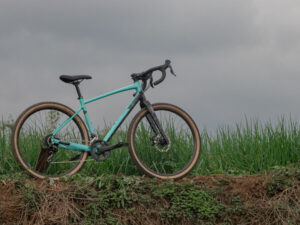 Polygon Bend R2 is one of Polygon's "demon gravel" bikes, which are designed for long rides on harsh terrain. Its taller head tube makes it more comfortable to ride in a more upright position than some other models from the same series.
The carbon fork in this road bike reduces vibration, making the ride smoother. The gel-padded handlebars help absorb shocks and make long rides more comfortable for your hands. This gravel bike is a combination of an aluminum frame and carbon forks, with internal routing for the cables in all directions. The massive tire clearance makes it possible to ride on even the roughest terrain without bumping into problems or scratching your rims. The bike also comes with eyelets for attaching a carrier, so riders can take the bike on weekend trips away from the hustle and bustle of city life. It features an extra-stiff rear axle to make pedaling easier during long rides.
If you are still unsure about whether this bike will suit your needs, the combination of Shimano 2×9-speed shifting with Tektro mechanical disc brakes should be enough to convince you. The groupset can get you through most of your journey on any terrain. And the braking system will ensure that, even if you go down a steep hill or do some off-road riding, you'll be safe and in control. The 650b wheel's smaller diameter helps it carry larger volume tires for greater comfort on rough roads.
Get Polygon Bend R2 Gravel Bike Now!
2. Polygon Bend R5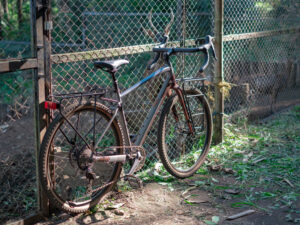 Polygon Bend R5 is a drop-bar bike that can take on everything from long gravel rides to steep, spicy single tracks. The frame is made from the brand's ALX Alloy and is paired with a full carbon fork. It has no round tubes in its mainframe, which were hydroformed into stiffness in one plane and compliance in another. The bike's full carbon fork has a tapered steerer tube and wide set dropouts to accommodate large tires. It comes out of the box with 650bx47C PERFORMANCE TIRE. Polygon Bend R5 comes with a dropper seat post, giving riders the option of a comfortable riding position. While there's not much difference in the bike frame and geometry between Bend R2 and Bend R5—with both bikes being equipped with different components—their specifications do differ slightly from one another.
This Polygon Bend R5 is equipped with a 1×11-speed Shimano GRX mix groupset, which will serve riders well over the long journey. Additionally, it has reliable and powerful Shimano GRX RX810 hydraulic disc brakes to keep them safe regardless of what kind of descent they're tackling. The wider contact patch of the 650b road plus tires improves braking, cornering, and climbing ability by increasing traction. The Entity drop bar handlebars provide a stable and comfortable ride, even over rough terrain.
The Polygon Bend R5 borrows some of the pedigree for Polygon's high-performance mountain bikes by using geometry charts similar to those found on enduro and downhill models ridden by top athletes in these sports.
Get Polygon Bend R5 Gravel Bike Now!
Why Polygon Gravel Bike?
Polygon is known for manufacturing high-quality bikes whose frames and components, such as Shimano groupsets, are manufactured through strict quality control. Polygons's bikes are lighter and more durable than any other on the market today. Polygon bikes are sturdy and well-made. They will last longer than any other bike with a similar amount of riding, but you should still take regular care of Polygons in order to maximize their longevity. Polygon's combination of top-brand components and reasonable price make it worth considering when you're looking for the best gravel bike in Malaysia.
If you've been looking for the 'nearest gravel bike shop' or looking for a trusted bike shop in Malaysia lately, you're in the right place! To get the original unit of Polygon bike, you can visit our store as an official distributor. If you need a new bike, visit Rodalink Malaysia and get personalized advice from an experienced staff member. In addition to the Polygon gravel bike—you can also consider purchasing a road or mountain bike from one of the world's leading brands. You can also find the needed accessories, parts, and apparel to complete your cycling gear.
Unlike many other distributors who will let you discover and handle how to put your bike on your own, Rodalink will ensure your bike is delivered right to your doorstep in a ready-to-ride form. You can take advantage of various benefits—like free local delivery and 0% installment! Moreover, by joining as a member of Rodalink Malaysia, you will be able to receive information related to ongoing promotions. Start your adventurous cycling journey right away only with Rodalink.
Explore More Gravel Bike at Rodalink Now
Discover Your Needs at Rodalink Now!