Polygon is one of the many brands that are familiar to our ears. This bicycle brand was founded in 1989 and continues to this day. During the Covid-19 pandemic, many people wanted to start living a healthier life—one of those healthy habits was cycling. Many customers entrust their choice of bikes to the Polygon Bikes brand because they know that Polygon makes quality bicycles.
Initially, Polygon Bikes was a small company that focused on producing export bicycles in the first 10 years of its establishment. Polygon is a bicycle company based in Sidoarjo, East Java, Indonesia with the company name PT. Insera Sena. In the 2000s, Polygon Bikes began to invest in international standard technology and expanded its manufacturing plant. Polygon Bikes has the vision to become a global brand by promoting authenticity, originality, and quality. Every Polygon product is the result of the innovation of the Ripple Coalition Team, which consists of engineers, designers, creative thinkers, and riders from Indonesia, Asia-Pacific, German, French, and America. Polygon is in control of every aspect from the initial idea to the final delivery of the bike which makes Polygon successful in producing high-quality bicycles. Polygon Bikes has been distributed to around 500 outlets in 33 countries.
What Is A Road Bike?
Cycling is a sport that never gets old—people enjoy it no matter what the era. Many cycling genres exist and are adapted to the terrain where the bike will be used. If you enjoy cycling on a smooth and long track, Road Bike could be the right choice. Road bikes are also known as "racing bikes" so their shape and size are made as slim as possible to go fast.
Road Bike cyclists usually go at an average speed of 30-50 km/hour. Even the speed of Road Bike athletes can reach around 60 km/hour. Usually, Road Bikes have a lightweight frame design with slick tires. The road bike also has a rigid and non-spring frame, made of aluminum or carbon, a disc brake/rim brake system, a variation of the handlebars in the form of a bullhorn or drop bars, and front and rear gear settings.
After knowing what a Road Bike is, now is the time for you to know more about the types of Road Bikes:
This type of Performance Road Bike is designed to maximize speed. Usually, at a high level, this type of bike is made to compete. The geometry of the bicycle frame of this type is designed to be more "aggressive". The Performance type bicycle frame is made to support a more lowered riding position, thus forcing the rider to lessen against the wind. The "Reach" section is made farther apart to make it easier for the rider to bend down while cycling.
The frame design features a shorter head-tube length and a lower top-tube angle. Consequently, when the cycling position is more "aggressive", the comfort will be reduced. This is because larger Chain-rings require greater power, meaning that the rider must have excellent physical power. The large chains aim to maximize speed.
The All-Rounder Bike is a blend of performance and comfort. In contrast to the Performance type which supports an aggressive cycling position, the All-Rounder Bike is designed to be more tolerant between speed and comfort. This type of bicycle is also known as an all-purpose or more versatile bicycle. Speed lovers who still crave comfort, and uphill can choose this type of bike. This type of bicycle is also a part of a road bike that can be used on all paved terrain, both uphill, downhill, and horizontally.
Polygon Road Bike Series
There are several types of Polygon road bikes that you can choose according to your needs, such as:
1. Polygon Helios Series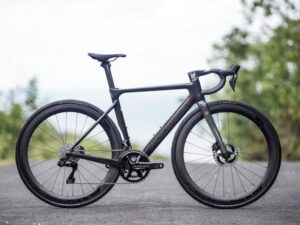 Polygon Helios Series is a type of performance bike. This series has seven A-series race bike models and eight AX-Series endurance bike models. Here's an explanation and the difference between the two:
One example of this Polygon series of bicycles is the Helios A7. The Helios A7 type is made with ACX and UCI-approved frames, made of full Carbon, and flat disc brakes. Design The Helios A7 is designed to penetrate the air without leaving turbulence. A strong and easy bottom bracket and right chain stay create pedaling power for the wheels. With the Shimano group set to 105 on par and the Dura-Ace group set in performance, this bike is strong enough to use any miles. You can learn more about this type of model and get prices on Rodalink Malaysia.
Let's take a look at Helios A9X as an example. This bike model has a lightweight yet sturdy frame. Made of high-quality ACX Carbon frame made of Carbon Ultra High Modulus T Series and M Series which makes the frame aerodynamic with a weight of around 900 grams. Equipped with an ACX aero fork and a full Shimano Dura-Ace Di2 groupset. Because this bike is exclusive, you can have it by filling out the pre-order form on Rodalink's website first, the Rodalink team will contact you via email when it's available.
2. Polygon Strattos Series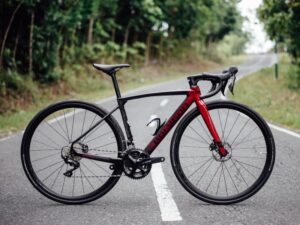 The Polygon Strattos is an all-rounder bike. The Polygon Strattos S5 uses a Rim brake/V-brake while the Polygon Strattos Disc Braker uses a hydraulic disc brake. The Strattos Series consists of a Disc Brake & Rim Brake braking system and the Strattos S8D + S7D is full carbon (frame + fork) while the S2 to S5D combine ALX Alloy frames and carbon forks. In addition, the difference can be seen in the Strattos Disc Braker's frame design which is more aero-dynamic and has a TRP Rotor, which is made for racing.
In addition to the Strattos S5, there are several previous series, namely the Strattos S2 and S3 which are all-rounder types. The difference between the Strattos S5 and S3 can be seen through the head tube which has a different shape. The Strattos S5 has a tapered head tube while the Strattos S3 has a straight head tube. Not only that, the Strattos S5 uses a Shimano 105 R7000 while the Strattos S3 uses a Shimano Sora R3000 groupset, and the Strattos S2 uses a Shimano Claris R2000.
Besides looking at the groupset used, you can also see the difference in price between Strattos All-rounder models. You can choose based on what fits into your budget.
4 Reasons Why You Should Choose Polygon's Road Bike
One of the brands to consider when shopping for a road bike is Polygon. These are some of the reasons why you should choose Road Bike Polygon:
1. Affordable Prices
You can get quality Road Bikes at quite affordable prices when compared to other brands. Polygon provides a variety of quality bicycles from quite affordable prices too expensive ones at the same time. You can match your budget with the price tag, so you don't have to sacrifice features for affordability.
2. Technology Updated
Polygon is known for his detailed research. This makes Polygon always at the forefront and always following the latest technology.
3. Certified
Polygon's bicycle frames are certified by Union Cycliste Internationale and meet all the requirements of a racing bike.
4. Strongest and Sturdiest Material Used
Polygon bikes entered another new level because the company built Carbon Fiber. ACX Carbon is light but strong enough to be used as a bicycle frame.
The four reasons above are some of the main considerations in choosing Polygon Bike Road. You can find various types of bikes from Polygon on Rodalink's website.
Conclusion
Polygon is one of the best bicycle brands in Asia, which has been around for more than 30 years in the building and designing of bicycles. Polygon's high interest in conducting research brings them to constantly be updated with the latest technologies. Certified to the UCI-Standard, Polygon is trusted to be used by world-class athletes. Having various types of bicycle genres at affordable prices, providing bikes that are beginner-friendly to professional riders.
The Rodalink website is an official Polygon distributor and can help you find a bicycle shop where you can purchase a Polygon. Even if you are a beginner, Rodalink will help you choose a bike that suits your riding style, needs, and budget. You can buy bicycles and all their accessories at Rodalink Malaysia. Get local delivery for free and check the website for ongoing promos. You can also get special benefits by becoming a member of Rodalink Malaysia. They also serve various types of payments, so you don't have to worry and trust Rodalink Malaysia for your cycling needs!