As you dive into the world of road biking, you might find a large section of road bike apparel. Yes, not just your bike and its accessories, you would also want to consider road bike apparel to make your experience even more comfortable and convenient. Beginners tend to shy away from the tight-fit of road bike jerseys. But, trust me when I say that it might be the game-changer of your road biking journey.
What Is a Road Bike Jersey?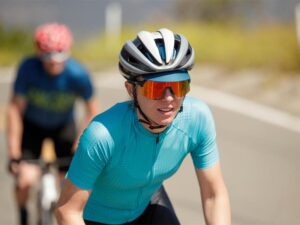 Just like any other road bike specific articles, road bike jerseys are designed to keep you comfortable and stay performing in any ride situation. Road bike jerseys will always have the characteristics of being lightweight, form-fitting, and breathable. It is usually made from synthetic materials such as polyester and lycra, giving it a good ability to dry your sweat off quickly, while maintaining moisture balance and odor resistance. Even the most basic road bike jersey will have somewhat of a waterproof and windproof abilities to it. But, as you are willing to splurge more, the features will become more premium and effective.
Types of Road Bike Jersey
Road bike jerseys are offered at a wide range of prices. You can get it from just RM 98.00 to a more premium RM 500.00 (at least this is what we offer at Rodalink Malaysia). Just like choosing the right road bike within your budget (click here to see how), we have made a quick guide on how you can choose the perfect road bike jersey for yourself.
Basic Road Bike Jersey
Just like any other decision, you have to be able to determine your goals and preference for your own road biking. If you are just going on an occasional cycling trip on the weekends, or just to keep yourself fit, a basic road bike jersey will do you just fine. Compared to a more professional road bike jersey, this particular one is not as tight-fitting. It will not make you as self-conscious when you are wearing it. It gives you more room to move and be comfortable, and is also fairly breathable. If you are concerned about the look of a road bike jersey, the basic ones also have great designs. You can definitely do other activities in this jersey without looking extra weird or too athletic. Even a cafe pitstop with your friends in the middle of a ride is possible while wearing this.
Performance Road Bike Jersey
Performance road bike jersey will be the tight-fitting one. It has more effective waterproof and windproof abilities to it. However, it can only handle a certain amount of rain before it starts to leak. More expensive ones will have taped seams to make it more effective on keeping you dry. If you are not willing to spend a pretty penny, you can always use a windbreaker for extra protection.
With the hot weather in Malaysia, you would want to opt for more breathable road bike jerseys. This will have mesh detailings on several parts to keep you cool, or even the whole jersey itself. The more mesh material it has, the less UV protection the jersey will be able to provide. So, it is crucial for you to remember using sunscreen top to bottom.
Race Road Bike Jersey
Just like the name suggests, this type of road bike jersey has premium features that will assist riders to aim for speed. Race road bike jerseys will have a more snug-fit for aerodynamics since loose clothing will catch the wind and increase drag.
The moisture-wicking abilities does not have to be questioned. It dries your sweat off fast, while also keeping your moisture balance just right so that you feel comfortable and protects your skin from chafing (dry skin on cooler weather is more sensitive). Though it has nice breathable quality, most will already come with UV protection technology. For enhanced aerodynamics, race jerseys will have specific panels and patterns on several parts of your body such as the shoulders, arms, and waist.
Extra Features to Look For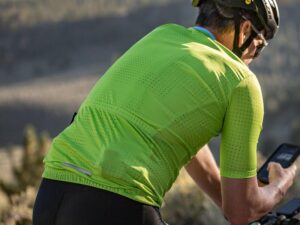 As the cherry on top of the cake, here are some features you can look for in your road bike jersey :
Pockets : very convenient to bring your essentials such as snacks, keys, wallet, and even phone. Higher quality jerseys will also come with zippers and waterproof pockets for extra protection.
Reflective elements : it could be hard when you want to have neutral color jerseys but have to keep yourself visible to other road users. Instead of having neon colored jerseys, you can opt for ones with reflective material for low-light visibility situations.
Zipper : zippers can be very useful to increase breathability of your jersey. The best one you could go for are ones with full zippers, so you can control the opening however you need it.
Recommendations
It would not be a complete guide without recommendations to get you shopping straight away. Here is our best picks you can choose from :
Basic jersey : Endurace Shimano Jersey is a good entry-level jersey covering all the quality you need for comfortable road biking. It has a great quick dry technology, along with a firm waist gripper. Loose enough to be cozy, but still innovative enough for good aerodynamics. It even comes with a full zipper! Retailed under RM 100.00, you can not go wrong with this one.
Performance jersey : an upgraded version but still a reasonable price to spend, the Polygon Road Racler II Jersey is a great choice. Made from mixed synthetic material of polyester and spandex, placed specifically for enhanced performance. It comes with a YKK zipper with auto lock, 1 hidden water resistant pocket, reflective material, and even laser cut band fabric for upgraded quick dry technology. Retailed under RM 200.00, it is definitely a steal!
Race jersey : for a complete features jersey, we have the Shimano Breakaway Bike Jersey. It is race-ready with 4-way stretchable shoulder fabric, easy-access back pocket with sweat-proof zipper pocket, hem band for full lower back coverage, and reflective material. It has top of the game moisture-wicking and quick-drying body fabric, which are also serving UV protection abilities! Suit up and get road racing straight away.
Another recommendation is for those of you who are looking for an investment piece. The Shimano Evolve Bike Jersey SS20 is definitely a splurge. But you know what they say, you get what you pay for. Not just any pockets, this jersey has multi pockets types to improve storage capability. Aerodynamics? Say no more! With a new anatomic pattern for natural riding posture and performance posture arm pattern. Comfort? It is made from super soft material, with laser cut venting, and double layer structure for mesh details on chest, under arms, and back. Protection? Made from UV protective fabric, serving an SPF 50+ protection!
So, what are you waiting for? Now that you have got your recommendations, head over to Rodalink Malaysia to shop. For online orders, we are offering free local delivery. No need to get out of your house with so much hassle, we will deliver it to you! We also have secure and various payment methods so you can shop comfortably. And when you do, you can sign up to be a member of Rodalink Community. Earn points right away which you can redeem for member-only promotions and events! We are also having sales for bike gears, so you can start your road biking journey fully prepared. Shop now!