Choosing pedals on a road bike requires careful consideration, just like when we are going to buy a bicycle. Investing in road bike pedals is never a trivial matter—their function is essential to efficient power distribution. The human leg is a powerful machine for delivering power to the pedals, which in turn helps distribute that energy efficiently throughout the bike. Good contact between feet and pedals increases efficiency.
While many bike riders take the quality of their pedals types for granted, it is important to ensure that your pedals fit your needs and allow you to ride comfortably. Now it's time for you to learn about different kinds of pedals, and how to pick the right one for your ride.
Road Bike Pedal Types
There are several types of pedals for road bikes that you should know about. Knowing the types of pedals will help you pedal your bike more efficiently. Let's check more!
1. Clipless Pedal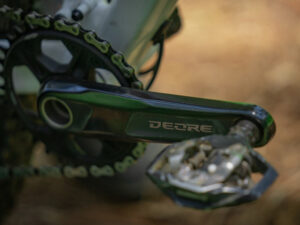 Cycling with cleats and clipless pedals is a major step for many cyclists. The term 'clipless' can be confusing because you 'clip in' to these pedals, even though there are no clips involved! The term "clipless pedals" comes from the lack of toe clips (or straps) on these types of pedals, which were used by both amateurs and professionals to keep their feet in place.
The popularity of clipless pedals among cyclists has exploded in the past decade. The design of the clipless pedals is inspired by ski technology as it provides a better connection between the rider's foot and the pedals when compared to a flat pedal. This provides greater security as well as efficiency.
Clipless pedals include special pedals and cleats, devices that attach to the soles of clipless cycling shoes. So you'll need a pair of these shoes—along with any other necessary equipment—if you want to upgrade your current pedal system. Once you have the cleats bolted to your shoes and the clipless pedals on your bicycle, stepping firmly will activate them. When engaged, your feet are connected to the pedals for optimum efficiency. To get out, you push your feet against the pedals, and the bike releases. And, because you can get in and out so quickly, there's no learning curve or time lost when dismounting.
2. Flat Pedal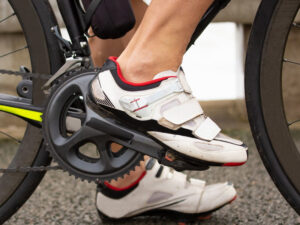 This type of pedal is the most common and widely used in the bicycle world. It takes a simple form—a flat part at one end of each crank (pedal) arm that you place your shoe on to push down as you cycle. Flat pedals provide a stable surface that supports your foot on each side, making them compatible with most types of cycling shoes except clipless.
Flat pedals are favored by downhill cyclists, who use them for their superior grip between the shoe and the pedal. They don't require the efficiency of spin required in other forms of cycling where more effort is exerted during pedaling. Paired with shoes that are carefully designed to give you better traction and control.
3. Three-bolt Clipless Pedal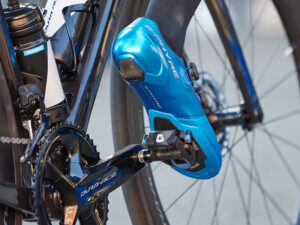 The three-bolt system is mainly used for road cycling. It uses a large plastic cleat that attaches to your shoe with three bolts; the clip-in mechanism on the pedal is one-sided only, so you need to ensure it's right side up before clipping in. Road cycling three-bolt clip-in systems keep your feet solidly attached to the pedals because they offer a larger contact area and more stability.
Three-bolt clipless pedals allow riders to create a stronger connection between their shoes and the pedals. These types of pedals offer more efficient power transfer than two or one-bolt models because minimal energy is wasted when adjusting your foot position during each rotation. Road cyclists typically need three-bolt clipless pedals; SPD-SL by Shimano are the best in our opinion because they offer durability and a good range of budget to high-end options.
Features Of Road Bike Pedals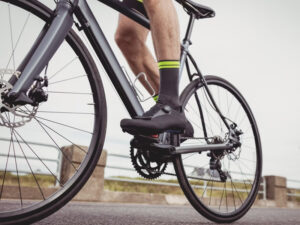 In the following section, we'll list some of the features that make road pedals different from other types.
1. Pedal Float
The degree of a pedal's rotational freedom is known as float, and different cleats will provide varying amounts of it. To protect the knee from strain, it's essential for feet to be able to move side-to-side while clipped into pedals in order for knees to flex during pedal strokes. If you have a sensitive knee or had past injury around the knees, consider pedals with good lateral float.
2. Multiple Release Cleat
The multiple-release cleat is almost the same as a lateral-release cleat, except it has an easier release and slightly increasing angles so that your heel can move outward—or inwards or upwards.
Tips To Choose Your Best Road Bike Pedals
Next, let's talk about tips on choosing the right pedals for your road bike. There are 2 things that you need to consider in choosing a pedal, including:
A three-hole cleat optimizes power transfer when pedaling and is suitable for road bikers, while a flat pedal allows easy on/off mounting—a good choice for recreational biking, commuting, or downhill.
When considering what kind of pedals you should use, think about the type and style of shoes that you will be wearing. For commuters who wish to wear shoes off and on bikes, a flat pedal will be more versatile because it is compatible with almost every kind of shoe including regular street footwear.
When looking for an ideal road pedal, one of the considerations you should include is what kind of shoes you are going to wear during your ride. An ideal road bike shoes and pedals combo will maximize your biking experience—making it more efficient. Three-bolt clipless pedals are typically the most ideal type of pedal for a road biker, as they protrude from their sole and click into place with ease. However, this type of pedal only works well with smooth shoes without any treads; otherwise, you may end up getting stuck while trying to unclip. You will have to consider what factors make some pedals better suited for your riding experience than others.
If you're looking for a 'Malaysia road bike, kedai basikal or basikal road bike', look no further! Rodalink Malaysia offers everything from bikes and accessories to apparel. Through Rodalink, you can purchase not only bike pedals but also shoes that are paired perfectly with your bicycle.
Here, free local delivery is available. You can also pay in installments with 0% interest as a member of Rodalink Malaysia; you will receive information about ongoing promotions here. Rodalink has a wide selection of bikes, including road bikes, mountain bikes, and all types in between. Whether you are an expert or just learning to ride, find the perfect bike for your needs only at Rodalink!
Discover More Bike Pedals at Rodalink
Discover Your Needs at Rodalink Now!