Choosing the type of bike you are going for is one thing, but also deciding on the right size is just as crucial. Just like your clothing, there is an ideal size for each purpose of the clothing items, and so does your road bike. The right fit will give you comfort while cycling, and can even prevent injuries. A bike that is made for your body measurement will increase efficiency and easy-handling. So, are you ready to figure out which one is the best for you? Let's get going!
Road Bike Types
Before getting deep into the sizing explanation, you will want to get to know the 3 types of road bikes on the market. Road bikes in general are designed for cycling on pavements and the fast-riding type. But, there is also a multifunctional one.
Performance Road Bike
Performance road bike is also known as a racing road bike. This type of bike, like the name suggests, aims for speed. You can easily spot a performance road bike with its drop handlebar. The handlebar is situated lower than the saddle, making the rider's body position more bent down and flatter. This will increase aerodynamics and reduce drag since the rider of this particular type is aiming for fast-riding. With slimmer wheels and lightest frame weight, this bike is suitable for racing on top of pavement roads. At Rodalink Malaysia, we have the Polygon Helios line up for this category.
All-rounder Road Bike
All-rounder road bike is also a great bike for fast-riding. The difference is that this particular type is also great for climbing up a hill. While a performance road bike is better suited for fast-riding in the cities, you can enjoy the scenery while climbing using an all-rounder bike. The build is also slightly different. All-rounder bikes will have a slightly more comfortable and relaxed cycling position than the serious one performance road bike has. It supports the cyclist to actually enjoy the ride and also having more control over the bike. The use itself is also quite multifunctional. It is good for riding on smooth pavement, but you can also use it for slight off-roading, such as riding through plain forest dirt. You can get high quality all-rounder road bikes with reasonable prices with the Polygon Strattos line up we have at Rodalink Malaysia.
Gravel Road Bike
Gravel road bikes are like the off road version offered from road bike types. It still focuses on speed and aerodynamics, but the build of this bike is much sturdier and stiffer for easy-handling on harder terrains. You can spot it very easily when compared to the previous two types, that this particular road bike will have a slightly bulkier frame and parts. Gravel road bikes are meant to break the limit from fast-riding in the city. Even when the smooth pavement turns into gravel, you can still cycle comfortably and easily. If you are looking for a gravel road bike, you can check out the Polygon Bend line up at Rodalink Malaysia.
If you want to learn deeper and more detail about road bikes and its types, you can click here for the previous article we published.
Road Bike Sizing Guide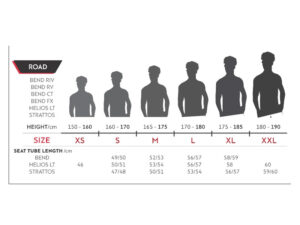 Now that we have covered the basics, let's get to sizing! Another important step after you decide which type of bike you want to go with.
Road bike measurements usually come in centimeters and are measured from the center of the chain wheel axle and the top of the frame's seat tube. The length of the seat tube often describes the size, but the length of the top tube also serves as an important number to pay attention to, so you can determine the right fit.
If the top tube is too long, you will not be able to reach the handlebars comfortably. Your riding position will be so much flatter than necessary, causing discomfort on longer rides.
Always check on the size chart for a guide of which frame size you should go with. Polygon road bikes use a "T-Shirt Sizing" in S, M, L, and XL, with descriptions in centimeters so that cyclists can better visualize which size suits them the best.
For the first guide, you will want to choose your bike size based on your height, which will be :
| | |
| --- | --- |
| Cyclist's Height (in centimeters) | Road Bike Size Guide |
| 154 – 164 | XS |
| 162 – 170 | S |
| 168 – 176 | M |
| 174 – 181 | L |
| 180 – 187 | XL |
| 185 – 195 | XXL |
This is the general measurement most Polygon Road Bikes will have. Different brands, and even different line up from Polygon itself, will possibly have different size guides. So, make sure you are checking for the particular type you are planning to get, or even contact our customer service to consult and make sure you are getting the right fit.
The Right Road Bike Size for You
As said before, your height is the most general and basic guide to choose your road bike size. To even measure the perfect fit, you will want to measure these as well :
Stand-over Height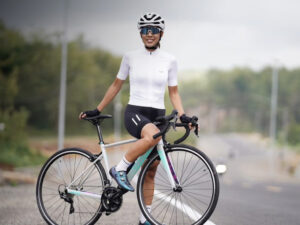 Stand over height is measurement from the top tube to the ground. This measurement will determine your overall comfort and performance during cycling. The perfect fit of your road bike will leave a few inches between the top tube and your crotch when you are standing with your legs straight, feet slightly apart, and are barefoot. If the gap is too wide, that means the size is too small, and if you have no gap, the size is too big.
Get The Saddle In The Right Position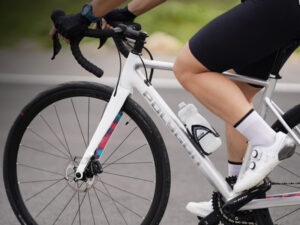 If you are going to spend a lot of time pedaling your bike and putting so much effort, the seat will be the most determining factor whether you are comfortable or not during the ride. So, how do you make sure that your saddle is already in its perfect position to support you? Well, you need to test it!
To do this, you will want to sit on the saddle and stand on the ground. The right fit will make you be able to touch the ground on your tiptoe while sitting on top of your saddle. If your feet can not touch the ground, then the seat post is too high. On the contrary, if the whole base of your feet can touch the ground, the seat post is too low. Make sure when you are adjusting the saddle, it is on a straight angle, not even the slightest sloping, so that you can be fully comfortable while cycling.
Reach of Road Bike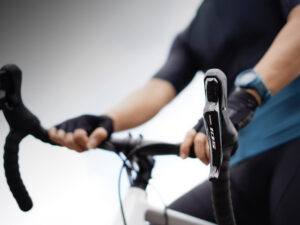 The reach of a road bike is measured between the saddle and the handlebar. The ideal reach measurement depends on the length of your torso and arms. To be able to measure it correctly, here are some tips for you :
Sit on top of your saddle in normal riding position, then place your hands on the top of the handlebars
Look down on the bars, you will find that the front axle of your bike is hidden from sight. But, if you can still see the front axle, the reach might be too long
You need to be extra careful when adjusting your handlebar reach. If the reach is too long, it will give you less control over the steering and feels like slow maneuvering. If it is too short, the steering will feel twitchy.
Important Notes
When choosing your road bike, you will want to first determine the type of what road bike you will get. You might also want to set up a budget of how much you are willing to spend. But another important thing you have to do is to determine the correct size. A proper fit will give you a comfortable cycling journey and prevent further damages such as injuries or accidents from improper handling. If you are hesitant, it is always a good idea to visit the shop in person and get help from the customer service team.
If you are ready to make your purchase, you can visit Rodalink Malaysia. We have a customer service team that is ready to find your perfect fit road bike! Our Polygon Road Bike line up will give you the right road bike for your cycling journey purposes with guaranteed high quality on a reasonable price.
You can visit our store, or go to Rodalink Malaysia website for an easy online shopping experience from home! Enjoy free local delivery and various payment methods that suit you best. Also, you can start becoming a member of Rodalink Community from your very first transaction! Collect your points now to trade for discounts and enjoy exclusive promos and events. For getting you extra ready for your cycling journey ahead, we are also having a sale on bike parts and accessories. So, what are you waiting for? Shop now!