Cycling has definitely gained popularity since the last few years, especially after the pandemic. Since people are stuck inside their house and can not do their usual work out at the public gym, they opt for more outdoor sports instead. It gets a good workout in while also giving yourself a breath of fresh air. Definitely a refreshing change of scenery!
To further elevate your cycling journey, we have put together the best 5 road biking routes to explore in Malaysia. It will cover the brief description of the area, difficulty level of the track, and insights that will prepare you before visiting the route. We have recommendations for beginner to advanced cyclists! Let's find out our curated spots!
Genting Sempah, Pahang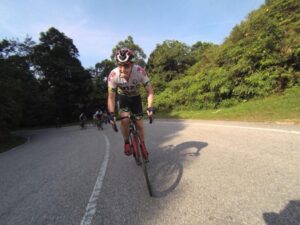 Located north of Batu Caves, Genting Sempah is definitely a treat for the eye with its touch of nature. As you start from the city below the hills, cyclists will slowly climb towards the top, exploring the city road surrounded by the greenery of the rainforest there. Even though the road is perfectly paved and smooth, it is definitely different from the bustling city. Here, you can actually enjoy a breath of fresh air that smells like fresh soil and filtered air.
The climb to the top is gradual, starting at the center of the town. But, the real climb will actually start once cyclists reach the overhead bridge. The average gradient for the overall trip is 3%, but the lengthy 15 kilometers journey will definitely give you a good workout session! At some parts of the route, there will be steeper lanes with a gradient of 7% to 8%. A lot of the stretches will be at 4% and several are flat. It is a nice climb for both beginners and experienced cyclists. If you are looking for a real adventure, once you cycle under the bridge at the top, you have the option for an extra 30 kilometer loop over the back side as you head home.
River of Life, Kuala Lumpur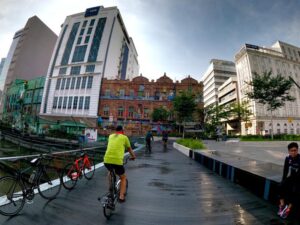 The River of Life is a project surrounding the Sungai Gombak and the Klang River. It is an easy and gentle ride, very suitable for beginners! But, even if you are an experienced cyclist, it is still recommended for you to enjoy nice scenery, even in the middle of the bustling city of Kuala Lumpur. The terrain at River of Life itself will mostly be on the boardwalk. Cyclists can start their journey from Seputeh, Brickfields, or Petaling Street, which will offer smooth city pavement. There are no steep hills to climb, so cyclists can enjoy their ride very leisurely.
To prepare for this route, since cyclists will be riding in the city, make sure the gear is complete. Wear a dedicated bike helmet as protection as well as comfortable jerseys, so that your clothing will not hinder your movements while cycling. Installing lights on your road bike is also a good idea. Cyclists should have their lights turned on while cycling to notify other road users of their presence, even during the day. Lastly, since you will be touring through the city, it is recommended to bring your own water bottle. You can also mount a bottle cage to your road bike, so that you will not be bothered by using an additional bag.
Putrajaya Loop, Putrajaya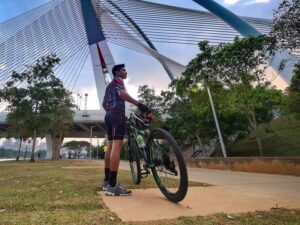 Putrajaya Loop is a famous route for road biking that every cyclist should definitely try. While other routes will usually take you out of the city, in this journey, you will be exploring more of the city! This route will start at the Putrajaya / Cyberjaya train station. From there, you will be exploring through the city while cycling along the busy roads, viewing the bustling city life from a different perspective. This route is a lengthy 45 kilometer loop, so it is definitely for experienced cyclists with an at least intermediate level. You will need a lot of stamina to be able to cycle through all the routes and also skilled cycling abilities, as you will be navigating through busy roads.
The gradient itself for this journey is quite easy, with an average of 2% to 3% and the highest at around 6%. All the terrains faced on this journey are paved surfaces only, so cyclists do not need to worry about facing difficult and various terrains. Although a little part of the journey will need cyclists to carry their bike since they will be going through some steps. But not to worry, it will be over before you feel the slightest inconvenience!
To be ready for this loop, cyclists must be fully equipped, especially with their safety biking gears as they will be cycling through busy roads with lots of other road users.
Fraser Hill, Pahang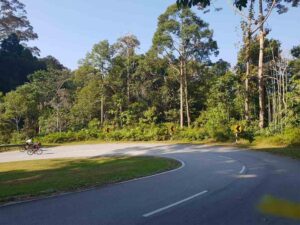 Fraser Hill is a highland resort perfect for Malaysians who want to taste scones and British tea, while being surrounded by greenery. Once a colonial hill station for the British forces, now the road they built is a heaven for cyclists. This location is surrounded by trees and there is even a waterfall. What a better way to cool off on the weekends than this?
For the route at Fraser Hill, cyclists will be starting off by passing by Kuala Khubu dam. Then, cyclists will be taken through a gradual ascent of 40 km climb that snakes through Malaysia's rainforest. The climb is mostly not that steep, with the average gradient below 2 degrees, but it is quite a long ride and will elevate in the end. The terrain is mostly smooth pavement, with no traffic, and is a one-way road leading to Fraser Hill, which is very suitable for fast-riding. The long climb ends at The Gap, before cyclists take on a significantly challenging climb where the last 8 km gradient has an average of below 3 degrees or 12%. To conclude, this route is recommended for intermediate to advanced cyclists.
While road-biking at Fraser Hill, cyclists will have to wear bike helmets for protection and wear a road bike jersey as well. The dedicated clothing will increase cyclists' aerodynamics and makes aiming for speed much more efficient. Glasses will also serve you comfort to protect your eyes from dirt, debris, and drying out from fast-riding. As it gets cooler towards the top, cyclists are recommended to bring a windbreaker as well. To prepare for facing a long and steep climb, bringing your own water bottle is very much advised. Customizing your road bike by installing upgraded pedals and wearing shoe cleats is also a good idea, so that your pedaling effort can be transformed into speed and power more efficiently. Lastly, before riding, make sure all road bike parts are good to go. You can check your road bike condition and maintain them before going on a journey. Click here for the guide!
Bukit Tunku, Kuala Lumpur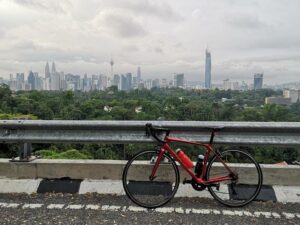 For the last recommendation, we have a neighborhood for cyclists to ride instead. Bukit Tunku is also known as "The Beverly Hills of Kuala Lumpur" and has become a lot of cyclists' favorite spots. Located on a hill and overviews the city below, it is truly a new scenery to enjoy during your ride.
The terrain heading to Bukit Tunku is not steep, with an average of 3% gradient, which is suitable even for beginners. This ascent gradually connects to Jalan Duta, Mont Kiara and Segambut as well as Dataran Merdeka, Bank Negara, and Chow Kit. As cyclists will be passing by many other road users, make sure to wear protective gear such as bike helmets and install lights on your road bike.
That completes our guide for our picks of the top 5 road biking routes in Malaysia. From the city scapes, botanical gardens, and even to rainforest. To see more cycling spots recommendations, click here for hybrid or gravel bikes, and here for mountain bikes as well. Let's explore new adventures!