A Tern folding bike is the perfect choice for anyone looking for a portable and easy-to-use bike. These bikes fold up in seconds, making them perfect for taking on the go. Whether you're a city cyclist who wants a bike that's easy to store or you're an adventurer who wants a bike that can handle any terrain, Tern has the perfect bike for you.
Take a look at our line-up of Tern folding bikes and see for yourself how versatile and convenient they are. With Tern, you'll have everything you need to explore the world on two wheels.
What Is a Tern Folding Bike?
So, what is a Tern folding bike? In short, it's a foldable bike that's portable and perfect for adventuring. The frame is specially designed to fold down quickly and easily, making it easy to transport in your car or take on public transportation.
Tern, founded by Florence Shen and Joshua Hon in 2011, is a successful Taiwanese bicycle company. They are the wife and son of David T. Hon—founder of folding-bike giant Dahon. Tern's complete focus is on making electric folding cargo bicycles that can change the world. Their products are easy to store and transport — able to carry a lot of weight while also having e-assist motors, which help people ride more easily.
Today, the company is based in Taipei, Taiwan but has offices in the US and China. It makes both electric and non-electric folding bikes as well as high-quality cycling accessories.
There are a few different models in the Tern line-up, so you can find the perfect one for your needs. Whether you're looking for a speed demon or something more comfortable and leisurely, Tern has you covered.
Different Types of Tern Folding Bikes
Though Tern is known for making electric folding bicycles, it also makes non-electric models. There are a few different types of Tern folding bikes that you can choose from.
1. Tern Link Folding Bike Series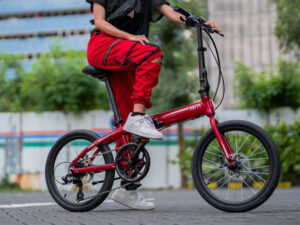 The Link of Tern folding bikes is designed to go anywhere. The bike is folded down for easy storage and transport, but its lightweight frame keeps the ride smooth. You can ride the whole way or take Link with you on public transport—but whatever you do, it'll be fast and free of friction. The Link folds in 10 seconds (so taking it along wherever you go is no problem), then tucks away under a desk, behind your seat on public transit, or within arm's reach at that café table.
No more searching for a bike rack fiddling with locks, and wondering whether your bike will still be there when you get back—the Link is always there. The Link makes cycling simple and enjoyable in the city. The small 20″ wheels and stiff construction ensure a ride so stable, you'll forget it's a folding bike. Versatile gearing makes easy work of stop-and-go traffic and hills—ideal for rides through crowded areas. The Tern Link series has an aluminum lightweight frame, shimano drivetrain equipped, with a price range of around RM 1500-RM 2700.
Explore More Tern Link Folding Bike Series!
2. Tern Verge Series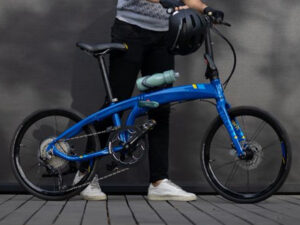 Verge bikes are designed for speed and endurance. It's easy to agree that they live up to their "tuned for speed" claim once you take a closer look at the features and specs. All Verge bikes provide space for racks, fender/mudguards, and lights.
Verge bikes are constructed from lightweight aluminum, lending them durability and flexibility. Tern Verge Bike consists of high quality and branded components such as Shimano drivetrain.
Tern has equipped some of its new bikes with 28-451 wheels, which are based on the ETRTO (European Tire and Rim Technical Organization) standard with a diameter of 20 inches x 1-1/8 width, and 37-451 wheels based on the ETRTO standard with a diameter of 20 inches x width 1-3/8. The Tern Verge is equipped with disc brakes, providing greater stopping power and precision than traditional rim brake systems. The price range for Tern Verge bikes is around RM 3000-RM 5000.
Explore More Tern Verge Folding Bike Series!
The Advantages of a Tern Folding Bike
There are a few obvious advantages of a Tern folding bike. For starters, they're portable. You can fold them up and take them with you wherever you go, without having to worry about storage. They're also lightweight, so you can easily carry them up stairs or on public transportation.
But the real beauty of a Tern folding bike is that they're just as sturdy and durable as a regular bike. They're built for adventure, and can handle anything you throw at them. Whether you're traversing city streets or hitting the trails, Tern folding bikes will get you where you need to go.
Conclusion
If you want to get the most out of your biking experience, you need to choose the right Tern Folding Bike for your needs. Whether you're looking for a lightweight and portable bike for city commutes, or you need something that can pack away into a minimum size for traveling with friends, there is a Tern bike that can meet all of your needs.
The first thing to decide is between wheel sizes: 20" vs. 26". Generally speaking, 20" bikes are lighter and smaller when folded down, but they offer limited to no suspension, so they aren't ideal if you plan on taking the bike through rough terrain. On the other hand, 26" bikes provide more stability and suspension capabilities but tend to be heavier when folded down.
After reading this article, maybe you can start deciding what folding bike suits your needs. If you are looking for "basikal lipat, kedai basikal, kedai basikal near me", you can try visiting the Rodalink website. If you are considering buying a Tern folding bike Malaysia, Rodalink is the place to go. Rodalink has more than forty years of experience manufacturing bicycles in Asia and it has established itself as one of the leading suppliers in its field. At Rodalink, you can find a large selection of bikes, spare parts, and accessories. If you are new to cycling and need some advice on what is best for your needs—don't worry; Rodalink will offer expert guidance. Not only is purchasing a dream bike simple, but it's also easy to do with the help of our registration form and various payment options.
Visit Rodalink's page to check out the special offers and other information. There is also an ongoing promo, so be sure not to miss them! When you order from Rodalink Malaysia, your items will arrive at your door completely FREE of charge!