Folding bicycles have become a trend in recent years. Not just a passing trend, folding bikes are now part of the lifestyle in all walks of life. Folding bicycles are starting to be easy to find, even considered to have its own benefits. For commuters, a bicycle that is designed to be folded when not in use, will be very useful.
Due to the increasing demand, now there are folding bikes with various models that are lighter, stronger and more compact when folded. Just imagine, you can bring your folding bike wherever you go. You can even take your folding bike on the bus, to the cafe, to the office, and even to the hotel room without fear of it being stolen.
With so many choices of folding bikes from various brands on the market, it would be very confusing to compare one model with another. But don't worry, this article can answer your confusion about choosing the best folding bike. So, let's talk about one of our recommended folding bikes, the Tern Verge D9!
Tern Verge D9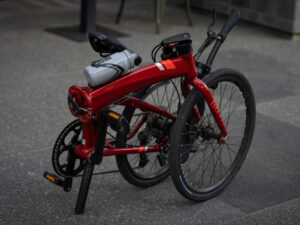 The Tern Verge D9 is a folding bike that builds on the 451 Verge series. With bigger wheels and tuning-fork geometry, it makes every ride super stable while still being comfortable. The Tern Verge D9 is a folding bike that's designed for urban commuting. That means it's great at quickly and efficiently covering the distance between points A and B. This folding bike combines high-quality components and advanced frame geometry to ensure a comfortable ride for riders of all abilities.
New colors and an updated style bring the best of Verge quality, performance, and value to a whole new level. These bikes are equipped with Shimano hydraulic disc brakes that stop on a dime in any weather conditions. A Shimano Acera drivetrain, paired with a Tern Porter™ saddle and optional fenders, delivers the versatility of an all-purpose bike that can easily double as an everyday commuter.
SHOP TERN VERGE D9 FOLDING BIKE
Frame and Fork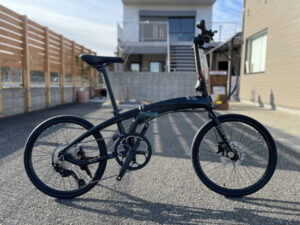 When purchasing a new bicycle, most riders want to be sure that it will last for many years. The Tern Verge D9 has been built with durability in mind! The Tern Verge frame is made of hydroformed aluminum tubing, strengthened by OCL+ technology. Hydroforming uses a high-pressure injection to create a superior lightweight bike frame. With this, riders no longer need to choose between strong heavy bikes and light bikes but not too strong. Plus, the integrated fork is made of high-tensile steel where both parts—the frame's main structure and its forks (made from even stronger steel than before) can withstand pressure together as one unit.
Tern Verge D9 Groupset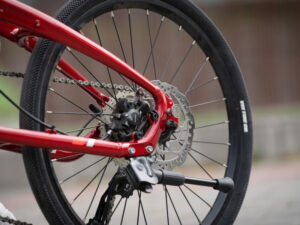 The Tern Verge D9's frame is made from strong and lightweight aluminum, making it a bike that can stand up to any terrain. In addition to its strength, the Shimano shifters with 1 × 9 speed make this bike an excellent choice for riders who want to find the right balance between power and control no matter where their ride takes them!
Tern Verge D9's shifter is made of quality material and will last through long-term use. Additionally, the Tern Verge D9 comes equipped with a Shimano Acera Shadow RD rear derailleur and a Forged 6061-AL 53T crankset. The super low profile design of the Tern Verge D9 bike brings many benefits, including a smooth and quiet performance. The shifter does not touch the chain when riding in heavy terrain—which results in this kind of efficient operation. Plus, it comes equipped with 9-speed KMC chain!
Wheel and Others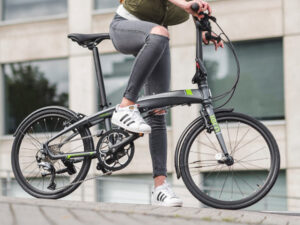 The Tern Verge D9 comes equipped with CST tires that measure 37-451. This allows the bike to travel smoothly over gravel or paved roads, allowing riders to explore more terrain. These Tern Verge D9 bicycle tires are designed to have high-quality and durable performance.
Additionally, the SuperOversize 6061 Seatpost and micro-adjust clamp on a Tern Porter saddle increase comfort for riders. The Syntace VRO stem on this bike allows riders to adjust the position of the handlebars as desired. So whether you're looking for a more upright or bent-over driving position, it will be comfortable. The Tern Verge D9 stem is paired with a Flat bar 6061-Al handlebar. For ergonomic comfort, the Ergolock grips keep hands relaxed and stress-free during riding.
This bicycle has lock-on technology, which locks the handlebar so that it stays in place and doesn't spin around. That way you can ride without worrying about losing your grip on the bars!
This bike is designed with the comfort of its riders in mind, so you can customize it to fit your body type. Bicycle fenders can protect riders from mud and water splash, so even if it rains while they are riding their clothes won't be ruined. In addition to that, this bike is also perfect for people who want to bring their Tern Verge D9 bikes with them when they go work because riders can add a high-capacity bag (Go To Bag) that easily holds all of the files you would need at work. It is even large enough keep your laptop in!
Conclusion
Choosing to follow the folding cycling trend could be the right choice! You can travel around town while exercising but still compact and easy to carry around when you're not using it.Owning a bike that doesn't take up much space, is easy to maintain, and can be ridden or taken on public transportation is a cyclist's dream. The Tern Verge D9 has it all.
After reading this article, maybe you can start deciding what folding bike suits your needs. If you are looking for "folding bike, basikal lipat, kedai basikal, kedai basikal near me", you can try visiting the Rodalink website. Rodalink is the best place to buy a Tern folding bike Malaysia, because it has over forty years of experience making bicycles and is one of Asia's leading suppliers in its field. At Rodalink, you can find a large selection of bikes, accessories, and cycling outfits. You'll get expert advice on what's best for your needs whether you're new to the world of cycling or not.
Not only is it simple to buy a dream bike with the various payment options, but you can also check out Rodalink's special offers on their page. Rodalink Malaysia also offers ongoing promotions, so be sure not to miss them! When you order from Rodalink Malaysia, your items will arrive at your door completely FREE of charge!
GET YOUR TERN VERGE D9 FOLDING BIKE