Everyone knows that a flat tire is no fun. It means being stuck at the side of the road for fifteen minutes while it's raining, or getting dark—or both. It's best to carry a spare inner tube and know how to fix a puncture quickly. When your tire is flat, you have two options: repairing the inner tube that's been damaged or swapping in a new one.
It's better to avoid getting a flat in the first place than having to fix one. Here are 5 top tips you can do to never get tire puncture on your bike:
1. Tubeless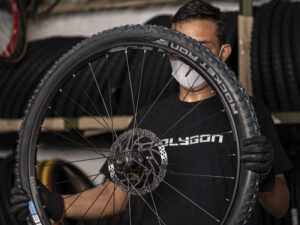 If you're one of those old-school riders who like to run tubes in your tires, it would be wise to convert now. There are a lot of benefits when you go tubeless—including the convenience and extra comfort that comes with eliminating the need for tube changes during rides! Because tubeless tires don't have inner tubes, they're less likely to get holes in them. Liquid sealant inside the tire can plug smaller punctures caused by glass and stones—the liquid dries very quickly so it works well at sealing small holes. When you happen to see someone else fixing a flat tire and are able to finish your ride without having to replace the inner tube yourself, it will convince you that this method works. But just in case, you should still carry the inner tube for backup.
2. Tire Sealant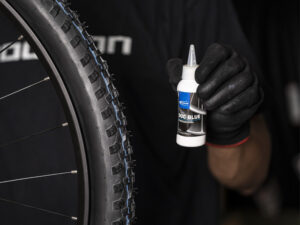 Adding sealant to your inner tubes is an option that gives you the benefits of added puncture protection without having to invest in tubeless tech, though it will add weight and rolling resistance. It's easier to add sealant if your inner tube has a removable valve core, so you can pour the liquid into it without risking gumming up the valve. Also, make sure that any sealant is compatible with your tubes (particularly latex ones).
An alternative option is to use inner tubes that are already filled with sealant. Or, You can find a sealant that comes in a variety of sizes and works well for most popular road or mountain bike tire and wheel combinations. Inner tube sealant performs the same role as tubeless tire sealant. The sealant coats the inside of your inner tube, and if you ride over a puncture-causing object—such as a thorn or glass—air escaping from the tube will suck it toward the hole. Particles in this special fluid should plug up that hole before it deflates your tire!
3. Tire Types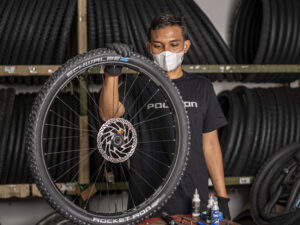 When choosing bike tires, you should consider what kind of riding you will be doing as well as the type of road conditions where you will ride. If you go through steep, rocky, and uneven terrain often—and not just for fun—it would be better if you used stronger/heavier tires such as enduro bike tires or downhill bike tire casing. By upgrading like that, your tires will be thicker and not easily flat or punctured because of sharp rocks. However, before upgrading to enduro/downhill tire casings, keep in mind that they will be heavy. Therefore if you only cycle on flat roads or just a little rocky terrain—you don't need such protection.
4. Foam Insert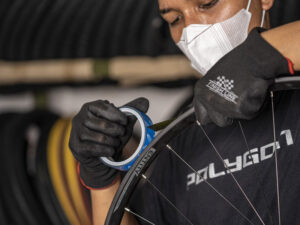 Foam tire inserts have long been used in the mountain bike world, particularly on hard-hitting trails where pinch flats and rim damage are common. But it's a new thing for a gravel bike. Mountain bikes (mtb) and gravel bikes often go through steep terrain with sharp rocks, because of that most gravel riders have to make some compromises in performance or suffer from flat tires and damaged rims. On the other, tire pressures in gravel and mtb tend to be low, which can also make it easier to get punctured. But with foam inserts, you can run significantly less pressure without worrying about pinch flats and casing squirm.
5. Line Choice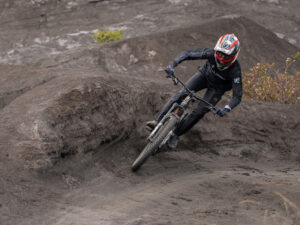 If you're riding a road or city bike, stay away from gravel and other debris on the roadway, as well as broken glass. Also, avoid puddles where possible in case they hide potholes. Don't ride in the gutter of the road—where debris tends to gather and can puncture a tire if cars push it into your path as you pass. When it rains, you are at greater risk of getting a flat tire because the water acts as a lubricant and helps the rock or glass particles to slice through the rubber. You may find that debris from gutters and hedges is carried onto parts of the road you normally cycle on. Watch out for potholes and other obstacles that can cause sudden crashes. It can damage your bicycle wheel by pinching the tire between bumps in the road or pavement.
It's very difficult to avoid cobbles when you're mountain biking, and riders often have to negotiate rough sections with sharp rocks where punctures are almost unavoidable. However, it's possible that unweighting your bike rather than going over these obstacles at full speed will help your ride feel quicker without making things more dangerous! Those are the top 5 tips you can do to avoid getting punctured on your bicycle tire. You can adjust it to your cycling style or where you are going to ride.
If you've been looking for a 'mountain bike, bicycle shop or tire shop' lately, look no further! Rodalink Malaysia offers everything from basikal and accessories to apparel. You can find tire sealants, various types of tires to suit your needs, and tubeless. Through Rodalink, you can not only buy a bicycle, but also a bicycle tyre that is perfect for your bike. At Rodalink, you can get local delivery for free and pay in installments with 0% interest. If you are a member of our club, you can also get information on ongoing promotions here! You'll find a wide variety of bicycles at Rodalink, from road bikes to mountain bikes and everything in between. Whether you're an experienced cyclist or just learning, we've got the right bike for you!
Explore Best Offer From Rodalink!
Discover Your Needs at Rodalink Now!