There are different kinds of bikes offered on the market nowadays. They each differ based on the purpose of riding a specific type of bike to fit cyclists' different riding style. You might have been looking into several types of bike, and have come across road bikes several times. Road bikes are one of the most popular choices when it comes to cycling, and it is for good reasons. If you are still wondering about whether a road bike is your perfect pick, this one's for you. In this article, we will give you 4 reasons on why you should choose road biking.
What Is A Road Bike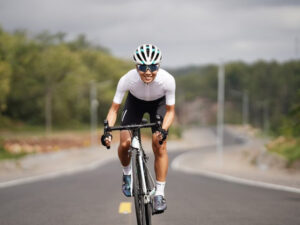 Before we dive into the reasons, let's get to know the bike itself better. Road bike is a particular type of bike that is used to ride on smooth pavement. This bike has aerodynamics features that makes cycling much more smoother and with less drag so that cyclists can cut through the wind effortlessly. Road bikes have drop handlebars, which means that the handlebars are situated lower than the saddle, making the cyclists' body lay as flat as they can when they are cycling. The purpose of this position is to reduce drag from the wind, so that cyclists can go flying through the tracks and the effort from pedaling can be transmitted optimally to speed. Road bikes will have thinner frames that are much more lightweight compared to other types, with larger wheel size and smoother-looking tires. If you want to learn more about Road bikes, click here to read the article where we talk about road bikes more in-depth.
Reasons to Choose Road Bikes
Now let's get into the reasons on why you should choose road bikes as your choice of sport!
#1 : High Speed
The high speed that fast-riding can provide is not like any other fun experience before. You get to feel yourselves cutting through the wind, with your own power! Enjoy the high speed rush from pedaling your road bike. On flat lanes, cyclists can go up to 60km/h, and a downhill one is possible to reach 100km/h. Yes, all on top of your bike! No machine needed, just pure manpower. It is truly an experience every time you get on top of a road bike, one that you can not possibly forget!
#2 : Improved Health and Fitness
Now that we have covered all the fun parts, let's talk about the health benefits of road biking. Road biking is a form of sport, whether it is as a light exercise or an intense one. It makes your body move and stay active, burning excessive fat and getting a good amount of sweat. It increases your overall physical health, keeps your body stay in shape, strengthens the muscles and makes it more toned, and also helps to boost your immune system.
#3 : FUNtastic Experience
Road biking is both possible to do in the city or in nature. As long as there is a smooth pavement, you are good to cycle! Cyclists can either race in the city, or go up to the highlands and enjoy a little bit of nature. No need to go off-roading in the jungle in order to enjoy some greenery! Nowadays, most uphill cities already have smooth paved roads. Cyclists can ride their bike and breathe the fresh air there to relieve a lot of their day-to-day stress. Go on a short trip on the weekends to release all the tension of your work week. What better way than to just cycle away your stress? You can go by yourself and enjoy the peace, or with your cyclists group of friends to make it filled with fun and laughter! A short relaxing getaway for everyone!
#4 : Loves Mother Nature
Cycling is one of the most environmentally-friendly transportation methods. It does not create any waste, pollution, or consume non-renewable energy. If you are implementing ways in your lifestyle to be more eco-friendly, this is another thing to add to the things that you can do!
Conclusion
You have learned about what a road bike is and the benefits of riding one. All you have to do now is choose the right road bike. But where to look?
At Rodalink Singapore, we offer the best selection of high quality road bikes. With a complete product lineup from reputable brands such as Polygon. The size range is offered from XXS to XXL, with available materials of carbon and alloy. Both materials are super lightweight, yet very durable to be cycled under any weather condition.
For beginners, we would recommend the Polygon Strattos S3 Road Bike. Made from Polygon's special alloy ALX material, complemented with Shimano Sora drivetrain and has 2 x 9 speed options, suitable to use on various climbing and downhill terrains.
If you are opting for an investment piece, you can go all the way to the top with Polygon Helios A9X Dura Ace C60 Wheelset + Power Meter Road Bike. The frame material is Polygon's special carbon ACX. Effortless speed chase on any terrains made possible with the Shimano Dura Ace drivetrain and has 2 x 12 speed options.
Rodalink Singapore also has a complete product category for bike parts, maintenance, and accessories to complete your road bike kit. When you shop online, you will be eligible for free shipping (non-bike products). Pay with ShopBack It, Pay Later and choose the payment method best suited for you! You can also enjoy a 0% installment using an OCBC card.
Become a part of Rodalink Community members by signing up from your very first purchase. Start collecting your points and enjoy exclusive promos and events! We are also having a sale on bike parts and accessories live on our website now. If you are planning on getting the Polygon Strattos, you will get a 50% discount voucher for Shimano RC100 and RC300 shoes! There is no better time to start your cycling journey. Shop now before the promo ends!
Get Your Best Road Bike Here!