Gravel Bikes Guide – Over the last few years, the cycling world has gone crazy over gravel bikes. Now you're wondering why the discussion hasn't ended yet, and you're curious about it. So, who exactly is this (not really) new niche machine? Is it just a mere hype or a worthwhile investment? This buyer's guide summarizes all the critical aspects to bear in mind when getting a gravel bike so you can make a sensible investment in the perfect bike for you. Take your time reading our guide; it will be worthwhile! Ideally, the time you spend here will not only get you even more excited about your new bike, but it should also lead to you discovering the right gravel bike and making tons of wonderful memories. Let's get started!
What is a Gravel Bike?
A gravel bike is a hybrid between a road bike, a cyclocross bike, and a mountain bike, including qualities from all three genres as well as its own distinct brand. The best gravel bikes are designed for exploration, adventure, all-day and all-terrain riding, while also being lightweight, performance-driven, and weather-resistant. They are more comfortable than a road bike due to their relaxed fit and larger tires, but the drop bars and lightweight frames improve efficiency over mountain bikes. So, if the road isn't enough for you, you want more comfort, or you want a bike that's faster than an MTB but keeps its off-road nature, a gravel bike could be for you.
The user versatility of a gravel bike is one of its most remarkable features. Gravel bicycles, which fall in between a road bike and a mountain bike, can be used to perform both road bike and mountain bike tasks. Gravel bikes, in general, offer a degree of endurance and resilience that can survive more rigorous riding experiences and excursions without sacrificing comfort. Gravel bikes will have tires that are at least 35mm wide, while the majority of gravel bikes have tires that are 38mm or wider. Larger tires enable riders to easily handle fire roads, power line trails, and farm tracks, as well as more harsh scenarios.
Gravel Bike vs Mountain Bike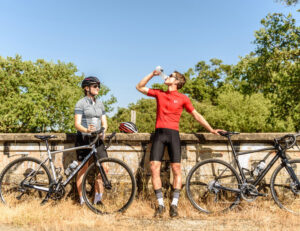 Mountain bikes and gravel bikes are both capable off-road. The rougher the terrain becomes, the more you'll desire suspension. It not only enhances traction and keeps you in control, but it also makes your ride more enjoyable. And if you want to jump, you should absolutely choose a mountain bike with enough of travel to cushion the shock of your landings. Gravel bikes, on the other hand, have a light weight and agility that extends race bike performance beyond the limitations of paved roads, allowing you to avoid traffic and enjoy gravel and woodland trails. As a result, they are suitable for year-round training. They are also ideal for bikepacking trips and prolonged journeys, with optional baggage racks and bags.
The Characteristics
A gravel bike from one brand might look extremely different from another – some gravel machines geared more for road speed and light off-road riding, and others resembling mountain bikes. Finding the best gravel bike for you is determined by the sort of riding you want to do. So let's take a deeper look at the design elements that distinguish the typical gravel bike.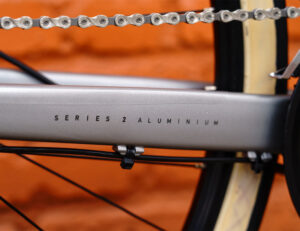 Gravel bikes, like most other types of bikes, have a range of frame materials. Aluminium and carbon are the most common materials. Aluminium is a wonderful material for a low-cost bike since it is affordable, durable, and lightweight. Carbon frames are often lighter than aluminum frames. Carbon can also be developed to improve rigidity and comfort, as well as provide more options for aerodynamic tube designs. Aside from aluminum and carbon, there are also steel and titanium gravel bikes available.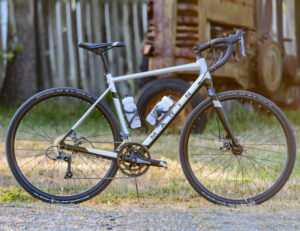 Gravel bikes have a higher head tube, similar to endurance road cycles, and slacker angles than cyclocross bikes, making them comfortable on long routes and even appropriate for ultra-marathons and spending many hours in the seat. The gravel bike's low bottom bracket is another distinguishing trait when compared to road bikes or CXs. The bike performs admirably at high speeds on rough terrain as a result of this treatment.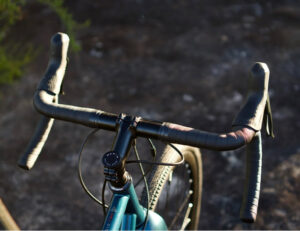 The majority of gravel bikes feature drop handlebars. They provide a low center of gravity for fearless singletrack descent on challenging sends. Flared handlebars provide greater control. Also, extra room for your handlebar bag. However, flat bar gravel bike is a great option as well. You'll have much more handgrip while braking on bumpy surfaces that means a better bike control.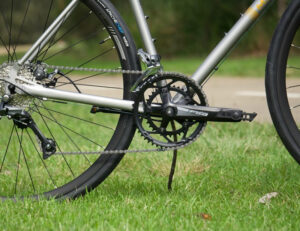 With just a few bikes equipped with 2x groupsets, 1x drivetrains have established themselves in the gravel sector. They deliver a range comparable to a compact 2x drivetrain and make shifting easier on technical terrain. This system also requires less maintenance, has fewer wearable components, weighs less, and is thus less prone to defects.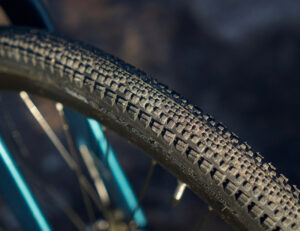 To the novice, a gravel bike is simply a road bike with large tires. How large is it? Gravel bikes generally have tire clearance for 28mm to 47mm tires. They can usually accommodate either 700c or 650b wheels. 700c wheels roll more smoothly and efficiently, allowing you to retain your pace and momentum. 650b wheels, on the other hand, allow you to accelerate more swiftly. These sizes let you to ride comfortably on rougher terrain while also performing well on tarmac.
Should I Buy a Gravel Bike?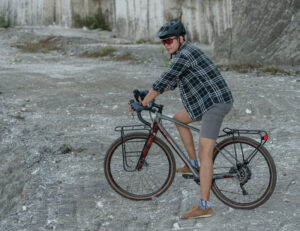 A big yes! To begin with, you can never have too many bikes. Second, if you can only have one bike, there's a strong argument to be made for it to be a gravel bike. For one thing, a gravel bike won't limit your riding options. At the same time, a gravel bike will not be too slow on the road. You'll be free to explore wherever you want by flitting between tarmac and dirt. Lighter gravel bikes, with a change of tires, can easily keep up with all but the fastest road bikes.
So, grab one of your favorite Singapore gravel bike at Rodalink and go explore the world!