The most common question asked by someone who has just gotten into the cycling world is asking about which type of bike suits them the most. If you are going to a department store for a bike purchase, there will be a higher chance you will get shoved the most pricey bike that doesn't suit your needs. If you prefer the versatility and comfort of a bike, you might be interested to know the benefits of a hybrid bike.
Since selecting the right bike is a crucial decision to make before spending money, unless you are not minding to collect more than one bike stored in your house. Therefore, doing a thorough research and reconsidering these few questions pre-purchase will be worth the time:
What type of riding do you wish to do? Pure road riding that focuses more on speed, riding along the mixed surface road, enjoying the adrenaline-pumping technical terrain, short-commute ride, or long-distance touring?
What is your current riding style or the riding style that you consider to excel at?
Once you find the answers to both questions, you can narrow down which type of bike will be more suitable to help you achieve the goal that you set for your cycling journey. To widen your knowledge of bike varieties, give us the chance to introduce the hybrid bike to you.
Get to Know The Hybrid Bike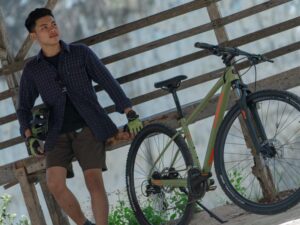 As the name suggests, a hybrid bike is a mixture of different kinds of bikes. The hybrid bike combines some of the best features from various types of bikes to create an ultimate all-rounder.
In most cases, the hybrid bike will combine some features of a road bike and mountain bike all at once, which allows cyclists to invest in only one bike that could cover both terrains. Therefore, it is not surprising that the hybrid bike is highly welcomed among beginners.
Almost all hybrid bikes are manufactured with a lightweight yet strong aluminum material so they can survive the test of time. For example, Polygon hybrid bikes are often manufactured with the advanced technologies of Polygon: the ALX aluminum alloy or an AL6 alloy material that is known to be more lightweight and durable compared to any alloy material from other brands.
The hybrid bike cares about riders' comfort during the rides. Therefore, this bike is adopting the upright riding position of a mountain bike with the flat bar handlebar combined with wide and soft tires and plush seatings. The wider tire is allowing the bike to have a better grip and traction control over most types of terrain.
Not stopping from there, some hybrid bikes are equipped with a front suspension fork that allows them to absorb the bumps over rough terrain while protecting your body from getting shoved away by the impact.
This indicates that by riding a hybrid bike, you will get a smooth ride over both rough trials and beach streets. Not only that, hybrid bikes will have gears that take out the strain of pedaling uphill that are easy to operate with the lever on the handlebar located beside the grip.
The disc brakes mechanism of a mountain bike is adapted by the hybrid bike to allow a powerful braking system that is responsive to any terrain. Some hybrid bikes will also come with an extra cargo rack or fending mounts and a cargo rack over the rear wheel, suitable for you who usually commutes your way to work by bike to carry some loads.
Now, what if you are going to ride off-road for long-distance? Which is the more suitable choice for a hybrid vs road bike for long distances? If you are talking about speed, you can ride along the long-distance faster by a road bike. But if you want to compare which gives the best comfort, the hybrid bike might be more favorable.
3 Benefits of a Hybrid Bike
If being asked about is there any specific reason why someone should consider investing in a hybrid bike, here are the few benefits offers by the hybrid bike:
Versatility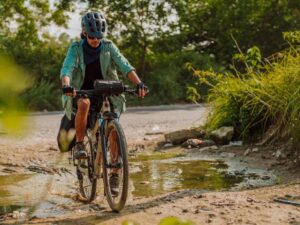 We have mentioned this multiple times that one of the biggest advantages of having a hybrid bike is its capability to cover all types of terrain. Do you want to have a perfect bike for daily commutes while still being capable of taking you for a short escape trip in the countryside during your day off? There is the best hybrid bike to cover both for you.
Comfort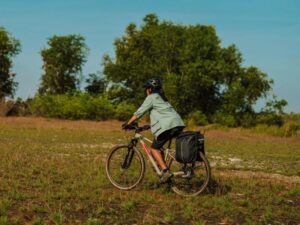 The hybrid bike is manufactured with a design that offers optimum comfort to its rider. The relaxed and upright riding position combined with the suspension fork on the front wheel allows the bike to help absorb bumps and let the rider experience a more comfortable ride with confidence over the trail.
Affordable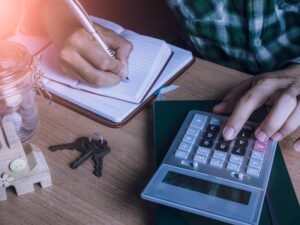 Compared to road bikes and mountain bikes, the hybrid bike tends to cost lower or around the entry-level of both bikes. Besides, it is a very budget and storage-saving decision to purchase one hybrid bike that is capable of covering both terrains instead of buying two separate bikes at once.
So if you are the type of bike rider who wants to try on both smooth pavement and rougher terrain without planning to be serious on either one for a time being, purchasing a hybrid bike will be the best option.
Reason Why You Should Have Hybrid Bike
In the fast-paced urban lifestyle, cycling is the best option to keep up with exercise and keep your body fit. You can extend your lifespan span by developing the good habit of cycling to work. But why a hybrid bike and not the other type of bike? Most riders, especially beginners, are yet to decide their favorable riding styles. Riding on a specific type of bike that is tailored for certain terrain will need the skill to master.
On the other hand, a hybrid bike is a great type of bike for beginners to train and get used to the feeling of each terrain. Aside from this, a hybrid bike is also perfect for commuting and running errands daily while capable of being taken out for a short touring trip around the countryside.
Although you still can't compare the road bike vs hybrid bike speed, a hybrid bike still offers you a decent pace for riding around the urban pavement while being dependable on touring, especially in terms of comfort.
And while you can't compare the ability to run over technical mountain descents of a hybrid bike vs a mountain bike, a hybrid bike can still offer you a great experience of riding around rough roads with small bumps.
Get Your Hybrid Bike Now!
Conclusion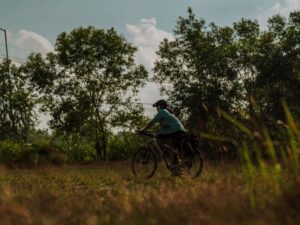 At the end of the day, the decision to pick between the road bike and vs hybrid bike will depend on your preferences in riding and the goal you want or wish to achieve during the ride. However, the hybrid bike is a good pick for a beginner who wants to experience the feeling of riding over different kinds of terrain while still on budget.
Once you have passed the newbie era and finally understand which type of riding you prefer the most, you will always have the choice to replace your bike. For example, after a year of riding a hybrid bike, if you prefer the speed and efficient ride over smoothly surfaced roads, you can replace the hybrid to road bike or replace the hybrid for a mountain if you enjoy the ride over a bumpier gravel road.
Looking for the lightest hybrid bikes that are also durable and stiff? You might want to consider having one of the hybrid bikes collection from Polygon bike. Most Polygon bikes are manufactured with material that is produced through advanced technology and has undergone multiple quality control before and after production, ensuring consumers have only the best quality of the bike.
No need to look for discussion about the road or hybrid bike Reddit, you can directly visit Rodalink at Jurong East or East Coast. There, you will have the professional team from Rodalink's one-stop cycling shop that will gladly assist you in finding the perfect bike according to your riding style and needs.
If you are under tight budget control, you don't have to worry because despite being a well-performing bike that is equipped with top brands components, Polygon bike still offers an affordable price that will not hurt your bank savings.
Besides, at Rodalink, you will have the option to buy your desired bike now and pay for it later by choosing Shop Back as your payment method and enjoy the 0% installment charge. Start your healthy lifestyle and incredible short escape journey right away with Rodalink.