As a beginner, it is common for riders to ask what differs between road and hybrid bikes. Hence, it is also not surprising for bike shop sales to get asked which one is more worth the investment between the road bike vs hybrid bike.
With the similarity in size and shape combined with the numerous gearing, it is common for some to consider the hybrid bike as the flat bar road bike. In reality, both bikes serve different purposes and are quite different. Before you purchase—and probably invest in the wrong type of bike— it will be best to get a better understanding of both bikes first. We have written this article as your guide. Enjoy your read.
What is a Road Bike?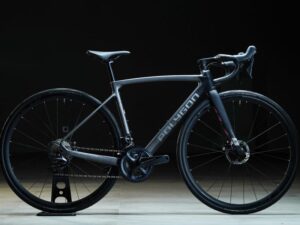 A road bike is manufactured to fulfill the rider's wish to have a speed-riding bike over smooth surfaces. The characteristic of a road bike that makes it recognizable is the drop handlebar with an aerodynamic geometry design to allow riders to cut through the wind during the ride.
Usually, the frame of a road bike is built around a super lightweight material such as carbon fiber or aluminum alloy. The drop bar handlebar also allows riders to have various hand positions, preventing riders' hands from getting sore or numb.
Road Bike You Should Know!
What is a Hybrid Bike?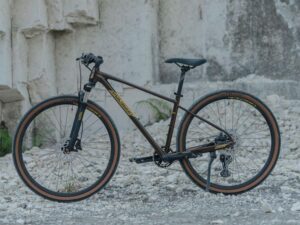 The hybrid bike is a type of bike inspired by road and mountain bikes. The hybrid bike takes the flat bar handlebar design of a mountain bike, allowing riders to have a more upright riding position. However, the thinner frame and wider seat design make the bike more aerodynamic than a basic mountain bike.
It has a bit wider tire—although not as wide as those in mountain bikes—but without a bumpy tread, allowing it to be able to take various kinds of terrain. One of the hybrid bike benefits of having a hybrid bike is riders can ride on both smooth and moderately rough surfaces without any worries. The comfortable saddle position and flat raised handlebar give riders clear visibility and control over the bike.
Hybrid Bike You Should Know!
The Difference Between Road Bike and Hybrid Bike
You have gotten a glimpse of information regarding both bikes. Now, to get the best answer on which to buy between the road and hybrid bike, you will need to compare these few factors:
Bike Geometry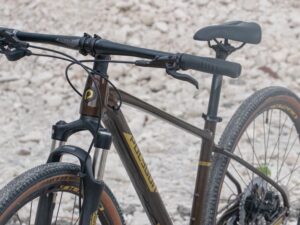 The hybrid bike has a more relaxed riding position thanks to its wider seat and flat bar handlebar. Road bike, on the other hand, comes with a more aerodynamic and aggressive riding position. Hence, the hybrid bike is usually smaller than the road bike, while the road bike tends to stretch out the riders.
When riding a hybrid bike, you will realize that the most significant part of your body weight is dispersed in the seat. As for the road bike, it will distribute your weight over the bike's major contact points.
However, if you want to know about road bike vs hybrid speed when being ridden, then you will need to look at the other factors aside from the geometry as well. So, keep scrolling through.
Performance
The road bike focuses on its performance. The material used to build a road bike is either carbon fiber or aluminum alloy, known for its weight savings characteristic. However, in modern days, most hybrid bikes are also built around carbon fiber or aluminum alloy material. Then how do you determine which bike will perform faster on the road?
If you are investing in a racing road bike such as the Strattos S7 Disc Brakes series from Polygon road bike collections, you will get a bike in a full carbon fiber frame that guarantees to run faster on the smoothly surfaced roads.
The hybrid bike, on the other hand, is well performed on both rough terrain and smooth surface. The design of the components used to build a hybrid bike allows riders to have an on or off-riding activity. But when it comes to speed over smooth pavements, of course, the road bike should get the upper hand.
Components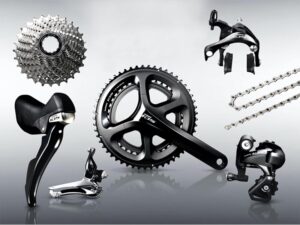 The bike components are one of the best indicators to determine how smooth, dependable, and pricey a bike will be. The components of a bike included brakes, shifter, chain, chainrings, crankset, cassette, and derailleur.
For the producing company, there are two biggest top brands of bike components manufacturers: Shimano and SRAM. Both road and hybrid bikes will have various components, from the entry-level range to the pro-level range, depending on how much budget you spend.
Ideal Usage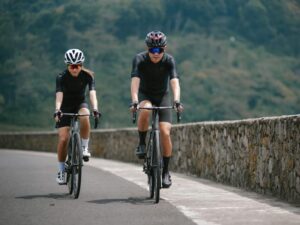 If you are looking for a bike perfect for leisure or long-distance commuting, racing, and touring over tarmac, then the road bike should be an ideal option. The road bike is a fast-handling bike that is suitable for cycling enthusiasts that are looking for speed and an adventurous ride.
The hybrid bike, on the other hand, is manufactured to be robust and rugged with a wider wheel that makes them perfect to be ridden over grass or gravel tracks. While the hybrid bike will not perform as fast as the road bike, it can perform exceptionally well over off-road terrains.
Conclusion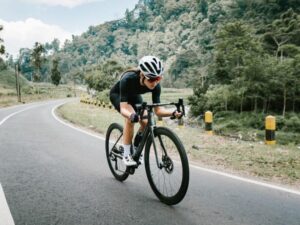 If you are seeking the answer about which one is better, hybrid vs road bike for long distance rides, then we recommend you to go for a road bike. Road bike geometry and lightweight design enable riders to ride at greater speed and maximum efficiency. The forward-leaning riding position also allows riders to get a constant speed and efficiency on the road.
Meanwhile, the hybrid bike is manufactured to serve a ride that is great for both worlds, with the mixed features of the road bike and a mountain bike. When you are confused about which to choose between, the road bike vs mountain bike, as you are the typical cyclist who mostly commutes over smooth pavement but also wishes to go for off-road rides once in a while during the weekend, that's when the hybrid bike becomes your perfect option.
A hybrid bike is a premium bike collection designed to appeal to cyclists looking for the ideal bike to commute or casually pace around the town. In the end, when determining the best bike worth your investment, you should have matched it with your needs. Consider what type of riding you will be doing or wish to do.
Regardless of which road bike vs hybrid vs mountain to ride on your cycling journey, remember only to get the best bike at Rodalink. Rodalink, as the official distributor of Polygon bikes, not only offers the best-performing Polygon hybrid bike for you to purchase but also provides various options of bikes from the world's renowned brands that you can choose from.
Suppose you decide to get the Polygon bike, then congratulations because you will be getting one of the best hybrid bikes at affordable pricing. The material and technology used to manufacture each of their bikes have been selected and undergo strict quality control before and after the production, ensuring that consumers only get the most outstanding product among the best.
You will also not have to worry about your budget because Rodalink not only offers the bike at the most reasonable pricing, but they also partnered with Shop Back, which allows you to buy a product now and pay for it later with the Shop Back payment system and get the 0%/ of the installment fee. An enjoyable cycling journey is within your reach now, grab it and begin your rides only with Rodalink.