Living in Singapore must have made you appreciate the leisure times you got, since everyone here seems pretty busy. To make use of your leisure time, you can get into a new hobby, which is cycling. Folding bike might be the best bike type you can get in Singapore. Find out about the best foldable bike Singapore in this article!
Folding Bike Singapore
A folding bike is exactly what it sounds like, a bike that folds up. They're intended to be a storage solution for commuters and urban riders who have limited space. What's most impressive is how it folds up to such a small size.
Folding bikes come in a variety of styles and sizes, including single-speed and geared models with simple suspension systems. They're quirky, and this "fun factor" has been accepted by both folding bike fans and manufacturers—you can find a variety of color palettes and accessories to make your folding bike as one-of-a-kind as you want.
Folding mechanisms may be more expensive and heavier, but they allow for smaller folding and use smaller wheels. The largest wheels for which flip hinges are commonly used are 24 inches, but relatively small wheels, typically 16 or 20 inches, are more popular.
Smaller size does not imply lighter weight, as most of these designs forego the braced frames benefits of the diamond frame and must accommodate with thicker metal, as a step-through frame does. The step-through design benefits riders of all sizes, ages, and physical abilities.
Having a foldable bike in Singapore might be the best choice you can get. It can save storage and also will still offer you the main purpose of a bike to bring you to commute around the city or wherever you like.
Best Foldable Bike Singapore
Before deciding to get the best folding bike, you need to know several foldable bicycle brands that have great features, such as Shimano folding bike Singapore. Here is the list of best folding bikes of 2023 and cheap foldable bike Singapore that you might use as a reference to get your best budget folding bike Singapore!
Polygon Urbano 3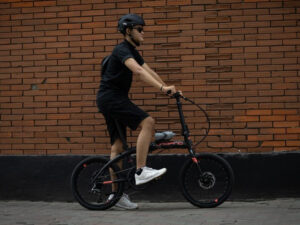 If you're looking for your first and best deal folding bike, you have a lot of options. Polygon is one of the bicycle brands that offers the best bike at the most affordable price. You can get their Urbano Series for folding bikes.
Polygon Urbano is built with 20″ wheels and a lightweight ALX frame to give the rider a more upright riding position that improves visibility and comfort. Urbano was created for those of you looking for a unique, practical, and portable bike to lead an active lifestyle.
The Urbano Series includes two models: the Urbano 3 and the Urbano 5. Polygon Urbano 3 is the first. According to Polygon, the Urbano 3 is one of the best models for people who want to own a bicycle but also save space because it is a folding bike that can be folded into a smaller package.
In comparison to Polygon's other folding bike series, the Polygon Urbano 3 is the most affordable. It is, however, outfitted with specifications that meet your needs for everyday cycling. The best virtue is that it is equipped with Shimano drivetrain, making this bike a really great folding bike for your everyday ride.
The features for this model are the same as those mentioned above for the Urbano series. Polygon Urbano's 20-inch tires make it ideal for riders looking for a unique, simple, and easy-to-carry ride.
Buy Polygon Urbano 3 Folding Bike Now!
Polygon Urbano 5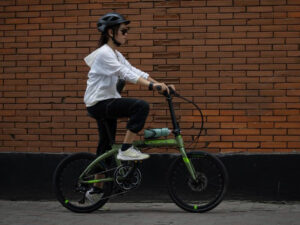 Polygon Urbano 5 is a compact bicycle with an elegant shape that is easy to ride. With these characteristics, folding bikes, such as the Polygon Urbano 5, have a large following among bikers.
This model is similar to the Urbano 3, but with more advanced features. The latest model's main tube appears to be higher than the previous one. As a result, the new model leans more toward the adventurous folding bike.
Another element that gives the impression of adventure is the use of a matte black base color, which makes it look more elegant, as well as the combination of the Urbano 5 with a cream color, which is similar to the Polygon Bend RIV.
Shimano groupsets: Shimano Sora RD-R3000, Shimano CS-HG200-9 11-34T, and Shimano Altus SL-M2010-9 support up to 9 speeds on the Polygon Urbano 5 folding bike. ALX ALLOY, an aluminum alloy that has been used since the 1990s, is used to make the frame. The Polygon Urbano 5 folding bike has maximum strength and durability thanks to this material combination.
Buy Polygon Urbano 5 Folding Bike Now!
Wimcycle Pocket Rocket 2 Folding Bike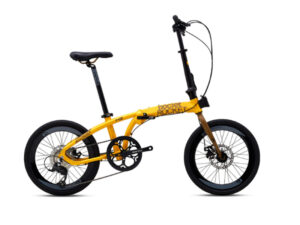 Because of its 20-inch wheels, this Wimcycle model is also known as the Wimcycle Pocket Rocket 20. This folding bike model has six speed settings that are easily adjustable manually.
Despite its low price, the quality of this Pocket Rocket 20 should not be underestimated. The basic and main components have alloy folding type class materials that have been specifically selected for a safer and more enjoyable driving experience on the streets.
Pocket Rocket 20 is lighter and easier to carry because of this material. Furthermore, the tires it has are well-known for their durability, measuring 20 x 1.5 inches overall. There is no need to be concerned if the tire surface becomes smoother faster.
Buy Wimcycle Pocket Rocket 2 Folding Bike Now!
Conclusion
Folding bike is the best type of bike you can get if you live in Singapore due to it's compactness. After reading this article, you must have decided which best folding bike brands you want to get. If you are planning to get a Polygon folding bike Singapore, you can get it from Rodalink!
As the official distributor of Polygon folding bikes Singapore, Rodalink also provides variety types of bikes and other riding needs, such as accessories, child seat, helmet, bike tires, and apparel. You can get all of that at the best price and guaranteed original.
You might also think about joining the Rodalink community to receive better discounts and offers. Rodalink can be your dependable cycling partner as you live out your adventurous riding dream right now!
Discover Your Needs at Rodalink Now!