Cyclists should know that gravel and mountain bikes are designed for off-road riding. But there's a significant difference between both bikes. Now, if you are thinking about purchasing either one but are unsure of which is better, gravel bike vs mountain bike, you might want to read this article till the end.
Before we start to compare the gravel bike vs mountain bike speed, the terrain it is capable of, and many other factors of consideration, though, it will be nice to understand what a gravel bike and a mountain bike are. So, here is everything you need to know before deciding which bike to buy. Enjoy the reading.
What is a Gravel Bike?
Explaining gravel bikes could be tricky. It looks almost like a road bike with the drop bar handlebars but with a longer wheelbase and greater tire clearance. When we discuss gravel cycling, it can refer to a ride over the rough pavement with rock chunks or sandy dirt and singletrack trails.
Now, if you think about it, a gravel bike is similar to a hybrid bike and cyclocross, which offer the best of both worlds. But of course, with a few key differences that successfully make the gravel bike has a name on its own.
The gravel bike is manufactured to be an all-rounder that can perform well in both off-road and on-road riding. You can roll a gravel bike over the dirt trails to the gravel road with stretches of tarmac between the ride without any problem.
With the lightly treaded tire in 650b sizing pumped at around 40psi, a gravel bike can also run fast over smooth terrain. Although, of course, when you compare gravel bike vs road bike for speed, the latter will get the upper hand.
The gravel racing bike also comes with ultra-endurance, as proven by the most popular gravel race that took around 5 to 10 hours on courses of about 200 miles, including climbing for approximately 10,000+ feet.
Gravel Bike For You!
What is a Mountain Bike?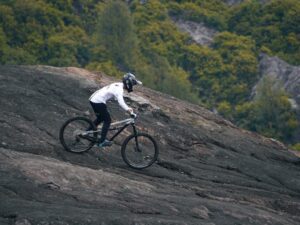 Mountain bikes are manufactured to be ridden off-road with enhanced durability and performance over rough terrain. The characteristic of a mountain bike is that it is built with suspension fork(s) to absorb the shock caused by bumps over unpaved trails.
A mountain bike with one suspension in front is known as the hardtail mountain bike, while the mountain bike manufactured with front and rear suspension are known as the full suspension bike.
Aside from the suspension, a mountain bike will have large knobby tires, durable wheels, a powerful braking system, and a wide flat bar handlebar to support confidence, balance, and comfort over mountain trails and other rough terrains.
Ever since the development of mountain biking in the 1970s, mountain bikes are divided into:
Cross-country mountain bike: equipped with 120mm suspension travel, usually ridden over mixed rough forest paths and singletrack;
Trail mountain bike: equipped with 135mm to 140mm suspension travel, usually ridden over singletrack, up and down over challenging terrain and rocky mountain area;
Enduro mountain bike: equipped with 140mm suspension, known as the jack of all trades, can climb as good as ride downhill;
Downhill mountain bike: equipped with 200mm suspension or above, usually ridden by cyclists who like to descend over steep trails at higher speed.
Mountain Bike For You!
The Difference Between Gravel Bike and Mountain Bike
Due to its versatility over various terrains, gravel bikes sometimes are mistaken for cross-country mountain bikes. To help you understand the gravel bike better and able to differentiate it from the mountain bike, look at these key components below:
Bike Frame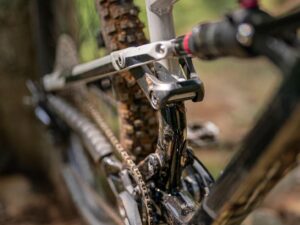 The gravel bike frame design is almost similar to the road bike with a little aerodynamic riding position. It is shorter than mountain bikes that come with slacker head angles and a longer wheelbase.
Suspension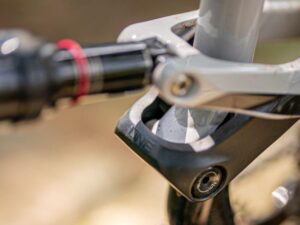 One factor that allows you to easily differentiate between gravel bike vs hardtail and full-suspension mountain bike is the suspension. A gravel bike with a suspension is rare and uneasy to find while the mountain bike will always be equipped with at least one suspension in the front fork.
The installment of suspension in a mountain bike allows it to absorb the vibration and shock caused by riding bumps on rougher terrains. The gravel bike, on the other hand, doesn't have suspension, or even when there is, it is only around 30mm to 40mm. This length is only allowing gravel bikes to be capable of smooth gravel and paved roads, unlike the mountain bike which is manufactured to be ridden over rough terrain.
Wheel and Tires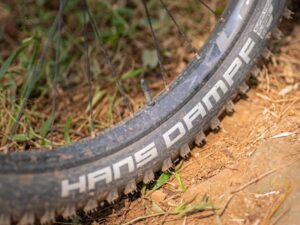 Gravel bikes frame has a wider tire clearance that can fit wider tires than road bikes and cyclocross in around 50mm range. This wider tire gives more tire volume that will improve traction and comfort.
Despite that, the gravel bike tire is still narrower than most mountain bikes. Generally, a cross-country mountain bike is designed to fit tires between 2.1″ to 2.4″ wide while the 50mm gravel tire is only around 1.9″, making mountain bike tires heavier with high rolling resistance but at the same time, offering better traction control and comfort over rough terrains.
To simplify, the gravel bike tire allows it to run better than a road bike on smoother terrain while the mountain bike tire can handle the rougher roads and trails better than the gravel bike.
Gearing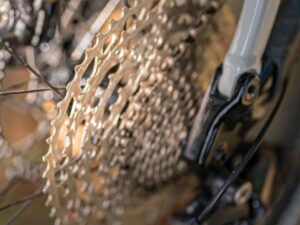 Most mountain bikes come with the exclusive 1x speed setup with a powerful hydraulic disc brake to help riders gain more confidence during the ride over the rough terrain. The groupset of a mountain bike also often comes in the combination of small chainrings and wide-range cassettes, allowing riders to winch up the steep and technical trails.
For the gravel bike, the groupset option splits between the 1x speed and 2x speed. Gravel riders who usually wish to roll their gravel bike faster on tarmac roads will prefer to get the 2x speed groupset. Top brands like Shimano are having separate groupsets for the gravel bike, known as the Shimano GRX.
Which Bike is Better for Investment?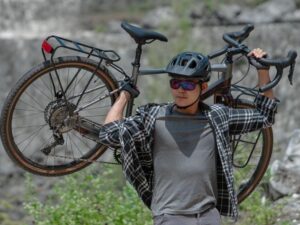 When looking for a bike that is best to invest in, you will have to tell your preferences first. What type of road or trails that you regularly ride? How about your local terrain? What type of riding you are doing or wish to do?
If you are being specific and comparing which is the better gravel bike or mountain bike for backpacking? Then we will gladly tell you to consider getting a gravel bike. The supporting claim is that gravel bikes can balance efficiency on the pavement with fun while being able to take the bumpy road with ease.
The gravel bike is more suitable for running through miles of paved roads through the town before exploring gravel roads with small pebbles that are rougher. The narrower tire will help you to pedal with less rolling resistance, making you feel less exhausted for long hours of rides.
But if you wish to ride around the rocky and rooty singletrack, or if your living area is near the mountain area consisting of unpaved paths, considering to get a mountain bike, like the hardtail cross-country mountain bike so it let you run around the pavement area with less fatigue while able to tackle the road around your living area.
Conclusion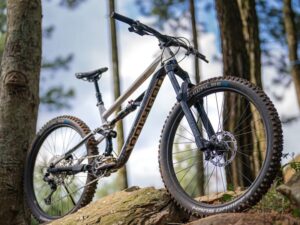 Regardless of which types of bike, you are going to get between gravel bike vs hybrid and mountain bike, just make sure you have matches your riding style and the terrain you are going to roll your bike over daily and only get the best performing bike at Rodalink.
Rodalink offers a wide range of bike collections at an affordable price, ensuring you get the bike that will support your need in cycling without breaking your bank account. Besides, you can also find the needed accessories, parts, and apparel that will complete your preparation for bike riding.
If you are purchasing at Rodalink, you will also be free from the hassle of having to assemble your bike on your own because Rodalink will make sure to have your order delivered to the front of your doorstep in ready-to-ride form. All you need is to wait for your bike to arrive and hop on for a ride.
Rodalink also partnered with Shop Back to enable you to purchase your bike with pay later option at 0% of the installment fee. Get ready to start your biking journey without any worry by getting your gear from Rodalink.