Since two big brands of bike suspension manufacturers: FOX and RockShox, announced the release of gravel suspension to the market, many cyclists have started to either look for a gravel bike with suspension fork or a way to upgrade their current gravel bike with a fork installment.
But is it worth it to make such an upgrade to your bike? Can cyclists install a gravel suspension fork to their bike, and what will the upgrade cause to your gravel bike? Before impulsively jumping on the bandwagon, it will be best for you to understand what you are going to deal with and only make decisions after you are fully aware of the consequences. Here is the information you need to know about gravel bike suspension fork.
What is Suspension Fork?
A suspension fork is usually equipped on mountain bikes. This suspension absorbs the small bumps to give riders better control over the bike as the wheels move up and down while keeping the tire in contact with the ground. Besides, a suspension fork will also help to absorb large shocks when landing jumps.
There are two essential elements of a suspension, such as:
Spring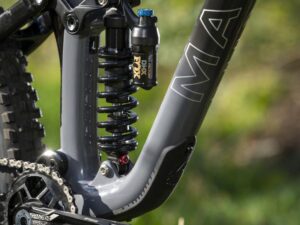 A component that allows the suspension to move up when the wheel encounters a bump and quickly move back down once the wheel has passed the bump. The spring can be either a coil of steel or a cylinder that contains pressurized air.
Damper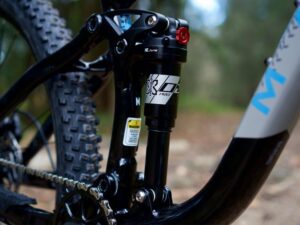 A damper is a device that dissipates energy while keeping the suspension from bouncing out of control after each bump. The oil-filled damper is the most common type in the market that is usually used for both cars and bicycle suspensions.
Both spring and damper are sometimes referred to as shock absorbers. For a mountain bike, it will either be equipped with single suspension, which is known as the hardtail mountain bike or equipped with dual suspension or known as the full suspension mountain bike.
Since suspension is often used by mountain bikes, do gravel bike have suspension, or do gravel bikes need a suspension? Keep reading this article to find your answer.
Can I Install a Gravel Suspension Fork on My Bike?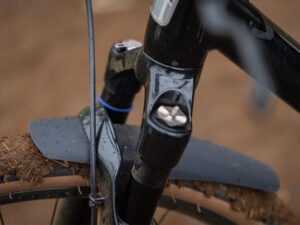 First of all, you need to look at whether the suspension fork is compatible with your bike frame. For example, the FOX 32TC comes with only a 1-⅛ inch upper to 1-½ inch lower taper steerer, so you will need a head tube that is compatible with this sizing.
Secondly, even if your head tube is compatible with the size of your bike frame, there's also no guarantee that installing a suspension on your bike is a brilliant idea. On the contrary, modifying your bike breaks the warranty of your bike, which we will not recommend you to do.
Remember that a suspension fork is a longer lever that increases the forces on your bike's head tube beyond the initial consideration of a manufacturer when developing and engineering your bike frame. You will need to ensure your frame can handle the frontal energy capacity or the force caused by this longer fork suspension.
Else, your existing front brake hose will need to be replaced, and you will need to fill and bleed your braking system and re-wrapping your handlebar, which is not only a waste of time but also budget and resources.
What Does Installing a Gravel Suspension Fork Do To My Bike?
The longer fork will raise the front end of the bike as well as change the bike's steering geometry. Note that every 20mm additional fork length will reduce head angle by around one degree. Besides, it can also raise the bike's bottom bracket and lengthen the bike's wheelbase and alter the handling.
While the bike will feel more stable, you will also find your bike handling has become heavier and slower than it should be. The longer fork will also slacken the angle of the seat tube, increasing the stack and shortening the reach. While you either drop or change the stem angle and length while removing the head tube spacer, the change can't correct the steering feels and bike handling control.
How Much Do Gravel Suspension Forks Weigh?
To answer this, you will need to see what type of suspension fork weight information you are looking for. The FOX AX Taper Cast has weighed around 1,265grams while the RockShox Rudy weighs about 1,290grams. The rigid gravel fork like Enve Gravel Disc Fork, for example, comes with approximately 530grams of weight.
Gravel suspension forks come with larger legs and crowns combined with a more frontal area than the rigid fork, which significantly causes drag. The installment of gravel suspension forks will indicate that you want to get rid of the aerodynamic feels served by the original gravel bike frame before modification.
Conclusion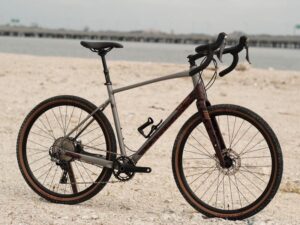 Before you join the hype and enthusiastically ask around to find the best gravel bike suspension fork so you can modify your current gravel bike, we will constantly remind you that carelessly changing a bike may void its warranty.
Besides, do you think you need a front suspension for your gravel bike? Is the gravel bike only considered the best gravel bike with front suspension? Typically, gravel bike suspension is mainly used to gain more capability when riding a gravel bike over more technical trails or to smoothen the high-frequency vibrations while improving comfort and reducing fatigue during long-distance travel.
However, if you are aiming for a more capable bike to be ridden over technical terrains, why don't you consider investing in a mountain bike instead of obsessing over modifying a 700c gravel bike suspension fork for your current gravel bike?
It will be wiser to purchase a bike according to what you need. If you prefer a ride over more challenging terrains, go for the mountain bike instead of modifying your current one since the cost you will waste will be the same. In addition, bike modification will not only make your warranty become void but also risk damaging your entire bike.
Best Mountain Bike For You!
If you wish to have a gravel bike that is also great to be ridden around rough terrain, consider having a Polygon gravel bike. Equipped with the clutched rear mech, sturdy rubber, and dropper post, it makes the Polygon gravel bike ready for any gravel adventure, be it a ride over a fire road or singletrack. The short stem and wide bar combination keep riders' composure through rough ground and steep gradients.
Best Polygon Gravel Bike For You!
A polygon gravel bike will be a better option to achieve your adventurous riding dream instead of doing bike modification. The gravel bike from Polygon is not only capable of most off-road riding but also can be a fantastic commuter and fast-rolling over smooth terrain, although not as fast as the Polygon road bike like Strattos S7.
Are you interested in checking more options for a Polygon bike? Come and visit Rodalink at Jurong East and East Coast. There, you will find a wide range of bikes, accessories, parts, and apparels from the world's renowned brands. Even as a beginner that is entirely clueless about bike components, you will not have to worry because Rodalink has a professional team that will gladly assist you in finding the best bike according to your need.
Rodalink is also the only official bike distributor to ensure every bike is delivered to their customers in ready-to-ride form, so you don't have to go through much hassle in assembling your bike. Partnered with Shop Back, Rodalink gives buyers options to buy their dream bike now and pay for it later with a 0% interest charge. Come and grab your best-performing bike and begin your cycling journey with Rodalink.