When you are thinking about finding a bike that can support two different riding styles at once, the first two types of bikes that come to mind are gravel bikes and hybrid bikes. Then, you will start to compare both bikes and wonder which one, between the gravel vs hybrid bike, will be better for your investment.
It will be great if budget and space don't become an issue because you can directly purchase both and bring them home. But when either budget and storage space becomes an issue, you will need guidance to understand better the difference between both bikes and which one will suit your riding goals better.
What is a Gravel Bike?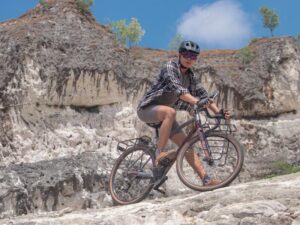 A gravel bike is designed so riders can ride on almost any surface despite excelling over the dirt road or gravel terrain. Usually, a gravel bike comes with a drop handlebar making it look like a road bike at a glance. However, the component selection and especially the gravel bike tire, give off the vibe of a mountain bike instead.
The gravel bike was invented to conquer the off-road long-distance adventurous ride. Now, you will have to remember that there are various types of gravel bikes built for different riding styles. Some gravel bikes are designed to be fast and light in weight, while others might come with a relaxed geometry to support adventurous riding like bikepacking trips.
The geometry of a gravel bike focuses on comfort and durability. It has a longer wheelbase to keep the bike stable during longer rides with a head tube that connects to a shorter top tube, allowing the riders to have more upright positions.
Gravel Bike You Should Know!
What is a Hybrid Bike?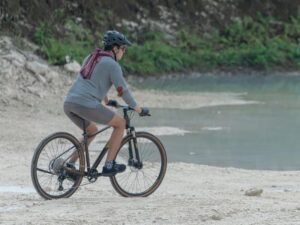 The hybrid bike is also designed for commuting and leisure riding with practical features, allowing riders to carry luggage and tackle various terrains in any weather conditions. The hybrid bike has been known as a fitness bike for decades.
A hybrid bike has a flat bar and upright riding position of a mountain bike, offering more comfortable rides. It also combines with the 700c wheels and road bike's slick tire around 28mm to 32mm, offering more on-road speed. While the focus of hybrid bikes is mainly on paved roads, most hybrid bikes are also capable of being ridden over certain off-road surfaces like gravel and bridleways.
When riding on a hybrid bike, you don't have to maintain speed by bending. The hybrid bike has a comfortable saddle and upright handlebar, allowing riders to have a good sitting posture to endure long-distance rides.
Hybrid Bike You Should Know!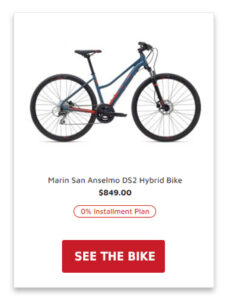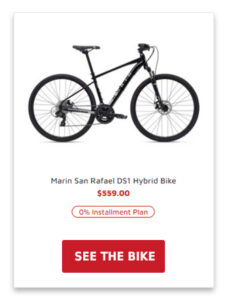 Which One Should I Pick?
While gravel and hybrid bikes have been considered adventure bikes, both are still different from one another. When picking between gravel and hybrid bike to invest in, here are a few things you should consider:
Your Riding Style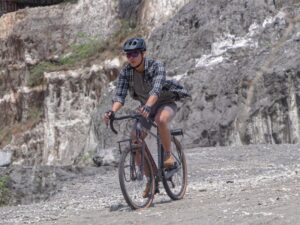 If you want a bike that will take you for your adventurous rides around different surfaces, the gravel bike will be your better option. Gravel bike has a wider range of gearing, allowing it to manage the off-road trails, gravel, and fire roads better. Besides, when we talk about gravel tires vs hybrid tires, the gravel bike tire is wider, allowing the bikes to have better traction and grip over uneven roads. Hence, a gravel bike has a better speed over rougher terrain.
However, if you prefer a bike that is better at commuting but can still offer you a good ride over gravel roads during the weekend, a hybrid bike will suffice. The hybrid bike also allows for a more comfortable riding position, giving the riders a better vision of the road ahead. The design of a hybrid bike also allows riders to mount racks or cargo panniers so it can carry some loads while commuting.
Your Preferences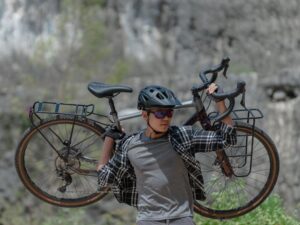 Some cyclists might feel most confident and comfortable riding a bike with a specific geometry design. For example, road cyclists might feel the most comfortable riding a bike with a bit of crouching down, so the gravel bike will be a better option.
The riders who like the upright riding position will look for a geometry design that resembles a mountain bike but offers more speed over smooth surface rides; the hybrid bike should be great.
Aside from this, the wider variety of gear shifts gives an extra point that makes the gravel bike become the consideration of cyclists who wish to have more adventurous rides but still are struggling to pick between the gravel vs commuter bike.
Conclusion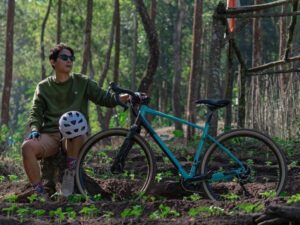 You can get a combination of both road and mountain bike designs on gravel and hybrid bikes. But again, both bikes serve different purposes, so you must write down what type of riding you are doing or what kind of riding you wish to do before investing in either.
However, if we could give some little advice, it would be better for beginners to start the riding journey with a simple hybrid bike. The flat handlebar will allow you to get better control over your bike, which helps boost your confidence during the ride.
Once you are getting used to the feel of handling your bike, you can slowly shift into rougher terrain and consider changing your bike to gravel if you enjoy the adventurous long-distance ride better. But if you only think of running through a gravel road, the hybrid bike on gravel road rides is also smooth enough.
Does this article help ease your confusion and decide which bike is best to purchase? If you are still unsure and need more thorough assistance, you can visit the physical store of Rodalink at Jurong East and East Coast. Rodalink, as an official distributor of Polygon bikes, also gets a wide range of bike selections from the world's renowned brands.
The professional and experienced team of Rodalink will kindly assist you until you get the perfect bike that suits your personality and riding style. You will no longer have to go through nuisance picking between gravel bike vs mountain bike, nor will you be confused about what differentiates the gravel bike vs road bike.
Just tell the team what you are looking forward to when choosing a bike, and they will come with the bike that suits your needs. The Polygon gravel bike and mountain bike are manufactured with lightweight aluminum alloy.
One thing that differentiates the Polygon gravel bike and hybrid bike from any other is using the ALX alloy frame. This material has undergone strict quality control before the frame-building process and is guaranteed to offer the lightest and more durable frame within its range.
So stop contemplating and visit the Rodalink and get your dream bike with high-quality components at the most competitive pricing. For every bike purchase, customers are guaranteed.
You can also get other needed supplies like accessories and apparel to support your cycling journey at Rodalink. To conclude, Rodalink is a perfect place to visit when looking for guidance in finding the perfect bike. Happy cycling together with Rodalink.