MTB Suspension – Mountain bikes (MTB) riders are sure familiar with bike suspension. Whether it's a full suspension MTB or hardtail MTB, both offer their advantages. Dual-suspension mountain bikes are equipped with front suspension (fork) and rear suspension (shock), while hardtail mountain bikes only use front suspension. Suspension helps to increase control and comfort on rocky roads and contributing to bringing more fun on trails. Then, what should we're aware of when talking about suspension? Make sure you know these basics so you can kickstart to choose the most suitable mountain bikes for you.
Suspension on Hardtail and Full Suspension Mountain Bikes
Getting to Know Front Suspensio­n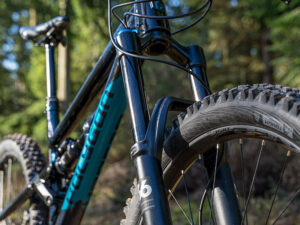 Travel Distance
Widely known as a bike fork, the front suspension plays a role to connect the front wheel and frame headtube. Usually, riders will be faced with two travel distances: short-travel suspension (less than 120mm) and long-travel suspension (more 120mm).
Short travel suspension is usually good for rides that are not too extreme, emphasizing comfort on smooth trails and recreational riding. One of the Mountain bikes that is using this type of suspension is Polygon Cascade, a hardtail mountain bike that uses 100 mm travel.
Long travel suspension is commonly used on bikes that serve more extreme rides, such as enduro mountain bikes. Because this riding style deals with more descending terrain with high speed, having a longer suspension is considered more ideal, so it can dampen the trail more. Long travel suspension supports the rider so they can have more control to maneuver the bike.
| | | |
| --- | --- | --- |
| Inches | Millimeters | Type of Bike |
| 1 – 2 | 30 – 50 | 20″ and 24″ kids' bikes |
| 2 – 3 | 60 – 80 | 24″ kids' bikes, hybrid bikes |
| 4 – 5 | 100 – 120 | "Cross country" and "trail" mountain bikes |
| 5 – 6 | 120 – 160 | "All mountain" mountain bikes |
| 7 – 8 | 180 – 200 | "Freeride" and "downhill" mountain bikes |
(source: rei.com)
Suspension Spring System
Besides the travel distances, you should be familiar with two spring systems that are widely used on MTB: coil spring and air spring. Coil spring operates more simply since it doesn't use seals to hold air under high pressure. This means less friction, enables the spring to be more sensitive towards the terrain and is easier to control. The coil suspension is also more durable in hot and cold environments than air suspension.
Meanwhile, the air spring works with the pressurized air in a chamber. Unlike the coil spring who has a linear spring rate (the spring becomes stiffer at a constant rate as it's compressed), air spring has a progressive spring rate that changed as more compression is applied. It is easier to set up and tune. The air spring also offers lighter weight, which enables the rider to have less effort when pedaling.
Improving Comfort with Rear Suspension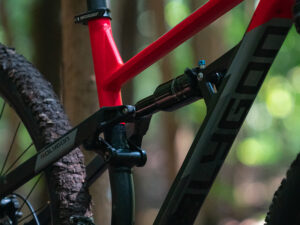 The rear suspension is located on the rear frame triangle. Why would we need a rear suspension when we already have the front one? Because the rear suspension allows the rear wheel to soak up impacts, helping to keep the tire in contact with the ground. It also increases the rider's control and decreasing the rider's fatigue due to its ability to absorb more bumps.
Generally, the spring system selection on the rear suspension is the same as the front suspension, which is either the coil or air spring. Air-sprung shocks are commonly used on cross-country (XC) mountain bikes and trail bikes; while coil-sprung shocks are often used on "freeride" and downhill mountain bikes.
When looking at the rear suspension specification, you have to consider the stroke travel also. Stroke length refers to the distance the shock compresses under load. It varies between 1.5" to 3". Shocks and frames must be designed to function in unison.
Choosing the Most Suitable One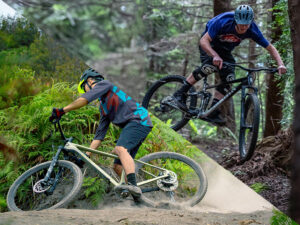 Whether it's hardtail MTB or dual-suspension MTB, it's always fun to get the most suitable bike to accompany your ride. Start your mountain bike adventure with Rodalink! Available on our offline and online store, find your cycling soulmate now. Rodalink #HomeForCyclists!
Explore Front/Full Suspension MTB