The term hardtail bike should be familiar for cyclists, especially those who ride a mountain bike. If you are new, though, you also don't have to worry because we will be informing you of everything you need to know about a hardtail bike, including how to choose the best hardtail bike frame to start your riding journey. Without further introduction, here is the guide you need, and enjoy your reading!
What is a Hardtail Bike?
A hardtail bike or often addressed as a hardtail mountain bike, is an incredibly versatile bike that allows riders to explore a wide range of terrains. Hardtail is given name to bikes that feature only front suspension to help riders navigate rugged off-road terrain. Usually, a hardtail mountain bike will be lighter and more affordable than a full-suspension bike.
Besides, hardtail mountain bikes are easier to maintain and look after. The front suspension fork will help riders to absorb some of the impacts and lessen the strain which is caused by bumps and jumps when riders cross over the lumps.
Hartail Mountain Bike You Might Like!
Carbon Fiber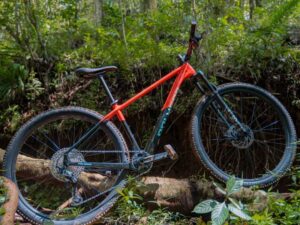 This material is not typical for hardtail mountain bike frames unless you go for higher-end bikes. The benefit of using this material for manufacturing your mountain bike is it offers unrivaled stiffness and is lightweight—the dampening qualities of the material give the utmost comfort to riders.
Aluminum Alloy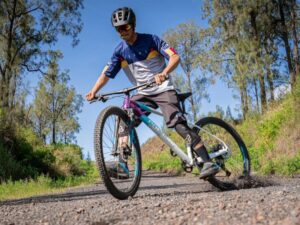 Aluminum alloy is considered the most common material used to manufacture bikes. This material is not only lightweight but also durable and stiff. Besides, this material is more affordable in comparison to carbon fiber.
Steel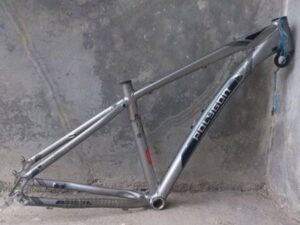 Back then, steel was the primary material for manufacturing a bike. This material indeed offers durability, strength, and comfort. Besides, it is one of the most affordable materials to build a bike. However, the weight of steel material is not forgiving.
Understanding the material used to manufacture a hardtail frame only will not be perfect without knowing the differences between hardtail bikes, for example:
Cross country mountain bike: designed for speed and efficiency for a climb, offering versatility in various types of terrains;
All-mountain hardtail bike: aggressive, suitable for riders who wish to push their limit over steel and technical terrain.
What Are Hardtail Bikes Used For?
As mentioned at the beginning of the article, a hardtail bike can run over various terrains. The versatility and resilient nature of this bike guarantee a good performance in most riding places. Some suitable terrain for hardtail mountain bikes is over the fire roads, mountain trails, and pump tracks.
You might probably hear how many mountain bikers start their biking journey by riding a hardtail mountain bike. The simple design without rear shock makes it more lightweight with less maintenance and lower cost.
Hardtail mountain bikes will give riders a more responsive feel on the road, fast and efficient even when riders are losing some traction without rear suspension. Beginners can learn to understand the terrain better and instinctively respond to it. The lack of suspension will surprise riders on every ride, especially over bumpy terrain.
What are the Benefits of Using a Hardtail Frame?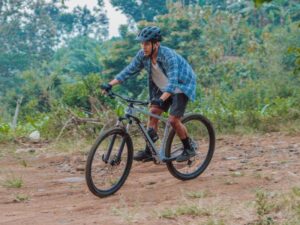 So what is the benefit of using the hardtail bike frames on a mountain bike? The most noticeable benefit is it is much lighter than a full suspension frame so that it can maneuver over the trail easily.
Besides, the fewer moving parts of a hardtail mountain bike make it more budget-friendly—there will be fewer parts to take care of and maintain, allowing you to spend less on repair fees.
The most crucial part is that the hardtail mountain bike will offer a better climbing performance since it doesn't have any rear suspension that will soak the power you put into it.
So if you are the type of rider looking to tackle a steep climb, the hardtail mountain bike will be the best option. While it is not as comfortable for longer rides, it can still provide good comfort if you can responsibly handle the vibration directly transferred to your body.
Conclusion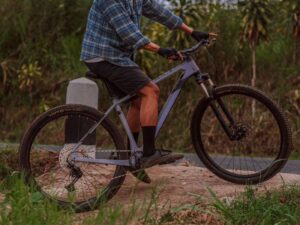 The most common sizing for a mountain bike is the 29-inches wheel. Hence, it will be easier for you to find a 29er MTB hardtail frame on the market. In older days, the first bike, regardless of its type, came with a 26-inches wheel. However, nowadays, the only MTB hardtail frame 26 is the dirt jump bike.
When considering how to choose the hardtail frame for your mountain bike, first you will have to think of which type of riding you will be doing, how light you wish your bike will be, and how much your budget is.
Commonly, the frame material to manufacture a hardtail mountain bike is aluminum alloy material. However, some people who don't mind spending extra money on a more lightweight bike will prefer having the carbon fiber material to manufacture their hardtail mountain bike.
If you want a hardtail frame for sale, we recommend you visit Rodalink at Jurong East and East Coast. At Rodalink, you will find a wide range of bike accessories and parts, including the frame made of a durable, high-quality material at an affordable price.
Not only accessories and parts, but Rodalink also offers various types of bikes and apparel. If you don't know which kind of bike is suitable for you best, you can consult with Rodalink's professional team and let them assist you in finding a bike that is suitable for your need and riding style.
One of the most beneficial things you will get by purchasing from Rodalink is if you are buying non-bike products for around SG$200 or above, you will get the products delivered to your address without the shipping fee charge.
You can also register to be part of Rodalink's member community to get the latest updates regarding their new arrival products and information on special deals. You can also be eligible to join the exclusive event reserved for members only.
Rodalink is the only official distributor that will offer you lots of benefits while guaranteeing you will only get the high-quality products and best services. Entrust the beginning of your cycling journey to Rodalink.