Choosing the right tires for your mountain bike is crucial for a safe and enjoyable ride, as your tires are the only part of your bike that comes into contact with rough terrain. This guide will illustrate how the proper tires can impact your ride regarding performance, comfort, and confidence on the trail.
Parts of Mountain Bike Tire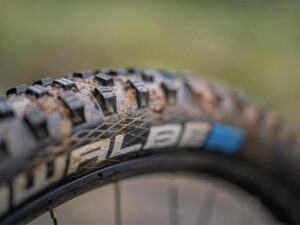 Tires have a significant impact on your riding experience. The correct tire can enhance your performance, grip, and speed, while the wrong one can make your ride unpleasant and hazardous. Let's explore the various components of an MTB tire and its functions.
Bead: The bead is part of the MTB tire that attaches to the wheel rim. There are two types of beads: wire and folding. Folding beads are more flexible and lighter, making them a better choice for higher-end MTB. Wire beads, on the other hand, are less flexible and heavier, making them cheaper but less ideal for performance.
Casing: The casing surrounds the tire beads and helps maintain air pressure. It's made of nylon, cotton, or synthetic fibers. The quality of the casing material affects the tire's durability, resistance to punctures, weight, and rolling resistance. Thicker casings provide more protection but are generally heavier, while thinner ones are lighter and faster but less resistant to punctures.
Puncture Protection: This part is added to the casing to resist punctures. It can come in the form of a layer of material or a specialized compound. A tire with good puncture protection can withstand rough terrain, sharp rocks, and thorns without getting a flat tire.
Sidewall: The sidewall connects the tire tread to the bead and provides some of the tire's structural strength. It can come in different thicknesses, affecting the tire's durability and puncture resistance. Thicker sidewalls offer more protection but add weight to the tire. Some tires also have reinforced sidewalls to prevent cuts and tears.
Tread: The tread is the pattern on the surface of the tire that provides grip and traction. The specific pattern you choose will depend on the type of riding you'll be doing and the terrain you'll be riding on. It's made up of a pattern of knobs and grooves that help to provide grip and traction.
3 Things to Consider When Choosing The Right MTB Tire
Knowing that mountain bikes are actually pretty diverse in terms of price, brand, and benefits. Here are three things you must consider before choosing or upgrading your mountain bike tires:
1. Size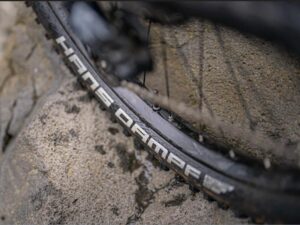 The size of your mountain bike tires is typically indicated by a series of numbers on the sidewall of the tire, such as 27.5 x 2.3 or 29 x 2.1. The first number refers to the tire's diameter, while the second number refers to the tire's width.
For beginner mountain bikers, it's recommended to start with a lower second number as it offers a good balance of grip and speed for most riding conditions. If you're primarily riding on smooth trails or roads, a narrower tire with a smooth tread pattern will be more efficient and faster, while a wider tire with a more aggressive tread pattern is better for rougher terrain with rocks, roots, and loose dirt.
For more technical or aggressive riding, a wider tire with a more aggressive tread pattern is a good choice. A wider tire will offer more grip and stability, while an aggressive tread pattern will provide more traction in loose or muddy conditions.
2. Tread Pattern and Height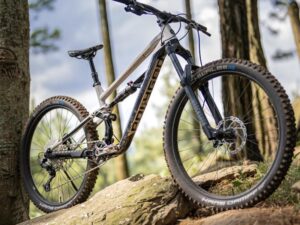 The tread pattern and height of your tire can make a big difference in how your bike handles different types of terrain. Tread height refers to how deep the knobs or tread blocks are on your tire. Different tread patterns and heights are designed for different types of terrain, so it's important to choose the right one for your ride.
Here are some common tread patterns and height types:
Slick or Smooth Tread: This type of tire has no tread pattern or tiny tread blocks. These tires are designed for smooth, hard surfaces like pavement or hard-packed dirt. They offer low rolling resistance, which means you can ride faster with less effort. However, they don't provide much traction on loose or wet terrain.
Semi-Slick Tread: This type of tire has a smooth or slightly treaded centre section for speed and a more aggressive tread pattern on the sides for better traction on loose terrain. They're a good choice if you want to ride on both pavement and off-road terrain.
Knobby Tread: This type of tire has large, aggressive tread blocks that are designed for riding on loose or muddy terrain. They provide excellent grip and traction but can be slower on smooth surfaces and create more rolling resistance.
Mixed Tread: This type of tire has a combination of smooth and knobby tread blocks. The smooth centre provides fast rolling on hard-packed dirt or pavement, while the knobs on the sides provide grip and control on loose or muddy terrain. They're a good all-around tire for a variety of terrain.
3. Your Favorite Terrain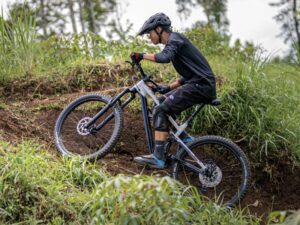 Optimal performance and safety in mountain biking depend on choosing the right tire, especially when it comes to different terrains. We're here to help you have a safe and enjoyable riding experience by providing MTB tires that suit your profile, check out our selection of products with various exciting promotions, including ongoing sales and a 0% Installment fee.
Discover Mountain Bike Tire Now!
Discover Your Needs at Rodalink Now!