Initially, the road bike and mountain bike are two different types of bikes that completely differ from one another. But sometimes, cyclists might wonder if it is possible to get their bikes going through makeovers and change them into another type of bike. Hence, they started to look for how to convert mountain bike to road bike or convert mountain bike to cruiser and seek answers to their curiosity.
To be honest, it will make more sense if one is looking to convert a mountain bike to hybrid bike or a hybrid bike being upgraded to be able to go mountain biking. This is because a hybrid bike shares the same strong built frame and the upright seating position of a mountain bike. Or thinking about convert road bike to gravel bike as both share the same drop handlebars with gravel having more upright riding positions in comparison.
However, if you happen to be equally curious as to some other cyclists out there, thinking about how to convert your unused mountain bike to a road bike for storage/recycling reasons and somehow stumble upon this article, we will try our best to explain how a road bike conversion can happen. So, let's get into the topic and hopefully you enjoy your read.
Main Features of Mountain Bike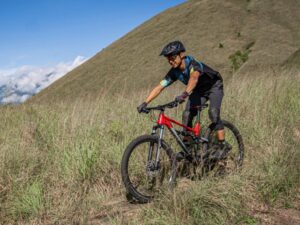 Considering the terrain a mountain bike is going to take, the parts and components built for a mountain bike usually come bigger, stronger, and thicker in comparison to a road bike. The tire of a mountain bike needs to have a good grip and traction to be able to ride on the gravel, dirt, and rocky path. Hence, it is not surprising if a mountain bike tends to be heavier than a road bike.
Suspension is crucial in mountain bikes. It helps riders to get a comfortable ride, keeping them safe from bouncing or worse, being thrown from their bike when hitting the rocky terrain. A mountain bike will also need thick and durable handlebars and stem to maintain a good balance.
For the braking system, it is common for mountain bikes to use disc brakes because it is more reliable and durable when it comes to handling bumpy trails. It can perform well regarding the road conditions and has a more powerful braking system which is needed by mountain bikers. The downside of a disc brake is that it is heavier and costs higher than other types of brakes.
Last but not least, a mountain bike is usually installed with a dropper seat post that allows riders to adjust their saddle quickly and easily during the ride on the trail. The Polygon mountain bike is also installed with this dropper seat post that will give riders the extra support they need during the ride on the rough terrain.
Main Features of Road Bike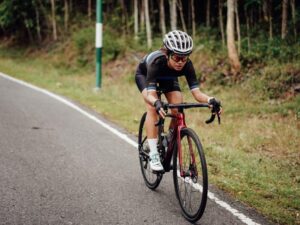 The purpose of having a road bike is to allow riders to be as fast as the bike can take over smooth surfaces. The characteristic of a road bike is lightweight and aerodynamic to help its riders cut through the wind while riding. The tires of a road bike appear to be way more slick and narrow compared to the mountain bike.
This type of tire allows the bike to roll faster on road but at the cost of less power to grip the ground and it should not be a problem for normal road bikers because they mostly ride their bike on pavement areas.
However, having road tyres (or tires) for mountain bike terrain is as good as trying to find out how much your insurance can cover the hospital bill, which we don't recommend you to do and by any logic, you shouldn't even think about doing it.
Step to Convert Mountain Bike to Road Bike
Get back to the topic about converting a mountain bike to a road bike, is that possible? If you wish to change all the features of the mountain bike to fit road use, we will have to disappoint you because it is not possible as this practice will be very time and budget-consuming, you might want to get another brand new road bike instead.
However, you can change some parts to make your mountain bike more road-friendly under the circumstance:
You are not in tight budgeting;
Only purchase after you are 100% sure the parts will fit your mountain bike;
Only purchase ensuring the parts will be compatible with your mountain bike;
You are fully aware that modifying your bike might void

the

warranty

of your current bike if you are heavily replacing parts that are not compatible with the original piece (e.g: changing the road bike fork to a trail mountain bike fork);
You are willing to go through extra miles that are not only consuming budget and time but also patience.
So to make your mountain bike more road-friendly, you will have to:
Replace the Tire and Adjust the Tire Pressure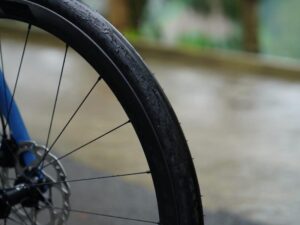 We all know that tire and tire pressure plays a huge role when it comes to the speed of a bike. So to get a mountain bike to road bike speed conversion, the main thing you will need to do is change the tire and adjust your tire pressure.
We all know a little about mountain bike to road bike size conversion when it comes to wheel and tires. While it is unlikely for a 29er to fit in the 700c rim as the tires are wider, you can somehow fit a 700c tire on the 29″ rim.
You might want to consider investing in good-quality road tires to reduce friction. Look for slick and narrow tires that have less surface drag. Consider changing the wheelset so it can accommodate narrow rims—not a budget-friendly practice, yes but you should have to be prepared. For the tire size, you can look for the size that your mountain bike has.
Make sure to inflate the tubes so they can allow more pressure. By doing this change, you will get your mountain bike to have a faster and easier ride. However, changing the tire is just part of the effort you can make. After all, a mountain bike frame is built with a suspension fork which adds weight to the bike. By the end of the day, you won't get the same aerodynamic feels as riding an actual road bike.
Change the Gear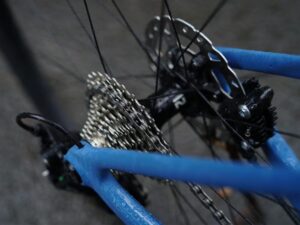 The multiple amounts of mountain bike gears are designed for helping to support your pedaling to each hill or descent you come across during the mountain biking activity. But anyway, you don't need them for a road bike, instead, you will need a gear that can help you cruise fast.
Nowadays, the standard setup for a road bike gearing is a 50/34T chainset which means the big and small chainrings have 50 and 34 teeth, respectively. Shimano chainrings currently come in three configurations: the 50/34T, 52/36T, and 53/39T.
By converting a mountain bike to a road bike, you will not need a big, largest sprocket on the cassette. The close gearing ratio will not affect you as you are no longer going to ride the bike around rough terrain or use it for climbing.
For example, the Polygon bike for road performance Strattos S8 is built with the Shimano Ultegra with 11-30T's cassette, a perfect pick that will help the bike to cut off some weight and offer a faster ride. But anyway, not every bike is eligible for a gear change hence, you will have to consult with the bike's professional before making any change to your bike.
You can visit Rodalink's one-stop cycling shop and consult about gear replacement with their professional team before buying any new parts.
Handlebar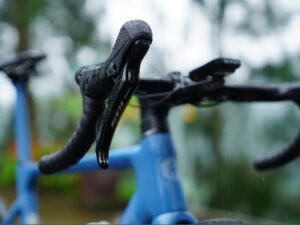 The road bike is about speed and being aerodynamic. Hence, the handlebar is also designed to be lower so the riders can lean forward. Sitting in an upright position will slow down and is not in line to have a road bike.
Conclusion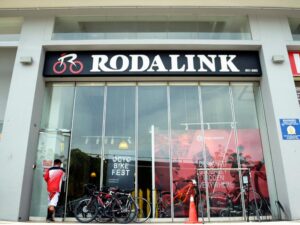 To be fair, convert mountain bike to gravel bike will make more sense as both have a geometry that allows their rider to ride and have a more relaxed riding position with an almost similar wide tire that will grip the road better. A gravel bike is also good for commuting and doing good over a smooth surface.
But anyway, if you think about converting a mountain bike to a road bike, it is better to sell out your current mountain bike and get the cash to add to your budget in getting a road bike. You can have a well-performing and high quality road bike at a competitive price if you visit Rodalink.
Rodalink is an official distributor of numerous renowned brands, especially Polygon. Not only a wide range of bikes selection but you also can purchase parts, accessories, and even apparels to support your cycling journey. Rodalink also has a one-stop cycling shop in case you want to change some default parts of your bike to more advanced components within the professional advisory.
Another benefit of purchasing in Rodalink is that you can get the free shipping offer if you are purchasing the non-bike items.
So instead of wasting lots of budget on modifying your bike into another type and risking breaking it in the process, it will be best if you look for a new one that suits your riding style at Rodalink.
Discover Your Needs at Rodalink Now!