If you are looking for a bike that could ride fast and have good performance over uphill and downhill rides, you might want to invest in a cross-country mountain bike. For a beginner who is just getting into the cycling world, here is our Polygon Xtrada 6 review which might be perfect for you who are seeking a fast and impeccably versatile cross-country mountain bike. Without prolonging the introduction, below is your needed information.
Get to Know Cross-Country Mountain Biking
Since the year 1996, mountain biking has been included as part of sports competitions in the Olympics. In general, there are four types of mountain biking which is cross-country mountain biking, trail mountain biking, enduro mountain biking, and downhill mountain biking.
Cross-country mountain biking is often included as the easy to intermediate level of mountain biking. Cross-country mountain biking relies more on the rider's physical prowess instead on technical abilities. For the geometry design, the cross-country mountain bike offers a more upright sitting position compared to the road bike.
There are two types of cross-country mountain bikes, which are determined by the number of suspensions it has, which known as:
Hardtail mountain bike: usually equipped with only one front suspension fork;
Full-suspension mountain bike: coming with a front suspension fork and rear shock.
The full-suspension bike will help riders to navigate the bike better on the steeper and more technical trail. On the other hand, the hardtail mountain bike offers a more versatile riding option, durability, and a cheaper price for a mountain bike. The suspension fork for cross-country mountain bikes is around 120mm.
Polygon Cross-Country Mountain Bike: Polygon Xtrada Series
There are varieties of cross-country options in the market. Finding one that fits your needs might be a bit confusing especially if you are new in this field. Through this Polygon Xtrada review, we want to introduce the versatile and comfortable cross-country mountain bike that can effortlessly run fast.
For the geometry design, Polygon Xtrada excels in stability and speed combined with the tough trail-ready component, allowing the bike to tackle various types of off-road terrains such as mountain trails, fire roads, pump tracks, and many more. For more detailed information, here is the 2022 Polygon Xtrada 6 review for your thorough consideration:
Bike Frame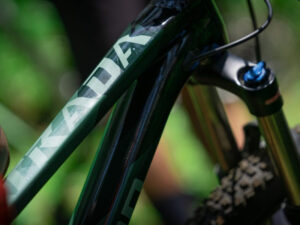 As usual, we will begin the review starting with the bike frame material and geometry. The Polygon Xtrada 6 2022 is manufactured with the hydroformed 6061 aluminum alloy frame that is lightweight and durable. The frame is featured with the 73mm threaded bottom bracket and internal cable routing system that provides a clean and stylish look.
For the geometry design, Polygon Xtrada 6 utilizes the slack head tube and steeper seat tube angle to ensure the bike can effortlessly travel uphill and downhill with a perfect handle.
Suspension Fork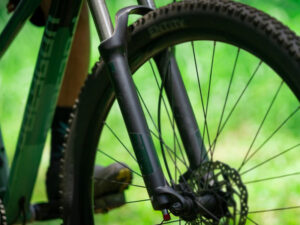 Polygon Xtrada 6 is a hardtail cross-country mountain bike equipped with the Suntour X1 32 LO-R suspension with 120mm adjustable coil sprung forks that offer a comfortable ride. The adjustable lockout enables the bike to ride smoothly over road terrain.
Wheel Size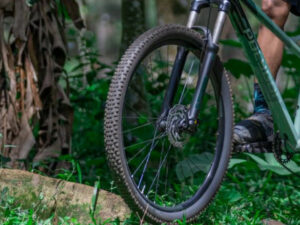 The Polygon Xtrada 6 is coming with two sizing options for the wheel, the 27.5-inches one, and the 29-inches wheel size. It uses the Entity Spyderbait SA-290 in 2.25″ tire size. The Wheel Fit Size System pairs the frame size with the wheel size that fits the riders and sets it up to optimize the efficiency and power transfer. The Entity XL2 Disc with double-wall alloy rims with 24mm internal width gives more stability on the bike.
Groupset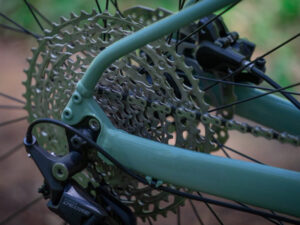 Currently, the Polygon Xtrada 6 2×11-speed groupset is not yet available. However, the 2022 version of Polygon Xtrada 6 is equipped with the Shimano Deore 1×11-speed groupset, offering a smooth and precise shifting performance. It also optimizes the cadence control across various terrain of mountain biking.
Despite being categorized in the entry-level range, the Shimano Deore 1×11-speed groupset comes with performance, quality, and reliability that are on par with its higher-enc counterparts such as the Shimano XTR, XR, or SLX.
Braking System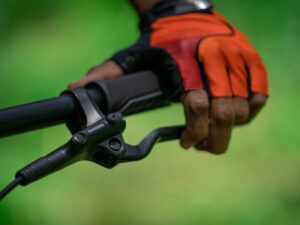 The only similarity between the Polygon Xtrada 6 vs 7 is both bikes are equipped with Shimano Hydraulic Braking System that is easy to use even for beginners. This type of braking system offers a reliable braking system in all weather conditions. It also features the ergonomic 2-finger brake lever for enhanced control.
The one-way bleeding caliper on this hydraulic braking system enables it to be easier to maintain and the resin pads can reduce noise and heat. The Shimano MT201 Hydraulic Disc Brakes used in Polygon Xtrada 6 is a well-performing braking system that is also affordable for price-conscious users.
Handlebar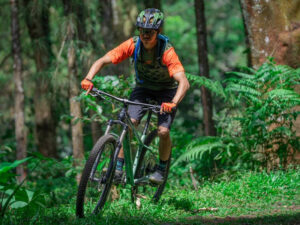 Polygon Xtrada 6 is equipped with Entity Sport handlebars around 760mm width which offers the stability of a bike that is also rigid with handling that allows riders to handle various kinds of singletrack and capable of precise cornering in most situations.
Conclusion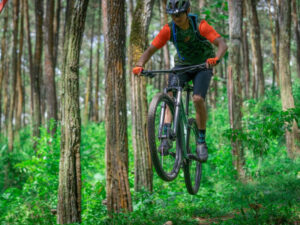 Polygon Xtrada series is an entry-level to intermediate-level hardtail cross-country mountain bike series. The Polygon Xtrada 6 in Shimano 1×11-speed groupset offers a smooth rear and front shifting that will be able to maintain speed in the change of terrain.
For a lower entry-level cross-country mountain bike, there are Polygon Xtrada 5 with the 2×10-speed groupset. For more information, you can read our Polygon Xtrada 5 review on another page of this blog.
And if you want a more advanced groupset of cross-country mountain bikes, you can consider getting the Polygon Xtrada 7 equipped with the Shimano Deore 1×12-speed groupset, or the Polygon Xtrada 8 in Shimano XT Mix 1×11-speed. If you need a better understanding of Polygon Xtrada 7, you can read our article about Polygon Xtrada 7 review as well.
Regardless of which type of Xtrada series you are going to invest in, remember to get the original piece only at the official dealer of Polygon bikes at Rodalink. For the bike quality itself, you will not have to worry because every product of Polygon has undergone strict quality control before and after the manufacturing process, guaranteeing customers only get the best performing product.
For Singaporeans who want to get your Polygon Xtrada series, you can visit Rodalink at Jurong East or East Coast. There, you will not only find Xtrada cross-country mountain bikes, but also a wide range of bike selections from world-renowned brands. Besides, Rodalink also offers accessories, parts, and even apparel that will make your cycling journey more complete.
If you are not quite sure which type of bike suits your needs and budget, you can consult with the professional team from Rodalink. There is also a one-stop cycling shop at Rodalink where you can get assistance from an expert to adjust the size of your bike and help with your annual bike maintenance needs.
On top of all mentioned above, Rodalink also collaborated with Shop Back, allowing you to purchase your dream bike and cycling gear now and pay for them later with a 0% of interest charge. Are you ready to tackle the mountain track with a cross-country mountain bike? Visit Rodalink right away and let us be a part of your fantastic mountain biking journey.