The cycling world has recently fallen in love with a trend called gravel cycling: an offshoot of traditional road bike culture. And we're here to tell you that this trend is definitely worth checking out!
Drop-bar bikes have been ridden on dirt roads throughout cycling's history. However, cycling on modern dirt roads has several characteristics that make it unique—and more popular than ever! Many road cyclists want to try their hand at mountain biking. At the same time, many mountain cyclists also enjoy riding drop bars and bicycle companies are now building bicycles specifically for off-road riding, taking advantage of the increased control and excitement that drop bars provide riders. So if you're just getting interested in gravel biking, or you just want to see what the fuss is about – and maybe even prove yourself by taking on a race challenge – check out these tips for your first gravel ride.
1. Bike Set-Up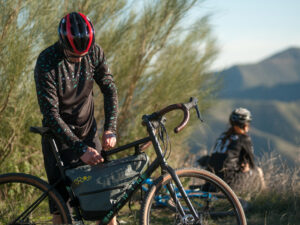 The first thing you should pay attention to when you want to start gravel cycling is setting up the bike. You should consider both the size and tread pattern of your tires when riding on gravel, as they will affect how much rolling resistance there is and whether or not you can easily ride over larger bumps. But this will all depend on the frame and fork you choose. If you're used to riding a mountain bike—with its smaller wheel and chunkier tire—the feel of the 650B size may be more familiar, while someone accustomed to fat tires will probably prefer the opposite.
While this may not be a consideration for the early days of your gravel riding, investing in different sets of tires can help you level up. For a gravel-road ride, you may want to use different kinds of tires depending on the conditions: wider tires for less traction and sharper punctures but better comfort; narrower ones with deep treads for better grip in rocky sections.
Lower tire pressure offers several benefits: it provides greater comfort, improves traction, and allows you to descend more confidently. So experiment with different pressures until you find a combination that feels right for your particular bike/tire setup (the manufacturer of a tubeless wheel may suggest a range of acceptable pressure). Tire pressure varies depending on a rider's weight and type of terrain. Start at 35PSI, and then adjust the air in your tires to suit your needs (some people prefer to ride with less than 30 PSI).
Besides considering the tires and tire pressure on your gravel bike, make sure your bars are comfortable. When you're ready for more drop bar comfort, use wider bars that flare outwards. Road bike bars are great for aerodynamics but if stability and comfort are critical factors in your gravel riding, widen things up a bit! Descending in the drops can seem intimidating at first—but it's worth giving it a try. Maybe, when you first tried riding with your hands in the drop position on gravel, it felt unnatural and uncomfortable. But after just a few minutes of practice out on the road, you'll realize that having your hands lower than normal made braking easier – as well as steering when going downhill or through high-speed turns.
2. Gravel Cycling Preparation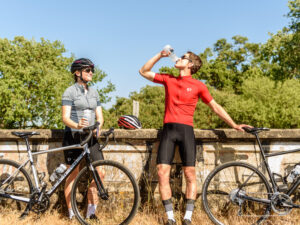 It's possible to get an off-road cycling kit without spending a ton of money, but if you're going to be riding regularly it might make sense to invest in something more comfortable. If you are going to be riding off-road, it is important that your pedals and shoes be durable. By avoiding bad products, you can make sure the ride will go smoothly and help increase your enjoyment of it. Gravel riding can take you on long, planned journeys or unplanned adventures far from civilization. It's important to be self-sufficient and learn about water stops when planning a ride so you won't end up in the middle of anywhere without any drinking water! When starting out with gravel, a basic kit will do. But as your experience grows, you might consider some optional extras.
One area that you might want to focus on is staying properly hydrated, as riding gravel roads often involves long days without easy access to shops. The traditional way to load up water bottles is with a bidon, but on those hot summer days, you might find that the dirt and dust accumulated as your hands did their work making drinking from them an unpleasant experience. Choosing a hydration pack or vest means having plenty of clean water you can easily carry. A well-stocked repair kit is essential for gravel riding, where you're often far from help and on your own. A list of essentials includes; a spare tube (or two); tire levers; pump; chain tool and quick links; multitool; bike computer map.
3. Gravel Cycling Skill & Tips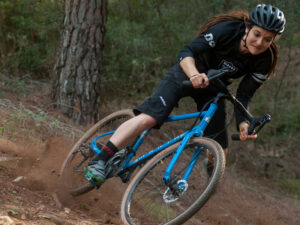 To get started, just ride around your neighborhood. It's best to ease into longer rides rather than trying to recreate the epic distances that gravel cyclists and other adventure riders regularly cover on their bikes. Don't worry about how far you'll ride or what the destination will be. Just go out and look for some cycling routes that are nearby, then make your way home by combining them together. The efficiency of riding a bike means you can cover large distances relatively easily; however, when going off-road, things become more difficult. You'll need to work hard and break a sweat in order to maintain your speed, so be careful not to strain yourself by going too fast on the gravel.
Here is one thing that you should remember: practice your bike handling skills before taking on a gravel ride. If you've spent time riding your gravel bike on local trails or fire roads—or if you've already got plenty of experience mountain biking, then the skills needed for off-road riding are probably second nature to you by now. For anyone who hasn't ridden off the road very often, though, it's best to practice in conditions: loose surfaces and dirt or gravel paths.
And remember: a three-hour gravel ride might take more out of your legs than a road ride—and the ache could last for several days. Your legs might be sore from riding over the rough terrain, making it difficult to put enough strength into a low-cadence effort. If you plan on riding gravel a lot, or if it will form part of your regular training program, consider including it in your recovery strategy. This is because you might find yourself more fatigued than expected after these rides—particularly if they're not included as part of an overall training/nutrition program.
Conclusions
A gravel bike is one of the trending cycling activities. However, there are many things to consider and pay attention to when you decide to start gravel biking. If you've ever done mountain biking or off-roading, you'll probably quickly adjust to gravel bikes. But if you've ever cycled on paved roads, you need to practice how you handle some terrain that might be difficult. You have to adjust your bike to suit the terrain you are going through, such as preparing tires or choosing handlebars. Not only your bike, but you also need to prepare everything you need for gravel cycling such as special shoes or water to stay hydrated. One more thing that is no less important is, to prepare yourself by maintaining your stamina and health before doing gravel biking with quite a long journey.
If you want to buy a gravel bike in Singapore or any accessories that make your gravel bike safer and more comfortable, you can visit the Rodalink website. You can find the best gravel bikes in Singapore at various prices and from well-known brands such as Polygon and Marin. Don't worry, Rodalink also provides your cycling needs, such as bike apparel, bike shoes, and helmet or protection. You can buy the gravel bike of your dreams with the Shopback It, Pay later program! You can also find attractive promos by becoming a member of Rodalink Singapore. Get free delivery (TNC) and a variety of ongoing promos only at Rodalink Singapore!