Various types of bike tires differ by the terrain surface. The on-road bike tire, which is often ridden in urban pavement areas, will be more narrowed with a smooth surface, while the tire used to ride off-road will be more bulky and knobby. Aside from this, the bike tires also differ by their valve type.
Want to know how the bike tire works and how to differentiate between the road bike tire types and mountain bike tire types? This article might have the information you are looking for. Keep scrolling through and have an enjoyable reading.
How a Bike Tires Works
The bike tire is the only part of the bike that connects riders with the ground. Hence, it determines how a bike is going to feel and how it is going to handle different kinds of surfaces. Usually, a bike tire will feature a tread pattern that varies from silky and smooth, bumpy and knobbly or just something between the two types.
When it comes to a bike tire size chart, it is usually determined by the diameter and width. Distance between two ends of the tire is known as the diameter, while the two outer sidewalls or overall thickness of the tire is often known as the width.
The tire width has seemed to be the focus point by most manufacturers since the market demands wider tires than ever before. Some cyclists believe that the width of the tire affects the rolling resistance of the bike tire.
But as time passed, the upgrade in materials and tire technology resulted not only in appearance but also in improvement in straight-line speed, aerodynamics, good rolling and puncture resistance, as well as more incredible cornering and handing over the bike.
Bike Tires Types
Generally, there are three main types of bike tires, such as:
Clincher Tires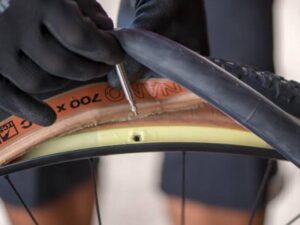 In this type of tire, riders don't usually pump air into the tire but instead into the bike tire tube located between the tire and wheel rim. The clincher tire, by far, is the most common type of tire, followed by the tubeless tire.
There is plenty of lightweights and race-ready clincher bike tire out there. The drawback of this type of tire is they are prone to pinch flats, especially if you are running into a sharp bump and get your bike tire tube squeezed between the tire and the sharp edge of the rim.
Tubeless Tire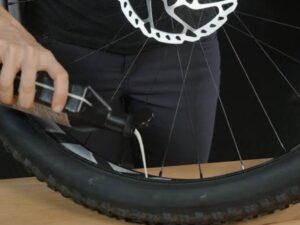 Following the popularity of clincher tires, the tubeless tire has gained popularity for the past few years among all bike riders. As the name suggested, you will not find any bike tire tube inside the tubeless tire. Instead, a liquid sealant replaces it.
A combination of liquid sealant and extremely tight beads allows this bike tire to hold air inside the tire and keep it glued to the rim. One of the few reasons many cyclists like this type of bike tire is because it has excellent puncture resistance and can run at lower tire pressure, giving riders a new level of bike handling with an increased grip in the corners of all types of the road surface.
The liquid sealant inside the tubeless tire is a quick temporary seal for most types of punctures except the catastrophic ones. By means, you will not feel any difference with your bike tire, even when you are running through a small nail or glass during your ride since the sealant will help you fill the hole and maintain the tire pressure as you ride.
Tubular Tires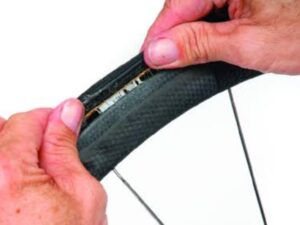 Tubular tires are a popular choice for racers that are seeking some marginal gains. The characteristic of this type of tire is that it is lightweight, fast, and has a better grip in the corner, making it highly ideal for any race.
Usually, the tubular tire is glued to the rim of the wheel without any involvement of the tire tube. The air is held inside the tire itself, making it rounder than the clincher type of bike tire, making the tubular tires harder to service and almost impossible to repair in case a flat happens. But anyway, the tubular tires are more puncture-resistant, especially the pinch flats.
How to Choose a Bike Tires
As mentioned above, when choosing the bike tires, you must determine the type of bike you are riding and the terrain you ride. Then, select a tire that will fit your bike perfectly. But how to read a bike tire size? You can check on your tire sidewall. The number printed on the tire sidewall indicates the tire size you should have been looking for.
For example, you will see a road bike tire sidewall printed with 700x25c tires means that your bike tire has an outer diameter of 700mm, and the width is around 25mm. Note that the c in 700x25c tires is not standing for centimeters but rather, an old French sizing system which designated tire size with a, b, and c. Nearly all modern road bikes use the 700x25c tire, which equals a mountain bike tire in size 29″.
You might have to lean on these few tricks to get the correct sizing of your bike tires:
Choose the Correct Tire Widths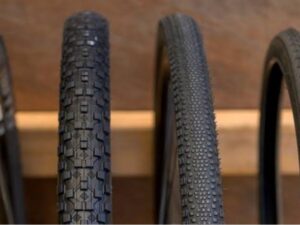 Although you will get a tire with the same diameter, there are a few variations of tire width you can choose while matching it with your riding style. For example, riders who wish for a more comfortable ride with better traction will seek a wider tire. However, the rim, fork, and frame size tolerance might be a little tricky; you can ask for assistance from your bike shop member to guide you to find the best tire that matches your bike.
Typical tire size on different bikes as a rough guide to help you out:
For mountain bike tires, the outer tire diameter is between27.5″ and 29," but in some cases, there will be few manufacturers that come with 26″ sizing MTB tires. The width is around 1.9″ to 2.3″ wide for cross-country, 2.3″ to 2.5″ for trail and all-mountain, and up to 2.5″ for the downhill type of mountain bike;
For road bikes, it usually comes with a 700mm outer diameter while the width starts from around 23mm to less than 30mm and 45mm if it is a gravel bike;
The typical diameter for a kid's bike is between 20″ to 24″, although there might be smaller than 20″ wheel size for most petite children models with various width sizes.
Get the Right Treaded Tire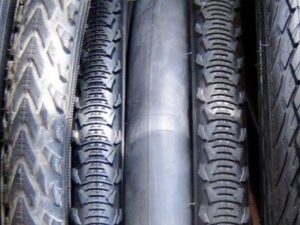 Different types of bikes will come with varying treads on the tire. You are obligated to choose the tire tread pattern that works best with your riding style. Here are a few overviews of bicycle tire tread types:
There are small knobby and closely spaced treaded mountain bike tire that is suitable for riding at smooth and dry tails, while small knobby with evenly spaced knobs help with cornering on hardpack;
The widely-spaced knobby mountain bike tire types that allow you to improve handling in both muddy and loose dirt conditions;
The bike tire with a pattern of tiny slits helps with grip in technical terrain roots and rocks;
The slick bike tires type for a road bike helps for unhindered rolling speed on the smooth-surfaced road;
Semi-slick road bike tires feature a smooth center for fast rolling and aggressive side tread that helps while cornering;
Inverted tread tires help riders on rough surface riding while compromising between rolling speed on smooth surfaces and gripping on more uneven surfaces.
You will also have to beware of the tread direction, and the front and rear wheel-specific tread tires must match one another.
Pick the Correct Bike Tube and Valve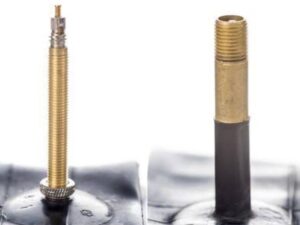 In general, there are two types of bike tires valves, and since they match the hole of your rim, you should have been carefully picking them to ensure it fits. The two types of bike tire valves are:
Presta Valves: narrow with a tiny nut to open and seal the tube, typically found in road bike tires;
Schrader Valves: wider type of valve than Presta type, come with separate valve caps, and are usually found in mountain bikes.
Aside from the points mentioned above, you must also pay attention to the bike tire tube. While, in many cases, the bicycle tires and tubes usually are in the exact sizing, you still have to ensure the width range of the bike tire tube aligns with the sizing of your bike tires.
Conclusion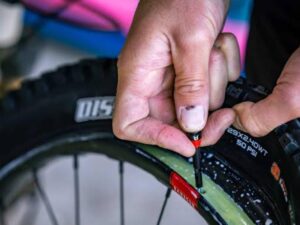 There are a few different types of bike tires and tips on how to choose the perfect sizing and tread for the most comfortable ride and better handling of the bike. If you find it challenging to find the type of bike tire to enhance your riding experience, you can talk it out with your trusted local bike shopkeeper and let them assist you.
Not sure which place to get the best bike tire with good customer service? You can visit Rodalink and tell the professional team your wish and let them help you to get the best-quality bike tire.
Rodalink is an official distributor of Polygon bikes that also offers a wide range of bikes, parts, accessories, and apparels from the world's renowned brands. You can also find a one-stop cycling shop here, which is handled by a professional and experienced team that will assist you in finding the best bike tire and help you to change them when necessary.
At Rodalink, you can shop for every item needed to start your cycling journey and improve your bike's riding experience. Don't worry about the shipping cost because every non-bike purchase for around SG$200 or above will be granted free shipping; pretty beneficial. So what are you waiting for? Visit Rodalink immediately and get the best bike riding experience and a beneficial bike necessity shopping experience.
You Might Also Need