Gravel bikes are known as multi-purpose bikes because they can be used on various surfaces. However, that versatility also means there's a lot to setup. Deciding what setup you can do on your gravel bike will depend on your needs as a rider, where and how you ride it. Next, Rodalink has summarized the first things you should know about riding on gravel. Read the full guide below, and find the parts you'll need to set up your gravel bike!
Basic Things To Support Gravel Cycling
There are a number of basic set-ups that you can do to support your gravel cycling, namely:
1. Tyres Choice and Pressure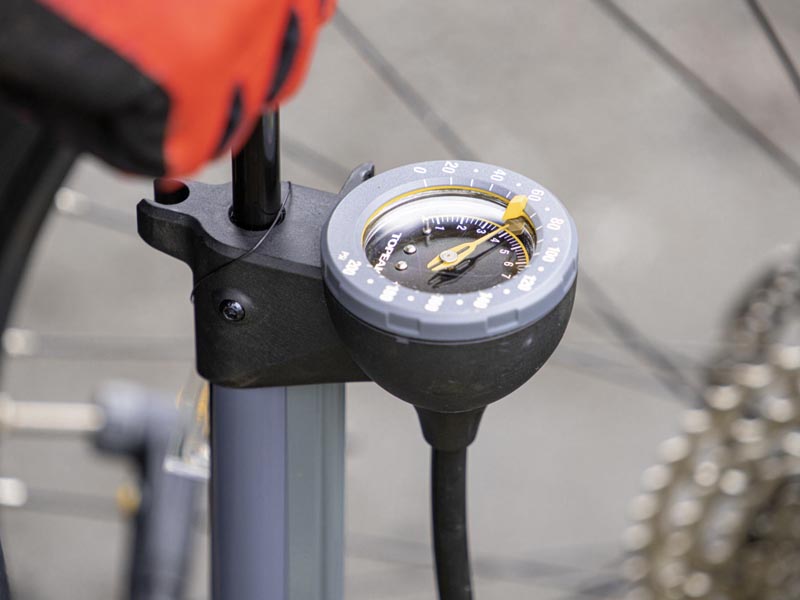 In fact, adjusting tire pressure is very important when going gravel cycling. The most important thing you have to do with the tire pressure when cycling gravel is about the balance of traction, comfort, and rolling resistance. Low tire pressure will provide traction and comfort, but pay attention not to get it too low so you don't cause damage to your rims. You can choose high bicycle pressure if you only ride light gravel and for short distances. Tire pressure that is high enough can also increase speed, but if the terrain you are going through is rocky or rough, you won't feel comfortable. Keep in mind, on the other hand if your tires are narrow, it will be better if your tire pressure is higher.
You can also consider your weight, tire width, and terrain or cycling area in deciding the tire pressure that suits your needs. For tire width, the point is that the wider the tire, the more comfortable you can get at a lower tire pressure. Another thing you can try is to increase or decrease 1-2 PSI and then try your bike, only you can measure how comfortable you are in cycling.
Apart from tire pressure, you can also pay attention to the choice of tire type. However, this is precisely what makes most beginners feel confused. The answer is it depends on where you are going to ride! If you cycle more often on smooth and flat terrain, or only on light gravel, you can choose smooth rolling tires. This type of tire will provide good speed and performance. On the other hand, if you ride on rough or rocky terrain more often, you can choose treaded tires to make them more aggressive and confident when cornering and more traction.
2. Saddle Height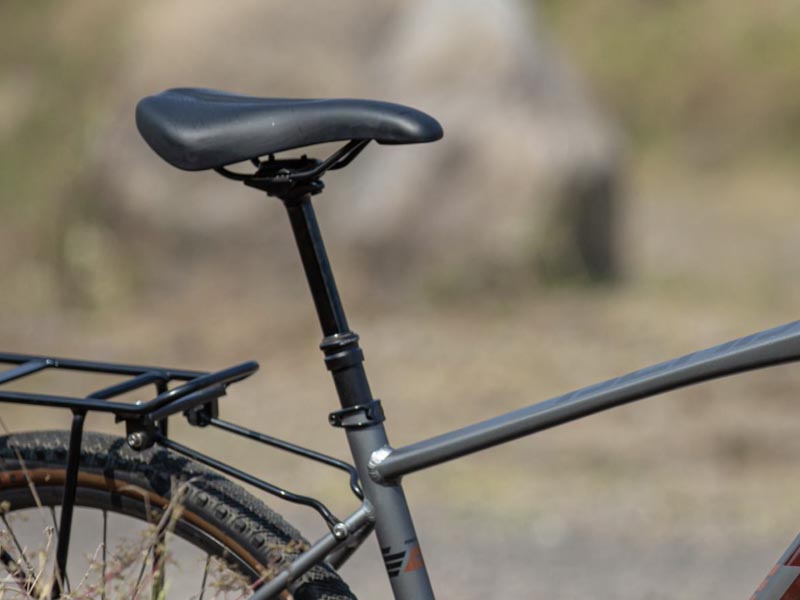 The height of the saddle is also important for you to pay attention to. It will be better if you adjust the saddle height around your height for efficient pedaling. If you are going to be cycling on bumpy terrain, you can drop your saddle height by about 10-15mm. Lowering the saddle height also helps you to get off your bike more easily if there is a sudden need. Besides that, a lower saddle also means a lower center of gravity so you can be more confident.
3. Cockpit Set-Up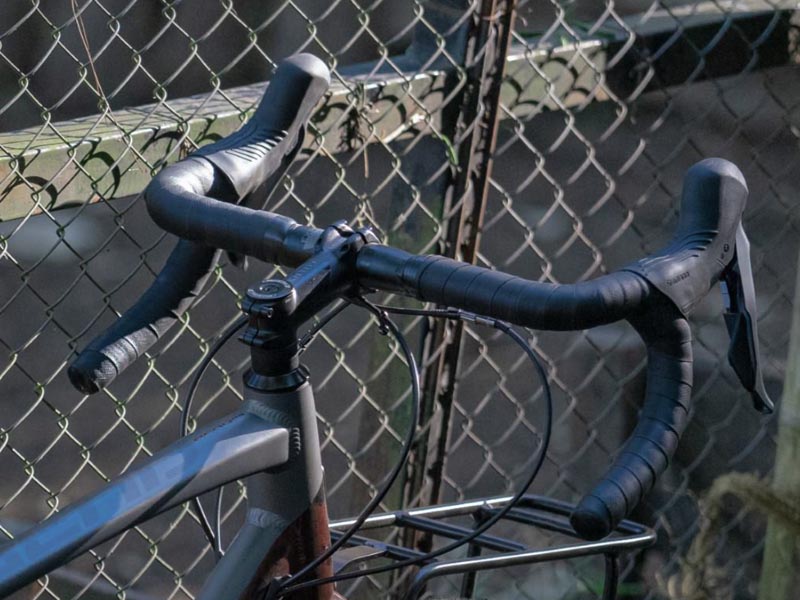 Setting up your cockpit by raising your bike's handlebars a bit will help you center yourself in between wheels which will give you better traction. A higher handlebar will also provide a more upright riding position so you can see further ahead and be more aware of what obstacles you will face in front of you. Allowing your arms to be in a good position and loose means it will give you more ability to deal with bumpy terrain.
4. Pedal and Shoes
In choosing pedals and shoes for gravel cycling – again, the answer is depending on where you ride. If you choose to ride on rough, rocky or even muddy terrain, using road bike pedals and traditional shoes will not be optimal. Some cyclists will choose clipless pedals and shoes like mountain biking when going through this terrain. Clipless shoes have a recessed sole where the cleats go and loads of treads so it's easier to get traction as well as to walk (when getting off the bike).
On the other hand, if you cycle more on smooth and flat roads or ride short distances, you will choose stiffer sole shoes or you can even use regular shoes so you can walk whenever you want.
5. Bottle Cage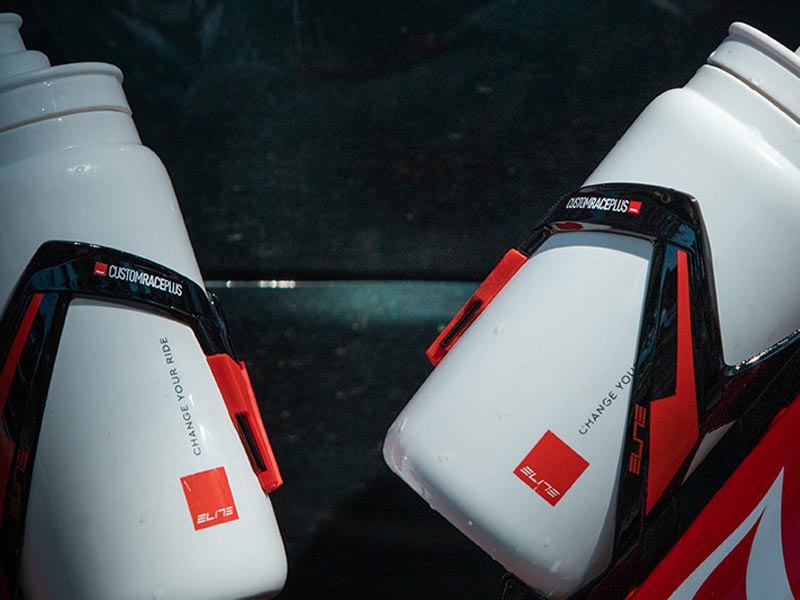 It looks trivial, but it is very important to set up the water bottle and the bottle cage! You should consider choosing a good drinking bottle and bottle cage. If you've gravel riding for a long time, you've probably experienced the dreaded bottle loss. This often happens when your bike hits a gravel surface. The bumpy road sensation is exacerbated on gravel roads where it is driven: potholes, river crossings, and so on that can and will dislodge your water bottle from its cradle if the impact is strong enough. This is why you should choose a quality bottle cage.
In addition, make sure the bottle cage you choose can be installed properly on your bicycle frame, as well as in choosing a drinking bottle, choose a bottle that makes it easy for you to drink water.
6. Spares and Tools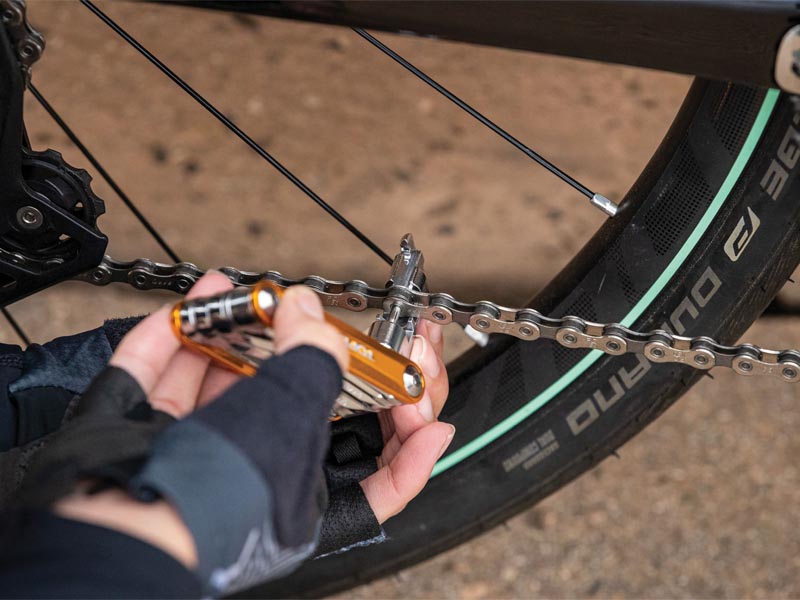 Gravel cycling means going through various kinds of terrain and obstacles. You definitely don't want unwanted things to happen like a flat tire, etc. Therefore, it is very important to setup and prepare spares and tools, and know how to use them.
Some spares and tools that you have to prepare, such as an inner tube, a pump, and multi-tools. It will be even better if you prepare chain tools when you are going to cycle gravel. To make it easier to carry these items, you can use bags that attach to your bicycle. You can also prepare zip ties or tape which will make it easier in many ways, especially if a part of your bike falls or comes off.
Conclusion
After knowing what things you need to know and paying attention to before starting gravel cycling, it's time to prepare your bike for adventure!
If you're looking for a 'Malaysia gravel bike, kedai basikal or basikal gravel bike', look no further! Rodalink Malaysia offers everything from bikes and accessories to apparel. Through Rodalink, not only can you purchase one of these amazing machines but also the supplies needed for your first adventure on paved or unpaved roads alike!
Rodalink Malaysia offers free local delivery. You can also pay in installments with 0% interest. As a member, receive information about ongoing promotions here. Rodalink sells a wide range of bikes, from city cruisers to full-suspension mountain bikes. Whatever your style or skill level, Rodalink is the best place for you to find a great new bike!
Discover Your Needs at Rodalink Now!