You might have heard of 'carbon road bikes' before. In the cycling community, it is a term that is frequently mentioned. But, do you know what it actually means? If you guess that it is about the material, you are absolutely right! Now, the question is, what differs a carbon material from any other material used for bikes? Keep on reading to find out!
What Is a Carbon Road Bike?
As you have read before, yes, the term carbon road bike talks about the materials used for a bike. It is typically used for the frame or fork. When it comes to specifications, a carbon road bike is currently the most advanced innovation for bike technology. Usually offered at a higher price point, and it is rightfully so. Characteristics of carbon road bikes are lightweight, durable, and can be molded into the shape and rigidity as needed. The composition of a carbon road bike is customizable so that manufacturers can make the material more rigid on several parts, and more comfortable on the other. To top it all off, carbon road bikes also offer better vibration absorption than any other bike materials.
Why Carbon Road Bikes?
If you are comparing choices of road bikes based on their prices, of course, there are other road bike materials that offer cheaper price tags. The cheapest ones will usually be made of aluminum. It is lightweight, but does not have a good vibration absorption quality. Steel is the oldie but a goodie material, dominantly used for a long time in the 1900s. It has good vibration absorption quality to it, but is quite heavy. Titanium offers the same quality with much lighter weight, but is considerably more expensive than steel.
Considering the goals of using a road bike, carbon fiber seems to be the best option out there to achieve them (click here to find out more about road bikes). Road bikes aim for fast-riding and comfort, which riders can get from carbon frame and fork.
Back to its high price point, buying the cheapest carbon road bike would not do its justice. You can find well-made road bikes from alloy at the same price point that will offer better characteristics. But, if you are looking to step up your cycling game and willing to splurge, here is our guide on how to choose the right carbon road bike to make every penny you spend worthy.
Carbon Types
Let's talk about technicalities. There are two types of carbon, unidirectional and woven. The difference is quite obvious, where the former's carbon fiber is oriented in one direction, while the latter has fiber layers crossed in several directions at various degrees. Carbon road bikes are already durable. But with woven carbon, you are guaranteed more durability and safety during the ride. A crack in one layer does not affect the other layer. So, instead of a broken frame that can endanger your safety, you will get just a dysfunctioning bicycle that needs repairing after you finish cycling.
Carbon Components
The main components that will be very influential on your performance is the frame and fork of your bicycle. This is where the carbon material comes to play. A carbon frame and fork will improve your performance and offer a pedaling experience like no other.
Carbon Frame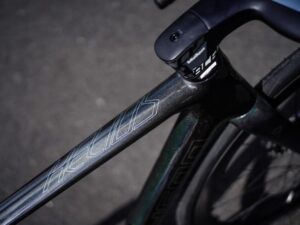 Carbon frame road bikes are more lightweight and can be molded easily to the shape needed. It offers great aerodynamics which is crucial for fast-riding. Carbon frame's rigidity can be customized, where manufacturers will craft their own mix of carbon layers to provide more strength on specific parts, and better vibration absorption for comfort on other parts.
Carbon Fork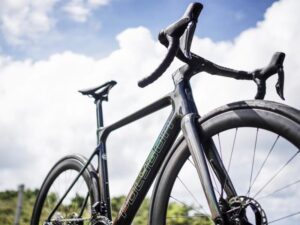 Carbon fork usually comes in various depths. Deeper wheels will give you better aerodynamics while shallow wheels are great for its lightweight characteristic.
Polygon Carbon Road Bike
Polygon carbon road bike lineups are the Helios A and the Strattos S ACX. Depending on your riding style and goal, Polygon offers distinctive lineups that will support your performance perfectly. If you are looking for a performance road bike, the Helios A is your perfect fit. Performance bike is more suitable for fast-riding on smoother pavements, with easier terrain and flatter surfaces. On the other hand, if you have your eye on an all-rounder road bike, the Strattos S ACX is your best choice. All-rounder road bikes are great for you who are looking for both fast-riding on the city scapes, and once in a while climbing up the hill on your wheels (learn more about types of road bikes here). With Polygon, getting a solution for your best bike is super easy, right?
Polygon Helios A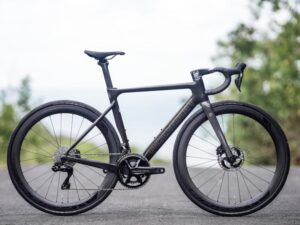 Our best offer for a performance carbon road bike with quality at a reasonable price point. The Helios A7 has a new and improved frame shape. Cutting through air, this particular frame shape achieves an industry leading performance of around 31% reduction in drag compared to previous generation designs. With innovative chainstay and Shimano drivetrain, this feature will instantaneously transmit pedaling power to the wheels. Weighing at just around 800 grams, this carbon road bike is significantly lightweight to defy gravity. Efficiency to achieve more speed! Specific crafts to better synchronize the human body, this bike has wider tires that are proven to minimize rolling resistance, giving more control and comfort for its rider.
Polygon Strattos S ACX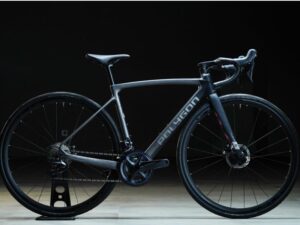 Going for a change of scenery from the townscape? Let's go on a ride up the hill! Our all-rounder carbon road bike will definitely help to elevate the pedaling experience with distinguished performance. Our Polygon Strattos S7D and S8D features a UCI approved ACX all-round frame and fork. With a stiffer downtube that will improve your acceleration, less effort for going up the hill while maintaining speed! The innovative seat stay design for better vibration absorption, guarantees rider's comfort during the whole cycling journey. The sleek frame design also supports aerodynamics for higher speed with less effort needed.
Got a new carbon road bike in mind? Get yours now from Rodalink Malaysia! Easily shop from home, just a few clicks on our online store and you will receive the bicycle right at your doorstep! Hassle-free, literally. Sit back tight on your comfortable couch, while also enjoying free local delivery. Can it get any better than that?
Lucky you, because it can. Rodalink Malaysia provides various payment methods to choose from that will be most convenient for you. You can also sign up to be a member of the Rodalink community and get your points right away. Redeemable for exclusive offers and events.
Now, are you ready to ride? Step up your unique pedaling experience with us! We are currently having discounts on bike parts and gears. High quality accessories on a discounted price, it is definitely an offer you do not want to miss out on. Click here to shop from Rodalink Malaysia right away!