Are you a cyclist who loves the sense of accomplishment you feel when you finish a ride? But there's always room for improvement, whether it's in your speed, endurance, or even your diet.
We put together this list of cycling resolutions for 2023 because set goals are crucial if you want to keep improving. Without direction, it's sometimes hard to find the motivation to get out on your bike. Set a big goal now, and then break it down into smaller bite-sized chunks. Here are some ideas for you to make the most of it.
1. Ride further than before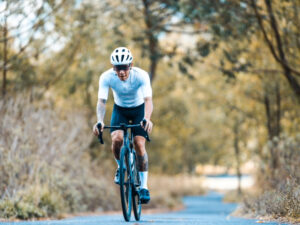 The year is about to change, this is the right time to look back at your recap for 2022 and set goals for new 2023!
To get started, it would be better if you start preparing your cycling route. Map out a route that will take you further than your usual ride. You can try terrain that you have never been through before. However, riders must remember to be careful and keep up your stamina so that your 2023 goals can be achieved well!
2. Join a cycling club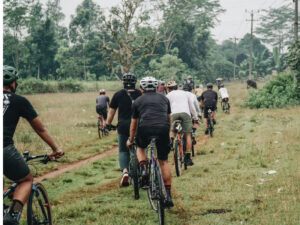 If you're looking for ways to step up your cycling performance in 2023, why not join a cycling club? Clubs are a great way to meet new people, especially if you're moving to a new area. You can meet lots of people who have the same interests and hobbies, share knowledge and grow in performance with other cyclists.
3. Ride abroad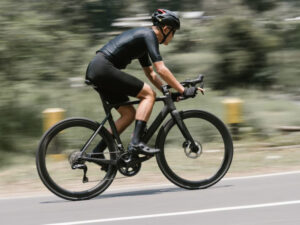 One great way to do this is to set a resolution for yourself and ride abroad. Leave your comfort zone, take on new terrain, and push yourself to the limit. Think about taking a cycling tour in Europe or a multi-day ride on a different continent. You'll get a chance to experience cultures, landscapes and journey of a life-time while strengthening your aerobic capacity, leg muscles and your mind. Look for trails and routes you haven't ridden before and challenge yourself with some different terrains – inclines, mountains as well as longdistance rides.
4. Pull up some tricks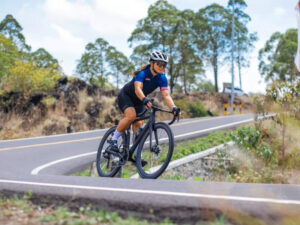 Another suggestion that you can try is to start trying some new tricks. Chances are you know some good techniques, but why not bring it up a notch? Learn a few wheelies and bunny hops or even keep an eye on what competitive cyclists are doing and see if any of their tricks are transferable.
5. Do you even climb, Bro?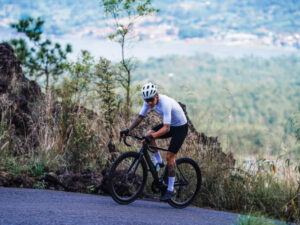 A climbing bucket list should be a must-have for every cyclist. Our shores have some incredible ascents, so you can choose climbs all over the world or just in your area.
6. Pedaling to work instead of driving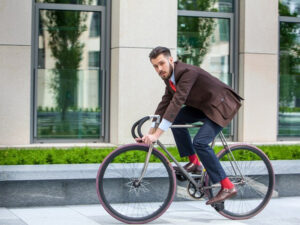 If you happen to be one of the lucky ones who can cycle to work, you should definitely consider taking advantage of that. Not only does it save on gas and other car-related expenses, but it's also a great way to ensure you get some exercise in before the day.
Make it a goal in 2023 to start cycling more often as a form of transportation instead of relying on your car all the time. You can make a plan and gradually increase your cycling distance each week. Start by cycling once or twice a week and then eventually aim for 4-5 days per week. If you're not sure how far you should be cycling, start with 5km per ride and work your way up from there.
Cycling to work can also help reduce stress as it gives you some time to yourself away from the chaos of everyday life while getting some daily exercise in at the same time. It's definitely something worth considering!
7. Ride a sportive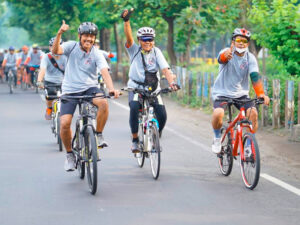 You can set targets for your riding with sportives, whether you are aiming for a new record distance, total climbing, or just going a bit faster.
Most of these events are held on open roads, but they often feature support from the organizers, as well as sections that are closed. Riding with a group of riders is a great way to build confidence on the road.
8. Refine Your Nutrition Plan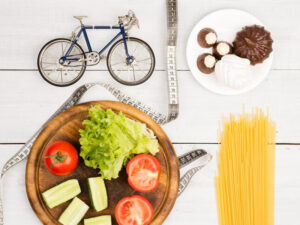 Start the new year by refining your nutrition plan. This means taking a closer look at your current diet and making changes as needed. Maybe you need to cut back on processed foods and eat more whole fruits and vegetables. Or maybe you need to increase your intake of protein and healthy fats.
Whatever the case, make sure you're getting the nutrients your body needs to perform at its best. You'll also want to make sure you're drinking enough water, especially if you're training hard. And don't forget to give yourself time to recover after workouts. Eat a healthy snack or protein shake within 30 minutes of finishing your ride, and make sure you're getting enough sleep each night.
9. Try different cycling discipline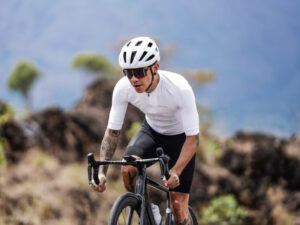 Whether you're a recreational rider or competitive cyclist, it's always beneficial to dip your toe into different types of cycling. To start the New Year, why not try something outside of your comfort zone? Don't worry if it feels too challenging, that's all part of the learning process.
From mountain biking to track cycling, there are so many options to choose from. Are you the type that likes a challenge? Then mountain biking is definitely for you! It will give you an adrenaline rush and help strengthen your leg muscles with its technical terrain. Or why not try track cycling – known for its speed and power – and up your game for when it comes to sprints?
Whatever type of cycling discipline you choose, remember one thing: keep challenging yourself and don't give up! With practice and patience, you'll soon achieve your goals.
10. Upgrade your bike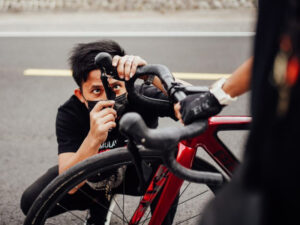 If your current bike isn't giving you the performance you're looking for, it might be time to upgrade. A new bike can give you more power, faster speeds, and greater confidence while riding. By upgrading the bike will give you new enthusiasm in passing the same route.
There is a range of bikes available with different features such as lightweight construction, and suspension systems. If you're not sure which model would work best for you, your local bike shop can help! They can also help the cyclist choose the right bike of the right size.
Finally, make sure to wear protective gear when cycling to keep yourself safe from any injuries or accidents. Investing in quality safety equipment is just as important as upgrading your bike for improved performance.
There you have it: our top picks for New Year resolutions for cyclists. So, if you're looking to up your cycling game in 2023, make sure you set some or all of these goals and put in the hard work required to achieve them! Stay safe out there on the roads and trails, and may your cycling performances soar in the year ahead.
If you are looking for basikal, bike accessories, bike apparel, and everything related to your cycling needs, you can visit the Rodalink website. Why choose Rodalink? You can take advantage of various benefits, such as free local delivery and 0% installment! Moreover, by joining as a member of Rodalink Malaysia, you will be able to receive various benefits and information updates related to on-going promotions. Now that there are a variety of payment methods to choose from, it's easier than ever to purchase a bicycle or its accessories! Take your cycling resolutions to the next level by visiting the Rodalink Malaysia website!
Start Your New Year Cycling Resolution with Rodalink