Despite being in the same category, each road bike model has a different frame. A road bike's frame is manufactured to optimize performance based on its purpose—speed or endurance. It is also important for the bike buyer to understand geometry. While all road bikes may look very similar at a quick glance, subtle differences in their geometries can have a big impact on whether—and how well suit your needs.
This guide will help you learn more about the different types of road bike frames to choose one that best fits your needs.
Road Bike Frames Components
The main characteristics of a road bike frame are its lightweight and aerodynamic design, which reflects the purpose of a bicycle—to speed over smooth pavement. The diamond-shaped frame on most road bikes comprises four tubes: the head tube, top tube, down tube, and seat tube. Both chainstays and seat stays connect these components together.
To learn more about the various types of road bike frames, read the explanation below:
1. Head Tube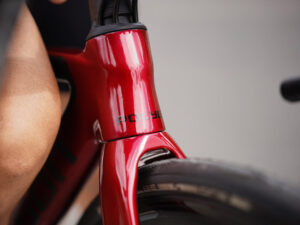 The head tube connects the handlebars to the front wheel and contains a headset that allows us to steer by turning the bars. The length of the head tube affects how low or high you sit on a bike: A race-oriented frame will have a shorter one, while an endurance road model might feature one that is taller.
2. Top Tube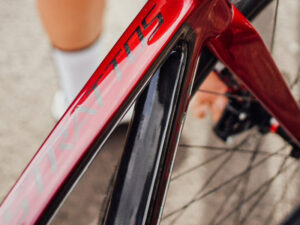 The top tube on a road bike is the main frame of the bicycle that connects to both the seat and handlebars. A bicycle's top tube length determines how far you stretch to reach the handlebars. If it is too long, your body will overreach for them and cause discomfort or adversely affect handling; if too short, your knees may end up banging against the frame when pedaling at high speeds (which could also be uncomfortable).
3. Down Tube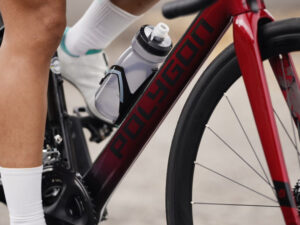 The down tube is the long, thick section of a bicycle frame that extends from the head tube to where it meets up with the bottom bracket. The size of a bicycle's down tube is usually adjusted in relation to the head tube and bottom bracket. It is also wider than the top tube because it has to carry more weight than any other frame component.
4. Seat Tube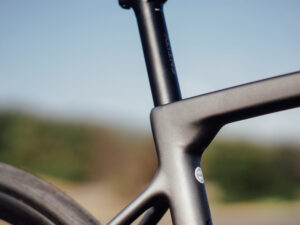 The seat tube is the cylindrical part of a bicycle frame into which you insert the post that supports your saddle. You can adjust its length by raising or lowering this post within the tube. The seat tube angle is the angle between the tube and the horizontal. A steeper seat tube (around 73 degrees) puts you more over your pedals, which can help with power output in races.
This position is very common among time trialists and triathletes, whose bikes tend to have steep seat tube angles. It allows a cyclist's thigh muscles to relax—a huge relief in an otherwise strenuous posture.
5. Seat Stay and Chain Stay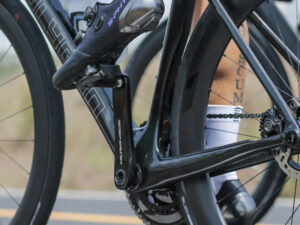 Seat stays are made of two thin tubes that run from under the saddle to the rear dropouts. Each tube ends in a connection point for one side of the wheel. The part of the bicycle frame that runs parallel to the chain and connects the bottom bracket shell to the rear fork is known as the chainstay.
The length of the chainstays affects a bike's handling in fundamental ways. It is an important factor that designers must consider as they balance competing demands for weight, strength and stiffness.
6. Bottom Bracket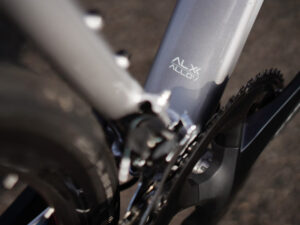 The bottom brackets are the system of bearings in which the crankset and pedals rotate. The spindle connects it to the frame, and ball and roller bearings allow for smooth rotation. The bottom bracket fits into the shell of a frame.
How To Choose Road Bike Frame Materials?
Choosing the material for your road bike frame is one of the most important decisions you can make when buying a new bicycle.
Over time, frames have been made out of a variety of materials. Early bikes were mostly made from steel—but now people mainly use aluminum and carbon fiber for their bike frames. Different frame materials offer a variety of benefits and drawbacks, depending on your riding goals. We'll take a closer look at each one below!
1. Carbon Fiber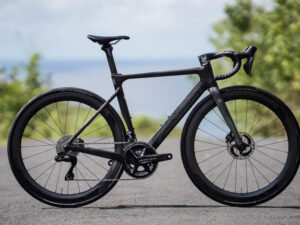 Carbon fiber is considered the most flexible and lightweight materials, and its potential for customization makes it a popular choice among designers. However, each type of carbon frame offers different performance characteristics. You'll see a difference between average-priced carbon fiber and an expensive one. Moreover, the way the material is manufactured into making a bike also influences its outcome on that frame.
However, designers can alter the properties of this material to create frames with certain desired characteristics such as comfort or stiffness. If you want a road bike with the lightest weight and stiffest frame, or if you value aerodynamics but don't mind spending extra money, go for this carbon material.
Explore Ultralight Carbon Road Bike At Rodalink!
2. Alloy (Aluminium)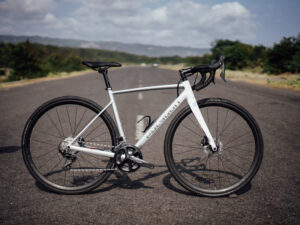 Aluminum alloy is the most popular metal for producing bicycle frames because it combines low weight with high strength and flexibility. If you are looking for material that comes at the affordable end of the price range, but still serves quality lightweight, and has stiffness for a race-worthy ride—aluminum alloy bikes might be right.
Explore Light Aluminium Road Bike At Rodalink!
3. Steel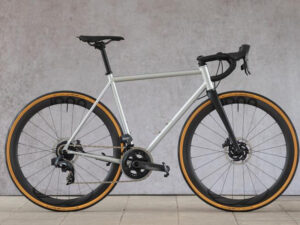 Steel, with its durability and flexibility in different temperatures, was traditionally used to make bike frames. The latest steel tube sets have led to renewed interest in high-performance, racing-worthy road bikes.
Although not widely used as a material to build bike frames by most manufacturers these days, steel is still considered the easiest metal to work with and has become an option for those who want something customized. If you are looking for a bike with a classic look and smooth ride quality, but don't mind the extra weight that comes from steel construction, then this is an excellent choice.
Conclusion
Having learned a little about bicycle frame materials now comes another consideration before buying a road bike: how to find the perfect size of frame that fits and suits your riding. To determine whether a bike is the right size for you, it's important to measure your height as well as the distance from the seat to the handlebars (called top tube length). Different manufacturers have different road bike sizing, so make sure to refer to your brand's chart or you can do a professional bicycle fitting at Rodalink.
If you've been looking for a 'Malaysia road bike, kedai basikal, or basikal road bike', you've come to the right place! Rodalink Malaysia is a one-stop shop for all your biking needs—from bikes and accessories to apparel. There, Local delivery is free, and you can pay in installments with 0% interest. As a member of Rodalink Malaysia, you will receive information about ongoing promotions. You can find various types of road bikes from well-known brands such as Polygon Road Bike.
Whatever your style of riding, Rodalink will have the perfect bike for you—from road bikes to mountain bikes and everything in between. Whether you are a beginner or an expert cyclist, Rodalink is the place to go for all your cycling needs.
Explore More Bikes At Rodalink Malaysia Now!
Discover Your Needs at Rodalink Now!