As you get ready to take on everything from mountain paths to city streets with your folding bike, there are a few essential accessories you'll need to make your journey as smooth as possible.
There are a number of accessories that allow the Tern to be customized. There are a variety of accessories available, including bags, kickstands, travel cases, and more. All of them enhance cyclists' riding experiences in some way. For cyclists who enjoy long rides as well as those who ride every day, a few accessories are perfect. Here are a few Tern accessories that you might be interested in.
Tern's Essential Accessories to Enhance Your Cycling Journey
When you're planning a cycling journey, the last thing you want to worry about is your bike. That's why Tern has put together a list of essential accessories to enhance your cycling experience.
1. Bike Bag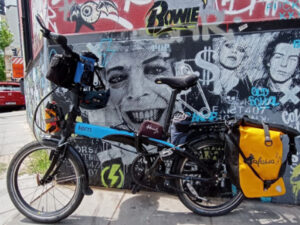 There are several types of Tern folding bicycle accessories in the bag and basket categories. Including:
The Tern CarryOn Cover Bag
This lightweight bike cover is easy to use and helps keep your hands free from grease or grime when riding. It's perfect for subways, trains, or buses—when it's time to bag your bike! The Tern CarryOn Cover is designed to easily store and transport your bike. The cover has a built-in carrying strap and an extra bag that can be attached to the frame—so it's always there when you need it!
Securely fasten your bike in seconds with our quick-fastening internal straps. Stay comfortable during transport thanks to the stay-in-place shoulder pad, and securely store extras thanks to a built-in storage bag mounted on no-slip surface that lets you strap it onto your post.
The Airporter Slim is designed to transport your bike anywhere in the world. A lightweight, hard-shell suitcase designed specifically for the Tern Bicycle backpacker. Its Hinomoto spinner wheels make it easy to maneuver no matter where you're going. Includes top and side handles for easy handling, fits Link and Verge bikes with some disassembly (Tern Flightsuit recommended), comes equipped with protective padding for the folded bike, and can be built to last through serviceable, replaceable hardware.
Tern's Stow Bag is a folding-bike transport bag that can be used for any folded bicycle. Its internal pockets are perfect for storing pedals or tools, and the padded lining will keep your bike safe from damage during transit. Dimensions: 17 x 14 x 3.5 inches (440 × 350 × 90 mm).
2. Mudguards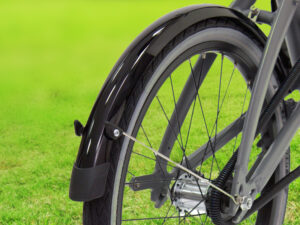 These are some of the Tern folding bike accessories:
If you ride your bike when it rains and get mud on the back of your shirt, SKS Mudguards can help keep that from happening. Award-winning German manufacturer SKS makes these mudguards, which attach to your bike's rear axle and keep water off you in puddles or during downpours.
When Tern designed the 451 bikes, it was important to have fenders that fit perfectly. So Tern created the 451 Performance Fender, with a durable matte black finish and matching stainless hardware. Get the best protection from all kinds of weather conditions, with 451 bike fenders designed just for your ride.
3. Racks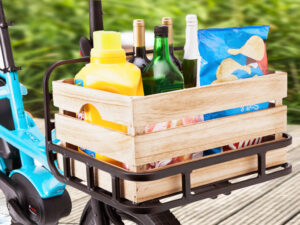 There are several types of front racks and their uses that you need to know, namely:
Tern bikes are engineered with hidden Easter eggs. Pop off the head badge gently to discover two screw holes that allow you to mount a Luggage Truss on your front fork, so you can carry cargo conveniently without sacrificing handling characteristics. By keeping your backpack, groceries, and essentials up front, they're accessible when you need them. Enjoy the smart way to carry your gear.
The Pack Rack mounts to the frame of your bike, so you can strap bags or backpacks onto it. It's stable enough to carry heavy loads while still giving you complete control over handling.
The Kanga Rack is an adaptable system that can be used with any type of bag—backpack, laptop case, or grocery sack. It's the perfect companion for bike commuters who don't want to leave anything behind on their ride home! Unlike handlebar- or fork-mounted systems, the Kanga connects directly to a bicycle's frame so heavy loads can be carried without affecting steering. When not in use, pushing a button releases it from the bike's attachment points.
For extras, you might need a bottle cage to support your cycling journey. Because of the unique design of folding bikes, bottle cages can face sideways on rides. The Tern Bottle Cage is designed to hold your drink securely—even when you're leaning hard into turns or braking suddenly. Polycarbonate is the material used to make this bottle, and because it's extremely lightweight yet sturdy, polycarbonate will protect your stainless steel bottles from getting scratched.
Lastly, a tool pack is a small bag that attaches to your bike frame and holds all of your repair tools. This is essential if you're cycling long distances and need to be able to fix any problems that may arise along the way.
Conclusion
If you're gearing up for a cycling trip, make sure you have all the necessary bike accessories to make the journey comfortable and safe. Tern makes a variety of folding bikes that are perfect for overseas cycling trips, and with the right accessories, you'll be able to navigate any terrain with ease. First and foremost, you'll need a good bike bag. This will protect your bike while you're on the go, and keep all of your equipment in one place. Tern's Tool Pack is also a must-have – it includes all of the tools you'll need for basic repairs and adjustments, so you can troubleshoot on the go.
If you are looking for "basikal lipat, kedai basikal, kedai, basikal near me, or Tern folding bike accessories", you can visiting the Rodalink website.Rodalink has manufactured bicycles in Asia for over forty years and is one of the industry leaders. Rodalink offers a large selection of bikes, parts, and apparels. You can find the bike of your dreams quickly, easily, and affordably with our helpful registration form and various payment options!
Visit Rodalink's page for the latest offers and other information. There is also an ongoing promotion, so don't miss out! When you order from Rodalink Malaysia, your items will arrive at your door completely FREE of charge—so place your orders today!