Following the report on how cycling can be one of the exercise alternatives to reduce and prevent various types of severe health problems for the past few years, the popularity of bike riding has resurfaced and become a new lifestyle. However, new cyclists, especially female cyclists, must be careful when purchasing a bike to prevent unwanted injuries. Here is a guide to finding the best beginner bikes for women that you might find helpful.
When it comes to purchasing a bike, it is expected for riders to go around and do various research so they can find the perfect bike that suits their need and budget before making a purchase. After all, people wish to invest in something that they can use for years to come.
However, someone entirely new to the cycling world might find this research process confusing and time-consuming. Most newbie cyclists get whatever is shoved on them by the sales from the department store. This article is here to save you from buying the wrong bike without going through weeks of research—because we have compiled every key point you need to pay attention to when looking for the best beginner bicycle. So, here it is.
What Style of Bike Do You Need?
Various bike types are being sold in the market nowadays, and each of them is designed with a variety of frames and components to provide a comfortable ride at specific road surfaces, levels of performance, and also budgets.
As a starting point to determine the best bicycle for beginners adults, you will have to consider what sort of riding you plan to do and choose a bike that fits your riding style. Various types of bikes are common in the market are:
Road Bike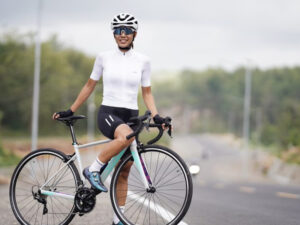 The characteristic of this bike has a drop bar handlebar with a frame geometry that puts the rider in a more aerodynamic position. The slick tires provide a faster ride with lower rolling resistance. A road bike is an excellent choice for riders looking for a bike to ride through country lanes, urban commuting, or bike racing.
Mountain Bike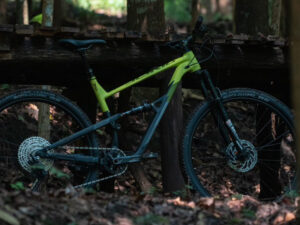 The mountain bike is probably one type of bike with the most style. The primary purpose of the mountain bike is to provide the best ride over off-road riding. Most beginners will be advised to consider getting a cross-country mountain bike for a kick start.
Four categories fall into the mountain bike type, which differs by the length of the bike's travel and its terrain: cross-country mountain bike, trail mountain bike, enduro mountain bike, and downhill mountain bike. You can visit our article about how to choose mountain bike tips for a more detailed explanation.
A mountain bike also differs by the number of suspensions it has. The hardtail mountain bike comes with one suspension on the front fork, commonly becoming the first choice for beginners since this bike offers a comfortable ride on most trails.
On the other hand, the full-suspension mountain bike is often becoming the first choice for people who ride over technical terrain because it can help to absorb vibration when bumped over larger roots and rocks. Generally, a mountain bike is suitable for riding over trails, forests, and muddy places.
Hybrid Bikes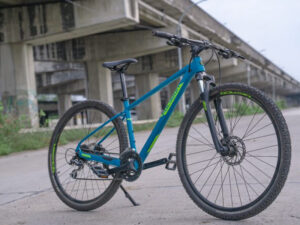 A hybrid bike combines the characteristics of a mountain bike and a road bike which can be ridden across a range of terrains while excelling for commuting and leisure riding. This bike usually offers a more upright riding position and low maintenance, a perfect choice for riders who want to try riding on both road and mountain terrains before investing in a more specialized bike.
It is also common for the hybrid bike to come with rack and pannier mounts that make it ready for a short trip over the countryside or grocery shopping. To understand the hybrid bike better, you can read this article about what a hybrid bike is. To find the best hybrid bikes for beginners, you can consider reading the article about Polygon hybrid bikes.
Gravel Bikes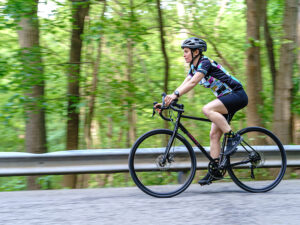 A gravel bike is often mistaken as a road bike at a glance because of the drop bar handlebar. However, the component selections, especially the gravel bike tire, make this bike more similar to a mountain bike. A gravel bike is suitable for riders who wish to conquer the off-road long-distance adventurous ride.
The Bike's Components
After you have a specific type of bike in mind, later on, you will need to pick which models of the bike to purchase. There will be a wide range of bike models that come in different components to suit the price points.
For example, you are looking for the best hybrid bikes for female beginners. You will then get a recommendation for purchasing the Polygon Heist series and find out that there's Heist X2, Heist X5, and Heist X7, where each model comes with different components and price ranges.
For the cheaper price range, you will usually get the entry-level component with the frame made of material that makes the bike feel slightly heavier. Hence, many people are advised to purchase a higher-end bike so they won't need to keep upgrading the bike.
However, if you are purchasing a bike from Rodalink, you might be able to get a lightweight bike that offers the best performance without breaking your bank account. Whether you are looking for a bicycle for women or men, adults or kids, you can find one that satisfies your needs and budgets at Rodalink.
Key Features for Beginner Bikes
Aside from riding style and budget, a few features of a bike that you should consider are:
Stability: bikes with good stability usually come with a longer wheelbase, wider handlebar, and lower standover height. A stable bike will provide a predictable and more manageable maneuver at a slower speed;
Proper fit: one of the frequent questions is how to find the best beginner bike for short females and male cyclists. Finding the proper bike fit is essential for preventing severe injuries and making your riding more comfortable. You can refer to our corresponding blog post to understand this point better;
Wide tires: regardless of the type you are going to purchase, consider finding a tire that is wider than the typical, as it offers better grip and traction for a safer ride in most conditions.
Conclusion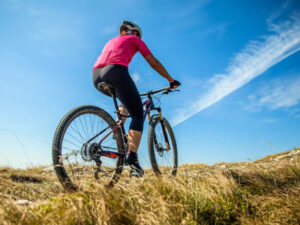 After eliminating a few points mentioned above, finding the best starter bike for a woman 2022 should no longer be a complex task. If you still have difficulty deciding which bicycle you should get even after reading this article, don't get panicked. You can still visit Rodalink at Jurong East and East Coast.
Unlike shopping for bikes at department stores, Rodalink as the official bike dealer provides a professional team who will gladly assist you in finding the perfect bike according to your need and budget.
Rodalink partnered with Shop Back to allow a pay-later purchase method at 0% interest charges. On top of that, Rodalink will ensure to deliver your bike to your address in the ready-to-ride form, which is very helpful for beginners who have no idea how to put their bike together on their own. Get your dream bike today, and let Rodalink be part of your inspiring cycling journey.