Indoor riding is not only a great idea for a recovering athlete but also good for the casual rider who wishes to keep the training going amid the rainy season. If you are also thinking about starting your indoor training but are not sure about which to get between the bike rollers vs trainers, then this article is made for you.
Before you decide to invest in either bike trainers or bike rollers, it will be best to know the difference between both types of bikes so you can match them with your training goals to make a correct purchase decision. Without any further explanation, here is the information you needed. Get an enjoyable reading!
What are Bike Rollers?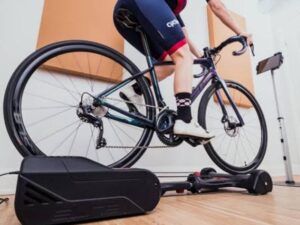 In general, a roller bike is designed with three cylindrical drums that connect through a belt or rubber bands, allowing it to rotate beneath the bike's wheel. Unlike the turbo trainers that stand firmly on the ground, the bike rollers work like a treadmill machine except instead of running, you are cycling on top of it.
To train with a bike roller, riders will need to maintain their balance and work with their pedaling techniques. It is fair to say that a roller trainer is the ideal indoor bike trainer for high cadence sessions, tempo training, and easier recovery days for injured athletes who want to catch up quickly so they can get back to the race arena sooner.
Besides, a bike roller is also great equipment for pre-race warm-ups as it doesn't need any wheel or groupset attachment. Therefore, the bike rollers are often seen during the World Tour race and are used by athletes before the real race starts.
To get a better understanding, here are the pros and cons of having a bike roller:
| | |
| --- | --- |
| Pros of Bike Roller | Cons of Bike Roller |
| Riders are not required to remove wheels or swap the tire | Riders need to fully put their concern on the bike and has a good technique to master riding on the roller trainer |
| Gives smooth feelings which able to mimic the road conditions | There's a limited amount of resistance on most of the bike rollers, except, the one in a high price range |
| Easier and lighter to transport, making it one of the best equipment for athletes to warm-up | Only rollers in a higher price range get the privilege to connect with smart systems like ANT+ or Bluetooth |
| Bike rollers use the full body as the core | Require riders to keep taking practice to get |
| Need for engagement | Better control of roller bike |
What are Bike Trainers?
A bike trainer is a piece of equipment that is commonly used for training indoors, allowing the riders to build cycling skills and efficiently control the riding power without having to worry about unavoidable disturbances like the traffic light, for example.
Among many other types, turbo trainers have become one of the most popular types to pick among cyclists because it is not only compact but also affordable. Typically, turbo trainers clamp the rear of a bike into a static bike trainer stand and drive into two different fashions as follows:
Regular (Wheel-On) Trainer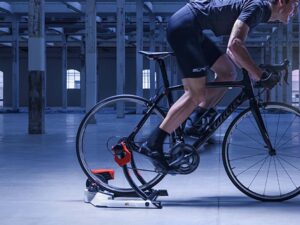 The regular wheel-on trainer uses the tire bike and a rolling metal to drive the trainer. To use this type of bike trainer, it will be best if you replace your bike tire with a special hard compound tire that is heat and wear-resistant.
Direct-Drive Trainer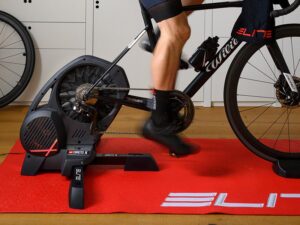 Unlike the regular wheel-on trainer, the direct drive trainer completely replaces the rear wheel of the bike and sits between the dropouts, clamped in place with a quick-release skewer or thru-axle and driven by a cassette.
You can use the smart turbo trainers to allow you to connect to system apps like Zwift and adjust the resistance in response to hills, descents, or effort during the workout or training session.
What is the Difference Between Bike Rollers and Bike Trainers?
Before you rush to search for the best bike rollers for sale or bike trainers for sale, it will be perfect to fully understand what differs between these two kinds. Despite bike rollers and bike trainers sharing a few numbers of similarities, however, between the two, there are several significant differences, and the training goals you wish to achieve is one of the deciding factors when choosing between roller vs trainer.
Generally, a bike roller allows riders to concentrate on their spinning technique and is extremely effective when it comes to developing base fitness. On the contrary, bike trainers do better in providing variable resistance workouts to develop strength and power.
Although most people will be drawn to bike trainers more, especially the smart trainer that offers structured work out in the virtual environment, it doesn't come with a cheap cost. So if you care about the best budget bike rollers are more of an option.
Besides the pricing that is more budget-friendly, it still has a lot more things to offer. With a roller, the rider can develop their finesse on the bike instead of working with brute strength since it is important to maintain balance when you are riding on rollers. However, it is not instant working, riders might need to practice for a few sessions before gaining their confidence riding the bike rollers.
Conclusions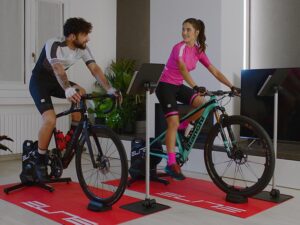 Some of you might have questions like "are bike rollers a good workout equipment than bike trainers?" and the answer we are going to give to you is, that there's simply not one that is better than others as both excel in delivering a good indoor training session. It is just that when deciding which equipment to buy, you will have to match it with your exercise goals.
If you are aiming for an all-out sprint practice and wish to have an enjoyable riding experience where you can catch up to your favorite series on TV as you train, then you might have to pick a bike trainer.
On the other hand, if you want to develop your pedaling technique, keep your mind concentrated on one goal, and work with your balance on the bike or overall bike handling skills, you might want to look out for the best bike rollers instead.
Various options out there might confuse you about which brands to get. If you have yet to have any brands in mind, we will recommend you to look out for the Polygon bike trainer. The reason is, that you will not only get the best bike that will help you with your indoor training, but you can get the item at competitive pricing.
To get the original equipment, you can visit the Polygon bike official dealer: Rodalink. There, you will find a wide range of bike selections as well as parts, apparels, and accessories which includes your indoor training equipment and its supporting setup accessory.
Rodalink also has a one-stop cycling store where you can get full assistance from the professional team and help you to adjust your bike when necessary. Don't worry about the cost, because you can choose to pay with ShopBack where you can buy now and pay it later with a 0% installment fee.
Do you still wish for more benefits? Consider registering to become part of the Rodalink community members. The registration is free and once registered, you will be eligible to enjoy the special deals, discount price for service at Rodalink's one-stop cycling store, and join the exclusive event for members only. Stop thinking and start your indoor training now with Rodalink.