One of the most popular bikes nowadays is a gravel bike, since it is famously known for it's versatility. However, even though gravel bikes are said to be versatile, most people used it mostly for harder tracks than a city road. Then, can you ride a gravel bike on the road for road riding? This article will help you to find out the answers to that question!
What is Gravel Bike?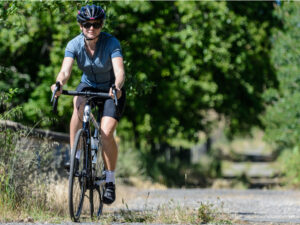 The first thing you need to know before knowing whether a gravel bike can be used for road riding or can you use a gravel bike as a mountain bike is to know what actually a gravel bike actually is. Gravel bikes are a newer hybrid bike subtype. These drop-bar bikes offer a much stronger off-road experience than a road bike while traveling much faster on the road than a mountain bike.
The user versatility of a gravel bike is one of its most distinguishing features. Gravel bicycles are essential to attain both road bike and mountain bike triumphs because they are intermediate between the two. Thus, the gravel bike is also famous for being called as all-road bike due to the versatility of the tracks that this bike can handle.
The tyres on a gravel bike are one of the distinguishing features that set it apart from the crowd. Gravel bikes will also have tyres which are at least 35mm wide, albeit the most of gravel bikes have tyres that are 38mm or wider.
Gravel Bike Pros and Cons
There is no bike that is actually perfect, even for the best gravel bike, it must also have some pros and cons. Thus, you need to consider these gravel bike pros and cons before deciding to buy them, since you will use them for a long time.
Gravel Bike Advantages
The first gravel bike advantage is from it's accessories. The benefit of a gravel bike is that you can change the tire and fit much bigger wheels and tires, giving you better grip and comfort on the rockiest of trails. In other words, it can be converted into a bigger bike.
In the same sense as the first benefit, you can buy skinny road tires and mount them on your bike if you go road racing. You'll only need one bike to support all of your usual activities, which will save you money by reducing the amount of storage space you'll need.
These bikes are built to handle rough terrain better than road bikes. However, they can handle the rough tracks just as well as a mountain bike. A gravel bike is the kind of bike that can take you anywhere. Road bikes are not as well suited to rugged terrain as gravel bikes. However, they can manage the bumpy tracks just around as well as a mountain bike. A gravel bike can take you anywhere.
Gravel Bike Disadvantages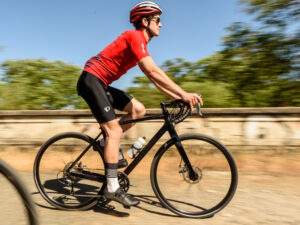 There are also several minor disadvantages of gravel bikes. Although the weight of the frame is comparable, a gravel bike is slower than a road bike. The main issue is the tire width; larger gravel bike tires generate more tolerance and slow the bike down when compared to a road bike.
One disadvantage to be conscious of is the price tag; the initial price of a new gravel bike might be quite high. Having said that, their adaptability makes them ideal for people who want to buy just one bike instead of multiple specialized bicycles, potentially saving money over the long term.
Other risks include standard safety concerns, particularly given the terrain that gravel bikes may be used for. When riding your gravel bike, you should always wear a helmet or explore Rodalink's adventure essentials list to keep you safe..
The last disadvantage is that gravel bikes are noticeably heavier than a road bike. Thus, it is not really practical to use if you need to move your bike at one point in your travel but it's pretty versatile and tough.
Can You Ride a Gravel Bike on the Road?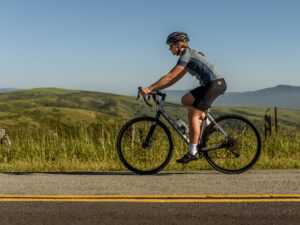 Let's move to the main point of this article, can you ride a gravel bike for road riding? A lot of people often compare gravel bikes vs road bikes and asking this same question. A gravel bike can absolutely be used on the road or as a road bike. However, there are some minor restrictions that you may encounter if you do this.
A gravel bike can be used as a road bike, but this is largely dependent on your cycling preferences, as well as trampling trends and tire widths. If you intend to use the gravel bike thoroughly on the road, for example, you may not get the best experience out of it, because a gravel bike will mostly go slower on roads. This will aid in lowering ride quality, which can cause gravel bikes to feel lethargic.
A gravel bike is obviously intended to be ridden on many surfaces, including on roads. However, since they have larger tires, riding them on ride will, once again, resulting on a slower ride. Gravel bike tires are sluggish, heavy, and wider than standard bicycle tires because they are specifically designed for one purpose, which is traveling on rough, uneven surfaces. On paved paths, these gravel tires can be slow and sluggish, compromising your speed in a race.
Conclusion
Gravel bikes are famous for handling all kinds of terrains really well. However, can you ride a gravel bike for road riding? The answer is absolutely yes! However, if you want better performance on the road, you can try to change the tires into the slicker one. If you are planning to get your best gravel bike Singapore, you can order it from Rodalink!
Rodalink offers a large variety of gravel bikes, such as Polygon gravel bikes, and Marin gravel bikes. Rodalink also provides other riding needs, such as accessories, jersey, bike pants, eyewear, bike gloves, and socks. You can get all of that at the best price and guaranteed original.
You might also think about joining the Rodalink community to receive better discounts and offers. Rodalink can be your dependable cycling partner as you live out your adventurous riding dream right now!