Hi Riders! There are many things you have to learn when you want to mountain bike, especially if you are a beginner. In addition to learning some cycling techniques, you also need to know what you should avoid while mountain biking to stay safe and comfortable. What should be avoided? Let's look at the various mistakes when mountain biking and how to get over them below!
1. Checking Your Bike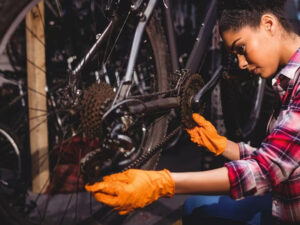 The ABC basic check is one of the most common things to do before starting any bike ride, including mountain bikes. However, some people often forget and skip this section. In order to keep your cycling safe and comfortable, you can do an ABC (Air, Brake, and Chain) check to make sure the air pressure on the wheels is not too low or too high. Riders can check the air pressure, spin the wheels and make sure the tires are not worn out. After that, check the brakes to make sure they work properly. Lastly, you can turn the pedals and crank to see if the chain is driving the rear wheel. The chain should look like metal, not rust or black dirt and make sure it's lubricated. Some bikes have quick release wheels or seatposts. Check to make sure they are tight and closed properly.
2. Not Servicing Suspension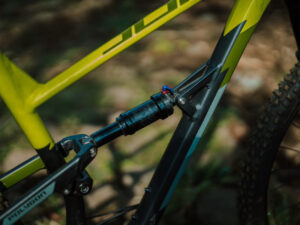 Oil changes and general maintenance are important for all bikes, especially mountain bikes, but they are often overlooked or neglected during rides. Maybe you often feel overwhelmed, and don't have gaps in your maintenance schedule that allow the problem to get worse. However, this is a mistake, and should be avoided.
The main cause of suspension wear and tear is the elements—mountain biking obviously happens outside so dirt, grime, grit, and dust all get around the seal/stanchions. It's not difficult to do so long as you have the tools for it. If a rider wants to achieve the best performance, they must remember to do maintenance on the suspension so that these components are safe from failure. Read quick step mountain bike maintenance now.
3. Dragging Brakes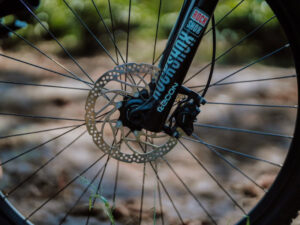 It's a good safety blanket to have: just covering the brakes there and holding them so that we can slow down even quicker. But it isn't ideal, and it's not the quickest way to break either.
If you brake before turning, it's easier to maintain speed and momentum through the turn. You are also less likely to lose your balance or pedal at an awkward angle with your knee going up another cyclist's backside. Reducing your speed before entering the turn, and braking at the last minute for a smoother ride over bumps. This will help you get around blind corners—whether on a mountain trail or in rush-hour traffic.
4. Leaving A Bike Dirty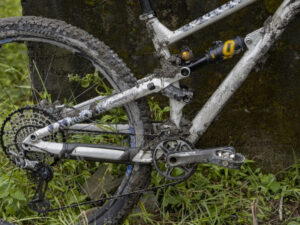 At the end of a ride, you may be too tired to clean your bike. Instead, you want to go inside and relax or take a shower before having some tea.
Neglecting a bike is bad for it—especially if you're going to ride on muddy trails or use your bike in general. Neglect can cause parts of your bike to wear out quicker (like chains seizing up and brake pads rusting), so be sure not to neglect yours!
All these types of things can be very effective if you don't maintain them and clean them regularly, even if it is just a quick rinse to get the dust off around the seal and chain. You can remove most of the mud and lubricant by wiping gently (to protect your finishes), then do a more thorough cleaning later on.
5. Clipping Pedals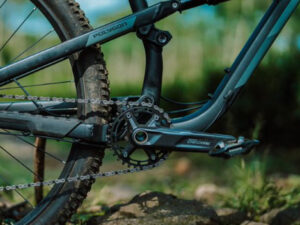 Keeping your pedal strokes smooth and even is a good way to avoid crashing. While riding, be sure to observe the trail ahead of you so that you know what kind of terrain lies in front—this will help keep your feet from clipping the pedals during a sudden stop.
If the terrain is rough enough that you can feel it through your pedals, then it's probably best to avoid pedaling in that section.
If you're taking a big jump or hitting the ground hard, you should never try to pedal when your suspension is fully compressed. Wait for it to rebound and come up through its full travel before attempting another stroke. You will learn how to correct these mistakes as you gain experience.
6. Not Looking Ahead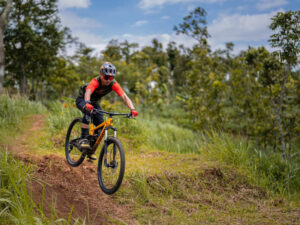 So this next one will cost you speed on the trail, and it's because we are not looking far enough ahead. This is a mistake that's common among both beginners and professionals—we spend so much time thinking about our immediate surroundings that we forget to look down the road.
Once you start picking up your pace, however, the faster you go—the further ahead of yourself you need to look. This will help with spotting obstacles and other riders on trails as well as reading turns in the trail scene.
7. Getting Bucked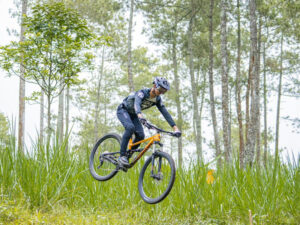 One of the scariest things about riding a mountain bike is the feeling that you get when all your weight goes over the front of the bike.
When you try to do too many repetitions in a row, this can lead to bad technique—and even fatigue-related muscle injuries. You can sometimes bring this back by dropping your heels and shifting your butt all the way back as far as you can go—but it is a mistake that's hard to fix once you make it. So practicing on small jumps first and working your way up is a great sort of avoiding that hopefully happening.
8. Crashing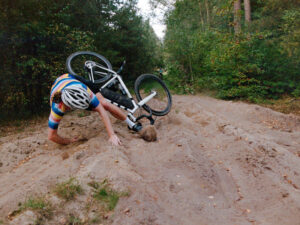 Crashing happens to even the best riders. It's just part of mountain biking! The most often overlooked mistake is not using any protection when mountain biking. However, the only thing advised here is that you wear protective gear and take precautions when you ride. Wearing bicycle guards can protect against more serious injuries. You can find various types of protection, ranging from helmets, cycling gloves, cycling short padding, and others on the Rodalink Singapore website.
If you live in Singapore and lately have been looking for a "bike shop or bike shop near me", or are looking for a mountain bike or bike apparel and protection in Singapore, Rodalink provides a quality selection from trusted brands. Don't worry, there are many Rodalink promos available, ranging from 0% OCBC installments to free delivery and Shopback, Pay Later. Just check the website for details on the ongoing promo right now! Not only that, joining Rodalink Singapore will also give you many benefits. Come on, start your exciting cycling trip with us!
Get Your Cycling Protection Now!
Discover Your Needs at Rodalink Now!