Mountain biking is considered to be an extreme sport that requires a set of skills. Cyclists have to be able to handle their bikes fully to ride them on the roughest terrains. This set of skills is not achieved overnight. There has to be some practice, and even mistakes made at some point. Here is our tips summary for you to help you understand how to handle your bike properly and overcome mistakes!
Not Checking Your Mountain Bike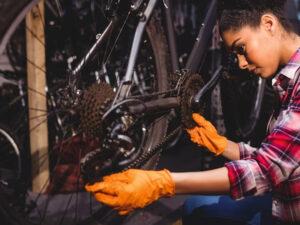 Checking your MTB before riding it is important as you will be able to make sure your bike is in its prime condition to be ridden. If anything is off, you can easily adjust it before riding and save yourself from potential problems. Checking your MTB is actually easy, as easy as neglecting it as well. You have to keep in mind that mountain biking is an extreme sport that really gives a lot of impact on your bike. The bolts are rattled, making it come loose, or even making other parts become wiggly. So, a thorough check of all the parts is key. Check the rear mechanism, wheel brake, seat post, cranks, pedals, handlebars, front wheel axle, and disc. You can check from either front or back, it does not matter. Just make sure you do not miss any part. You also need to check for the ABC (Air, Brake, and Chain). Make sure the tire pressure has enough air in it, the brake is working effectively, and the chain is clean and lubricated. To learn more about checking your bike, click here!
Not Servicing Suspension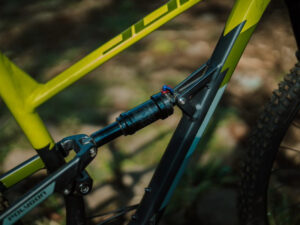 The suspension needs to be serviced regularly for it to be able to work properly. A suspension service includes oil change, seals, and inspecting the internals to make sure the mechanism works perfectly well. You can do regular services for the air can on the rear shock and a lower leg service on the fork for every 50 hours of riding time. For a full service, you can do it once a year by bringing it to a bike shop.
Dragging Brakes
When braking, cyclists tend to drag their brakes, thinking it will give them the fastest and most effective way of braking. But, this is not ideal nor effective at all. For example, you should be braking before you turn a corner instead of holding the brakes all the way. This will maintain the speed and momentum so you can corner smoothly. Do some practice to make yourself get used to braking correctly for each situation.
Not Cleaning Your Mountain Bike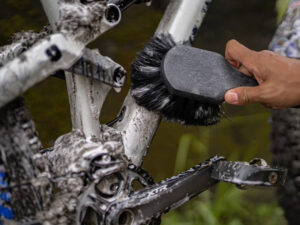 A dirty bike can degrade itself even faster. The components can wear out quicker due to the dirt or mud causing friction and even ruining the appearance of your classy bike frame. It can be tiring after a long ride. But just make sure you get at least a quick clean of your bike to get rid of the worst parts, then do a deep clean the following day. To get tips on how to clean your bike, click here!
Clipping Pedals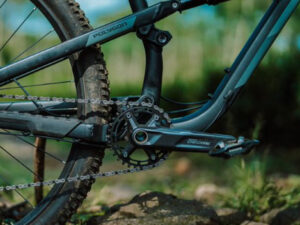 A common mistake you can make is clipping your pedals. If you are not careful and clip your pedals due to an obstacle, you can lead yourself to a crash. Try to keep a clear view of the trail and pay attention to it. This will help you identify the obstacles ahead and prevent yourself from pedaling through the roughest part. Also, avoid pedaling when you are coming down from a jump. Wait for the suspension to fully rebound first before you pedal again.
Not Looking Ahead
When mountain biking, you have to train yourself to keep on looking ahead. This is a common mistake for beginners as they automatically focus on the obstacle right before them instead of the trail forward. This is especially important when you are picking up speed; you have to have analyzed the trail ahead of you. By noticing the obstacles ahead, you are well-prepared before you are riding through them.
Getting Bucked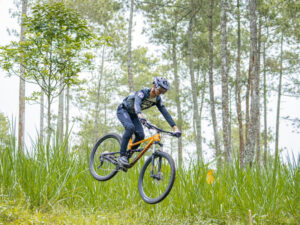 Getting bucked is when all your weight is getting over the front of your mountain bike. To prevent this from happening, during the jump, you can drop your heels and move your hips and butt toward the back of your mountain bike. This will shift the body weight towards the back and you will be able to land more smoothly.
Crashing
Crashing is an inevitable part of mountain biking. So, the best answer is to wear the correct protection to prevent further damage, such as a bike helmet, glasses, and gloves.
To complete your mountain biking essentials, you can shop from Rodalink Malaysia! Get your protective gear such as the Entity MH020 Mountain Bike Helmet, Polygon Muscle Sunglasses, and Shimano Advanced ECWGLBSUS21M Bike Glove to help protect yourself during a crash. We are having a sale on bike parts and accessories, so this is the right time for you to shop! You can also enjoy free local delivery service, choose from our various payment methods, and even enjoy a 0% installment from OCBC. You can purchase by using ShopBack It, Pay Later. If you want to browse our collection in store, you can search for kedai basikal near me and pick the store location closest to you! And, do not forget to sign up for Rodalink Member to enjoy exclusive promos and offers. Visit us now!
Discover Your Needs at Rodalink Now!