Getting a bike might be one of the important decisions to someone. A bicycle can be used for tracking on different paths, or just to run some errands or go to work. If you are looking for a bike only for daily use, you can consider getting a folding bike, since it is simple and easy to ride. Before deciding to buy a foldable bicycle, you need to know about 20 inch folding bike and what size of folding bike that is the best for you!
What is Folding Bike?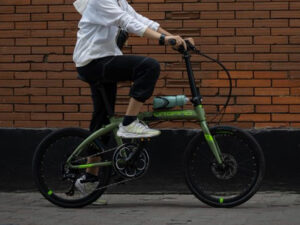 A foldable bike is a type of bicycle that can be folded up easily for storage and transportation. Worldwide, and in cities in particular, folding bikes are very common. Folding bicycles are excellent for many different types of riding, even though they may be the best bikes for city living. For group rides, bike touring, and international travel, folding bikes are perfect.
There are many advantages that you can get if you are trying to get one folding bike for yourself. Folding bikes are very simple to transport, in addition to being excellent modes of transportation in and of themselves. A folding bike can be carried almost anywhere; they travel well on buses and trains and can be stored neatly in even the smallest car trunks.
They are perfect for commuters because they are simple to transport. People who commute from the suburbs of a city frequently drive to the closest train station, ride the train into the city, and then leave their car by the station all day to pick it up when they return.
This may be an expensive endeavor. You'll need to pay for fuel, parking, and possibly leave your bike unattended all day in addition to a season ticket. If you have a folding bike, you can ride it to the train station that's the closest.
A folding bike's obvious benefit is that it occupies significantly less space than a regular bike. A traditional bike can be difficult to store unless you're fortunate enough to have a large home and perhaps a shed or garage. It simply takes up too much space in contemporary inner-city apartments and is too heavy for the majority of people to carry upstairs. Even in the smallest homes, a folding bike is simple to transport and store.
Folding Bike Sizing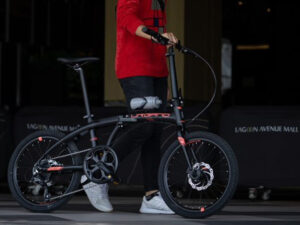 Choosing the proper frame size is crucial because a proper fit increases riding comfort and efficiency and, ultimately, makes you a faster cyclist.
The size chart is intended to assist you in selecting the appropriate frame size for you. It takes into account your height, reach, and inside leg measurement as well as the geometry of our bikes to make sure the bike you select fits you perfectly. Because of that, choosing the perfect folding bike size for height is important.
The most popular folding bicycles are 14 ich, 16 inch, 20 inch, and 24 inch folding bike. There is also another option, such as 18 inch folding bike. Size determines which is the most useful. both the folded bike's size and the rider's size. Although lighter, more portable, and simpler to maneuver, smaller-wheeled bikes ride less smoothly and are less stable than larger-wheeled bikes.
The size of folding bike you require will depend on the primary uses of your bicycle. Your bike will be more portable and easier for you to handle a congested inner-city commute if its wheels are smaller. Larger wheels, however, will result in a smoother ride, greater comfort, and a stronger bike that can handle more difficult terrain.
20 inch Folding Bike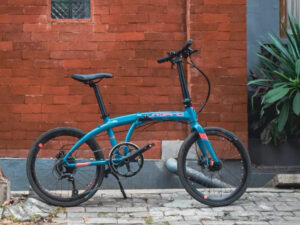 20 inch folding bike is probably the most popular size of folding bike. Comparing to the full sice folding bike, the 20 inch ones are most petite and easy to fold then storage. However, how great is it comparing to the other size, like 20 inch vs 24 inch bike or 20 inch vs 22 inch bike?
The most popular folding bike on the market is the 20-inch model. Comparatively, it is much bigger than the 16-inch model. But it offers a smoother ride and starts out at a more affordable price. A 20-inch folding bike provides a good compromise between folded size and functionality. This 20 inch foldie is still regarded as manageable in comparison to the 16 inch one and has the added benefit of better riding quality.
If you are looking for the ideal bike for those with a brief commute that doesn't involve congested buses and trains, as well as a fantastic weekend general use/leisure bike, you may prefer the bigger size, like the 22 inch or even 24 inch ones.
However, if you prefer a bike that is the best suit for riders looking to discover new routes in their area, both on weekends and during commuting, the 20 inch folding bike or 20 inch folding bike is the best option for you.
This 20-inch wheel's drawback is that it is less portable than the 16-inch one. Even though you can still carry it around by packing the folding bike in your car trunk, it might be a hassle for you to use multiple modes of transportation. So, this bike might not be suitable for transporting.
Conclusion
20 inch folding bike is the best choice if you are looking for a folding bike that can be use both for commuting and also tracking to various surfaces at the weekend. If you are looking for the best 20 inch folding bike in Singapore, especially Polygon folding bikes, you can get it from Rodalink!
As the official distributor of Polygon folding bike Singapore, Rodalink also provides other riding needs, such as accessories, child seat, helmet, bike tires, and apparel. You can get all of that at the best price and guaranteed original.
You might also think about joining the Rodalink community to receive better discounts and offers. Rodalink can be your dependable cycling partner as you live out your adventurous riding dream right now!
Discover The Best Folding Bike at Rodalink