Hybrids are essentially a cross between road bikes and mountain bikes: they're designed to be ridden on many different types of terrain. But, a hybrid bike is it fits perfectly on-road and light off-road. Hybrid bikes have handlebars that are flat like those on mountain bikes, instead of the drop bars found on road bikes. Groupset or drivetrain on hybrid bikes is adopted from mountain bikes or MTB. Hybrid bikes usually offer a more upright riding position than road bikes, which makes them more comfortable and potentially safer for shorter trips in urban areas. Hybrid tires have the same size as road bikes, namely 700C, but hybrid bikes, are usually wider and patterned. This provides added comfort while maintaining enough speed to be useful on long journeys.
So, what is a Marin hybrid bike? And why should you invest in Marin bikes? Get the answers to these questions and more by reading this article!
Marin Hybrid Bike
Marin has been making hybrid bikes for nearly twenty years, since the introduction of its first model in 1992. Combining the upright riding position of mountain bikes with the efficiency of 700c wheels for short to medium-distance commutes and everyday bike path fun rides, they are built for people that commute or enjoy leisurely rides on paved paths.
Marin offers a wide selection of hybrid bikes that offer comfort and style at every price point. Its line includes step-through models designed with shorter riders in mind, along with high-rise versions full of machismo for the vertically blessed among us. For casual or commuting riders, Marin's got you covered!
Since its founding, Marin has been known for making full-suspension and hardtail mountain bikes that set a new standard in their category. Marin County is still a major hub of bicycle culture, though it's also aware of new trends that have emerged in the world of cycling and offers decent selections for gravel riders, and all-road cyclists—even those who want to go electric. Marin's hybrid, urban and fitness bikes appeal to a wide range of riders—from average people who want an efficient way to get around town every day, or serious cyclists looking for a high-performance ride.
Marin Hybrid Bike Type
There are two types of hybrid bikes that Marin makes: the San Rafael and San Anselmo models. Let's examine how they differ:
1. The Marin San Rafael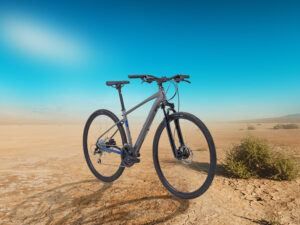 The San Rafael is a versatile bike that can handle mixed surfaces and terrain, local trails, and paved paths. The San Rafael is designed for people who enjoy both off-road and on-road riding. The perfect choice for those who want to explore two worlds: pavement and dirt! Offering a lightweight 6061-series aluminum frame, SR Suntour suspension fork, Shimano 8-speed drivetrain with rack and fender mounts, large volume mixed terrain 700C tires, and disc brakes – this bike is ready for any adventure. The Dual Sport's geometry combines an active pedaling position with upright seating for fitness riding across mixed surfaces—so you can always put the hammer down when you need to but still be comfortable when cruising. The San Rafael is designed for riders who want a bike that's equally at home on urban streets or exploring gravel back roads.
2. The Marin San Anselmo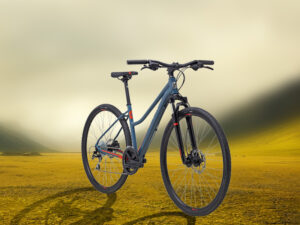 The Marin San Anselmo is an elegant and versatile bike, suitable for commuting and leisure riding. This type of hybrid bike has a lightweight 6061 aluminum frame designed to increase strength while reducing weight; shaped seat stays and chainstays improve ride quality. The bike's geometry and a handlebar that can be positioned for comfort make it easy to ride. This design provides better visibility than other bikes, which helps you see potholes and other obstacles as you're riding down bumpy city streets or roads in poor condition. With 700c-size wheels and tires are designed to offer a smoother, more efficient ride than 26-inch or smaller versions. Vee tires give the rider confidence for long country rides, and their wide width provides stability at slow speeds. The Marin Fitness Plush saddle is ergonomically contoured and padded to provide all-day comfort, Shimano drivetrain is equipped.
Explore Marin San Anselmo Now!
Reasons why to choose Marin Hybrid Bike
If you are looking for a hybrid bike investment and want to try it, the Marin Hybrid Bike is worth checking out. This is because all the hybrid bike frames of Marin are manufactured in 6061 aluminum, a lightweight and high-strength material that has been through strict quality control before and after production. The San Rafael and San Anselmo are for riders looking to explore mixed surfaces and terrain, travel the local rail-trail system, or ride paved paths equally well on dirt double track. Dual Sport bikes bridge pavement and dirt for adventurous fitness/recreational riding!
Marin San Rafael and San Anselmo bikes are in the same price range. The upright geometry of San Rafael and San Anselmo minimizes the trade-offs between comfort, speed, and handling. Blending the best features of road and mountain bikes, these frames create fast and comfortable commuter-style bicycles that are excellent for hauling loads around town. The San Rafael/Anselmo line offers a range of products that meet the needs of every type of rider. Shimano components are durable and easy to maintain, resulting in bikes that last for many years.
Conclusions
Hybrid bicycles are currently popular among bicycle lovers. The advantage of this bicycle is, it can be used on various terrains. There are many brands that manufacture this type of bike. One of the best is from the Marin brand. There are two types of Marin Hybrid Bike, namely Marin San Rafael and Marin San Anselmo. Both are made from materials that are guaranteed quality.
If you are looking for a Singapore bicycle shop that sells Marin Hybrid Bikes, you can visit the Rodalink website. Get a high-quality bike from Marin Singapore's official distributor. Rodalink provides Marin hybrid bikes of the San Rafael DS1 and DS2 types as well as the San Anselmo DS1 and DS2. You can enjoy riding around urban pavement areas to light-trail roads on the Park Connector Network. Rodalink's website offers a wide selection of bike parts and accessories—as well as the clothing needed to help ensure that your ride is comfortable.
As a member of the Rodalink community, you will receive special offers and events exclusively for members. You can also earn points with each purchase that you can redeem for discount vouchers. Now you can buy what you want when you want it. By choosing Shopback as your payment method when purchasing, and enjoying the 0% interest fee — having a high-quality bike at a budget price is no longer a dream because Rodalink made it possible!