Whether you are a beginner to the cycling world, or usually a road cyclist trying to dive into the off-roading section, trying to choose the perfect mountain bike can be a difficult task. You have to make sure that the money you are spending will give you the most out of its value. You would not want a bike that is not suitable for your riding style. To help you with choosing the correct MTB, we have gathered some tips that you can consider. Here is what you need to know!
Riding Style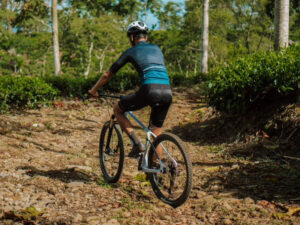 As always, when it comes to deciding on your perfect bike, you have to decide your riding style first. Here is a quick guide for some of basikal mountain types and the riding style it serves :
Leisure mountain bike : entry-level MTB bike for beginners, specifically cross-country purposes. This bike is great for longer rides even on the suburbs and facing moderate obstacles.
Cross country (XC) mountain bike : great for longer rides on smoother trails and uphill tracks.
Trail mountain bike : a good mix of cross country and enduro mountain bike, making it possible for you to do light off-roading but also capable enough for facing easy to moderate obstacles.
Enduro mountain bike : the most general type that can be used for light off-roading, but is more capable for tackling obstacles, such as conquering some jumps and drops, going for an uphill track, and even a downhill race.
Downhill mountain bike : a specific MTB bike type that is best for facing the roughest of terrain while trying to cycle at the steepest downhill at a fast speed as well, but going up the hill with this bike would be kind of difficult.
To learn more about each mountain bike type in detail, click here to read the article!
Things to Consider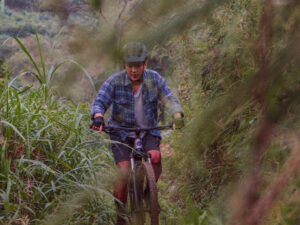 Riding style is a good base that you should start with. Now that you have decided on the specific MTB bike type you are choosing, here come other things to consider to help you narrow down your searches.
Suspension Type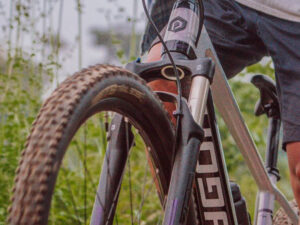 A suspension is the mechanism that will help your bike to better absorb shock and help cyclists to be more comfortable when facing obstacles, jumps, and drops. It is like a spring that will bounce up and down according to what bumps your tires are facing, so that the bump does not impact yourself and your frame directly. More suspension means a greater shock absorbing feature, but it will be more expensive, needs more maintenance, and does add a significant amount of weight. That is why there is a mountain bike type that is a hardtail (front suspension only) and a dual or full suspension (front and rear suspension). If your riding style is as extreme as facing very steep jumps, drops, and rough terrains, you will need a full suspension. But, if your off-roading style is considered to be on the easy to moderate level, a hardtail suspension will do you just fine.
Each mountain bike type will have the most common use suspension type. A hardtail can be usually found in a leisure mountain bike. Full suspension ones are usually used for trail, enduro, and downhill mountain bike. While a cross country mountain bike will have a hardtail or a full suspension type, depending on the product line up.
MTB Bike Sizing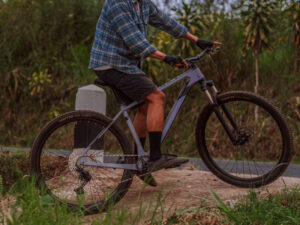 Even if you are a road cyclist and already know your go-to size, choosing an MTB bike will require you to take a look at the size guide again. Each bike type will have different size charts, depending on the frame, built, and purpose of riding the specific bike type. Usually, you can find out your ideal bike size by measuring your body height. It is a good base to start with (you can check our article on mountain bike sizing by clicking here!). But, most of the time, you will find yourself in between sizes. To get tips for finding your perfect fit, you can visit Rodalink Malaysia store to get help from our professional team! We are ready to tailor your needs to the best MTB bike line ups we have.
Sizing Up or Sizing Down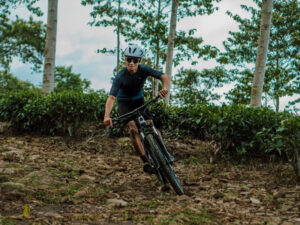 If you want to find out the definite size you should go for by yourself, here are some tips you can try. If you find yourself to be in between sizes by looking at the basic size chart, you should consider these things before deciding whether you should go for a size up or a size down. If you have a longer torso, you should go for a size up. Larger size basikal mountain bikes will have longer reach, so you will not feel cramped by using a shorter reach one. On the contrary, if you have a short torso, you should opt for sizing down. A reach that is too long will strain your upper body and make the ride become uncomfortable. With longer legs, you can adjust the overall mountain bike size using the wheel size. A larger wheel size will make the overall mountain bike higher, making it comfortable for cyclists with short torso and longer legs.
Wheel Size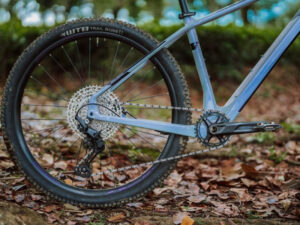 Besides helping to adjust the height of your bike, different wheel sizes also have different purposes to it. Usually, a mountain bike will come with 27" or 29" wheels. A 27" or also known as 650b, is much more suitable for rougher off-roading as it has more grip, such as a downhill MTB bike. A 29" wheel will roll more smoothly and faster, which is suitable for leisure and cross country mountain bike. A trail and enduro mountain bike can either have 27" and 29" wheels, you can customize it depending on your needs.
Find Your Best Mountain Bike Now!
If you are looking to shop for your high quality mountain bikes, come and visit Rodalink Malaysia! Search for kedai basikal near me and click on our location closest to you to get some directions. At our store, you can get professional help from our team. We are ready to assist you to find the perfect mountain bike for you! If you do decide to shop online, you can enjoy free local delivery service, various payment methods, and 0% installment. We are also having a sale live on our website now for Polygon and Marin bikes! Also, you can shop for bike accessories and parts that will complete your mountain biking essentials, on a sale as well! Plus, by becoming a Rodalink Member, you can enjoy exclusive extra promos and events as well. Shop now before the promo ends!